Mary Clancy (Laws LLM, 1976)
Read about Mary's fascinating career in law and politics since she graduated with an LLM from Queen Mary in 1976.
Published: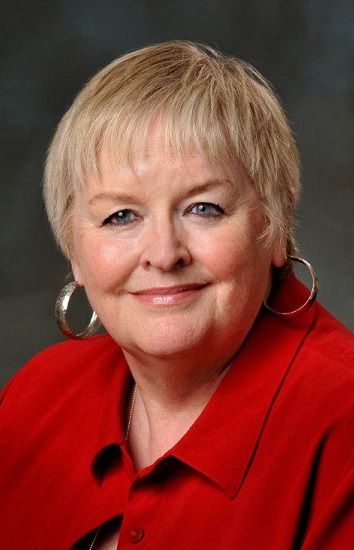 Mary is currently busy working in politics and volunteering for charitable organisations in Canada. Her many roles include Vice President of the Liberal party of NS, mentor to students at Dalhousie University School of Law, Co-chair reunion class of 74 Dalhousie University School of Law, Board member of the International Institute for Child Rights and Development (Canada).
Greetings to all at Queen Mary, from Canada's ocean playground Nova Scotia.
Forty-six years ago, I was articling, arranging for transport of myself and my luggage to London and preparing to start my LLM at Mile End Road at Queen Mary.
My year in London is just one highlight of what has been a very lucky life.
An only child I was brought up in a house with aunts and uncles & grandparents as well as their friends and associates in politics, the press, the medical and legal professions, not to mention educators, labour organizers, and human rights activists. I was well into my teens before I discovered that not everyone had company every day and very interesting company at that.
I grew up with non-traditional role models all around me and due to my mother, a sense of self-worth that has stood me well. My early education was in the neighbourhood school funded by everyone's taxes. For Secondary school, I was sent to a private convent school that gave me more friendships that I treasure still and the ability to sail through a baccalaureate degree in English literature at Canada's only university founded specifically for the higher education of women, Mount Saint Vincent University. Law school next at Dalhousie University with a wealth of strong connections that again have enriched and supported me all my life.
With my year in London, I had friends on every continent except Antarctica! I also had a Master's degree in law and had seen 89 plays 39 ballets and 17 operas during the year, travelled to North Africa, Greece, Denmark and the Soviet Union.
Back home I finished articles, and became a member of the NS bar. Two days later I flew across Canada to take up my new job as Assistant Director of Continuing Legal Education at the University of British Columbia. For 18 months I travelled around BC putting on courses for practicing lawyers in big cities and small towns. I enjoyed the experience but I soon knew that the west was not for me. An Atlantic Canadian to the core, the distance from home as well as from favourite cities like New York, London, and Montreal was too much.
I lucked into a position as special advisor to the Provincial Minister of Social Services. I learned a lot but a year later we lost the election. For the next ten years, I practised law, briefly with a firm but mainly as a solo practitioner. I also taught part time at three different Universities, wrote a weekly newspaper column, ran several election campaigns for other people, served on the local, Provincial and National executives of my party, acted in community and professional theatre and served as a weekly political panelist on CBC radio and television.
In 1988 I turned 40, decided a change was in order and ran for public office. My party had been turfed out only 4 years before, I was running against a popular Cabinet minister and the night I was nominated we were 20 points behind in the polls. The only ones who thought we had a hope were my mother and me!
Fortunately we were right. Elected to the Canadian House of Commons on November 21 1988, I served two full terms, one in opposition one in government. In opposition I was official critic for Status of Women and served on numerous committees. During this time I started the women's caucus in my party which continues today. With several colleagues from all parties we started the Women's Parliamentary Association which brought many improvements for both women MPs and women support staff. While it did not survive the conservative government of Stephen Harper, when Justin Trudeau was victorious in 2015 we saw Canada's first gender equal cabinet.
In the government of Jean Chretien (1993) my job was parliamentary secretary to the Minister of Citizenship and Immigration. On my way to China for the Women's Conference in 1995, I visited our immigration operations in Europe, Asia, and the Middle East. Always convinced of the benefits of our immigration policy, seeing it in action impressed me even more. My last year in office I was named Chair of the Standing Committee on National Defence and Veterans Affairs and as I represented Halifax, which contains the country's largest Naval base, it was a great fit. It also gave me the opportunity to lead Canada's delegation to the Defence Ministerial Meeting of the Western Hemisphere in Argentina and to be the only woman Chef du Mission in attendance.
Atlantic Canada turfed all MP's of my stripe out in 1997. It was a huge disappointment but those are the exigencies of political life. Before I had time for regret, the PM appointed me Canada's Consul General to New England, based in Boston Mass. I spent the next four years working on political, trade, and cultural relations with the six states in my "parish". The ties between New England and Canada's Atlantic Provinces are geographic, historic, cultural and familial. Again it was a good fit.
During my last months there 9/11 happened. In spite of the horror of the event, it was a privilege to work with Canadians and Americans during that terrible time.
Returning home, I got back into volunteer work, and political punditry, which still keeps me busy twenty-three years later. As I noted at the beginning: a very lucky life.