Dr James Whiteford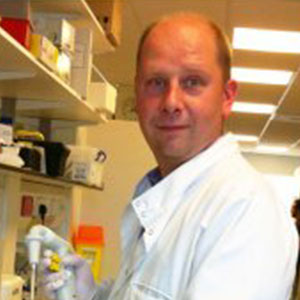 Reader in Extracellular Matrix Biology, Director of Graduate Studies
Centre: Microvascular Research
Email: j.whiteford@qmul.ac.uk Telephone: +44(0) 20 7882 3909Website: https://www.centre-for-microvascular-research.com/whiteford-labTwitter: @LabWhiteford
Profile
James Whiteford graduated in Applied Biology from King's College London in 1994 and obtained his PhD from King's College London in 1998. Following post-doctoral research at Imperial College London and Copenhagen University (Denmark) he joined the Centre for Microvascular Research and was awarded an Arthritis Research UK career development fellowship in 2009. He obtained his Lectureship at the William Harvey Research Institute in 2014, and obtained his Senior Lectureship in 2016.
Memberships and Awards
Chairman London Matrix Biology Group
BSMB Organising Committee Member
Editor British Journal of Pharmacology
Editor Pharmacology Research and Perspectives
Editor Frontiers in Immunology
Research
Summary
Our teams' research focuses on angiogenesis, which is the process by which new blood vessels are formed from existing ones. Angiogenesis is a critical process in numerous diseases including cancer, diseases of the eye and inflammatory disorders such as Rheumatoid Arthritis. For some years we have been studying the role of the syndecan family of cell surface receptors in new blood vessel formation and inflammation with the aim of discovering therapeutic innovations which can modify this process to improve disease outcomes. We are currently developing a novel therapy for Wet-Age Related macular Degeneration and are also investigating the potential of our reagents as therapies for both arthritis and cancer.
Group members
Dr Faheem Shaik, Dr Samantha Arokiasamy and Miss Michaela Balderstone.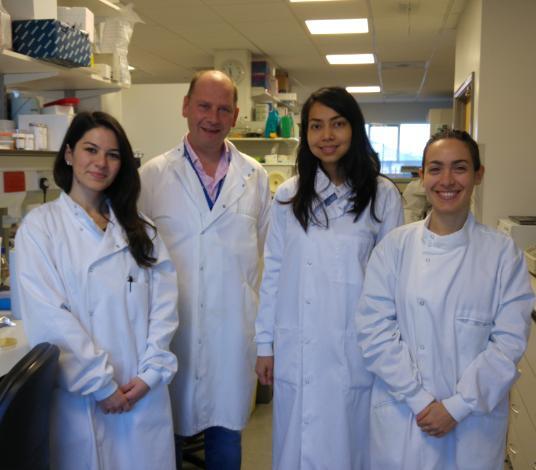 Key Publications
For a full list of publications click here
Ma, B., Whiteford, J.R., Nourshargh, S. & Woodfin A. "Underlying chronic inflammation alters the profile and mechanisms of acute neutrophil recruitment." J Pathol. 240 (2016) :291-303.
Whiteford, J.R., De Rossi, G., Woodfin, A. "Mutually Supportive Mechanisms of Inflammation and Vascular Remodeling." Int Rev Cell Mol Biol. 326 (2016):201-78
De Rossi, G & Whiteford J.R. "Syndecans in angiogenesis and endothelial cell biology"

Biochem Soc Trans.

42 (2014):1643-46.
Kay, E., Garcia Gomez, L., Woodfin, A., Scotland, R.S. & Whiteford, J.R. "Sexual dimorphisms in leukocyte trafficking in a mouse peritonitis model." J Leukoc Biol. 98 (2015): 805-17.
Gopinathan, G., Milagre, C., Pearce O.M.T., Reynolds L.E, Hodivala-Dilke, K., Leinster, A.D., Zhong, H., Hollingsworth R.E., Thompson, R., Whiteford, J.R. & Balkwill, F. "Interleukin-6 stimulates defective angiogenesis." Cancer Res. 75 (2015) :3098-107.
De Rossi, G., Evans, A.R., Kay, E., Woodfin, A., McKay, T.R., Nourshargh, S. & Whiteford J.R. "Shed syndecan-2 inhibits angiogenesis." J Cell Sci. 127 (2014): 4788-99.
Collaborators
Dr Tero Järvinen (University of Tampere, Finland)
Prof James Bainbridge (UCL, UK)