Dr Damian Smedley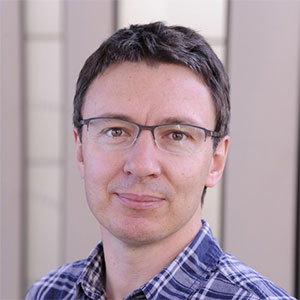 Reader in Computational Genomics
Centre: Clinical Pharmacology
Email: d.smedley@qmul.ac.uk
Profile
Damian holds a B.Sc. in Biochemistry from Bristol University and PhD in Biochemistry from Cambridge University. Following postdoctoral research as a Kay Kendall Research Fellow at the Institute of Cancer Research and Imperial College, involving identification and characterisation of chromosomal translocations in haematological cancers, he pursued a new, purely computational research career via a M.Sc. in Bioinformatics from Birbeck College. At the European Bioinformatics Institute (EBI) he contributed to the BioMart software system evolving from the advanced query interface of Ensembl to a federated, data management system used by multiple resources worldwide. He then founded and led the mouse informatics team at the EBI before a 3 year spell at the Sanger Institute as a senior manager leading a team of computational biologists linking human disease to the emerging data from the Mouse Genetics Programme and the International Mouse Phenotyping Consortium (IMPC). In 2016 Damian joined the William Harvey Research Institute (WHRI) as a Senior Lecturer where his research team continues to work on the IMPC as well as development of the popular Exomiser package for phenotype-aware analysis of rare disease genomes. He is also seconded full time to Genomics England as Director of Genomic Interpretation for Genomics England where he is helping to deliver the clinical analysis of rare disease and cancer samples in the 100,000 Genomes Project.
Research
Group members
Adam Bernard, Julius Jacobsen, Tomasz Konopka, Pilar Cacheiro, Valentina Cipriani
Summary
Dr. Smedley's research focusses on utilising clinical and model organism phenotype data to better understand human disease.
As a principal investigator for the International Mouse Phenotyping Consortium (IMPC), his team analyses the genotype to phenotype associations emerging from this comprehensive effort to produce the first catalogue of mammalian gene function by knocking out and systematically phenotyping every protein-coding gene in the mouse. Utilising phenotype comparison methods developed with his co-PIs in the Monarch Initiative, his team is able to automatically identify new animal models of known disease genes as well as suggest new candidates for diseases where the causative variants have not yet been identified in human.
This work is extended upon in the Exomiser software package, also developed in conjunction with his collaborators in the Monarch Initiative. Exomiser automates the filtering and prioritisation of coding and non-coding variants called from whole exome or genome sequencing of rare disease families using novel methodologies to prioritise the genes based on the similarity of the patient's phenotypes to reference knowledge of genotype to phenotype associations from human disease and animal models. This software is widely used by academic researchers, diagnostic laboratories, commercial offering and in large-scale disease sequencing projects such as the US Undiagnosed Disease Network and the UK 100,000 Genomes Project.
Together with colleagues at Cambridge University, his research team is building a database of disease, gene and phenotype associations from the literature (PheneBank) that can be used to improve many of the other research activities in his team.
Collaborators
Internal: Prof Mark Caulfield (WHRI), Dr Michael Barnes (WHRI)
External: Prof Peter Robinson (Jackson Laboratory, USA), Dr. Chris Mungall (Lawrence Berkeley National Laboratory, USA), Prof. Melissa Haendel (Oregon State University, USA), Dr. Nigel Collier (University of Cambridge), Dr. Ann-Marie Mallon (MRC-Harwell), Drs. Helen Parkinson and Terrence Meehan (EBI)