Dr Ross Hunter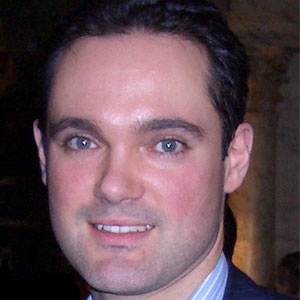 Consultant Cardiologist (Barts Heart Centre) and Reader in Cardiac Electrophysiology
Email: Ross.hunter@bartshealth.nhs.uk Telephone: +44(0) 20 3765 8846
Profile
I am a cardiologist sub-specialising in arrhythmia management (Electrophysiology and devices). I trained in London and the South East before my PhD at St Bartholomew's in mechanisms sustaining AF and novel methods for catheter ablation. During that time I was a finalist for both the British and the US Young Investigator of the year award (2011). I became a consultant at Barts in 2013 and have been the lead for AF services since the merger creating the Barts Heart Centre in 2015. I perform catheter ablation for all types of arrhythmia including atrial fibrillation, atrial tachycardias and ventricular tachycardia (VT). I also implant, revise and extract a range of pacing devices including defibrillators, biventricular devices (CRT), sub-cutaneous ICDs, and leadless pacemakers.
The Barts Heart Centre is the largest cardiovascular centre in Europe and is a regional and national referral centre seeing complex quarternary referrals from around the country. The Barts Heart Centre has the largest volume of ablation and device-related procedures in the UK. We also run the UK's only direct admission service for arrhythmia emergencies, offering the full range of pacing and ablation services 24/7.
My research now is predominantly clinical research investigating mechanisms and treatment of cardiac arrhythmias. I also collaborate with basic medical scientists at The WHRI and Engineers at QMUL. My work is supported by grants from The British Heart Foundation, The Barts Charity and Industry. I supervise 5 PhD students at the time of writing.
I am also Editor-in-chief of 'Cardiac Rhythm News', a quarterly journal focusing on the latest scientific and clinical advances as well as industry releases relevant to heart rhythm management. It has a readership of > 3500 European and US-based cardiologists.
Prizes & Awards
My fellows were finalists for the Young Investigator Award at the British Heart Rhythm Society in 2014 (Waqas Ullah), 2016 (Vinit Sawhney) and 2017 (Shoreh Honarbakhsh) – the latter won the young investigator of the year award
My fellow (Shoreh Honarbakhsh) has been shortlisted for Heart Rhythm Society (USA) young investigator award 2018 (results awaited at time of writing)
Part of a team winning The Arrhythmia Alliance Team of the Year Award October 2017
Part of a team winning The AF Association pioneers in healthcare award November 2016
Finalist Heart Rhythm Society (USA) young investigator award 2011
Finalist Heart Rhythm UK young investigator award 2011
Memberships
Member of the British Heart Rhythm Society
Fellow of The European Society of Cardiology
Research
Group members
Members of the Electrophysiology Research Department at The Barts Heart Centre
Prof Pier Lambiase; Prof Richard Schilling; Dr Shoreh Honarbakhsh, Research Fellow; Dr Gurpreet Dhillon, Research Fellow; Dr Adam Graham, Research Fellow; Mrs Victoria Baker, Research Manager; Ms Ailsa McLean, Research Nurse.
I am a consultant at The Barts Heart Centre, the largest cardiac centre in Europe. The Electrophysiology department (heart rhythm management) is a world-class academic unit and I am privileged to be part of this large team. My research is clinical in nature and involves studying patient's hearts or their outcomes after treatments. The primary focus of my research is understanding mechanisms and improving treatment for arrhythmias and atrial fibrillation (AF) in particular. This work is currently supported by The British Heart Foundation, Tha Barts Charity, and Industry (Biosense Webster and Medtronic). The main ongoing strands to my research are:
Mapping of AF to better understand the mechanisms maintaining it and therefore how better to ablate it. This has used both basket catheters for panoramic mapping of the atria and other multipolar catheters such as the Pentaray. I am part of a team developing an algorithm to map AF. This will be published shortly pending patents. I am also using the Cartofinder system (Biosense Webster) to map AF using a basket or other multipolar catheter. I am also using the ECG-I system (Medtronic) to map AF in several studies. These studies together are providing new insights into how AF is sustained and trialing new ways to treat AF using catheter ablation.
Using the above novel technologies I am investigating cardiac physiology, relating mechanisms of arrhythmia to areas of structural remodelling and abnormal conduction dynamics. I also collaborate with basic medical scientists at WHRI and engineers at QMUL on projects investigating arrhythmias.
Outcomes research, involving clinical trials of other techniques and technologies in the treatment of arrhythmias and auditing current practice at The Barts Heart Centre to learn what we can from our practice.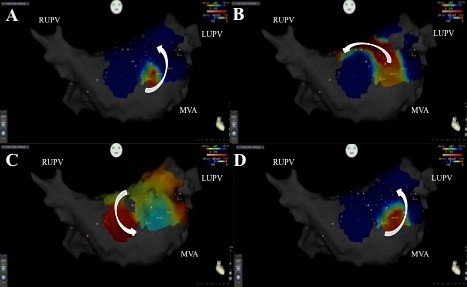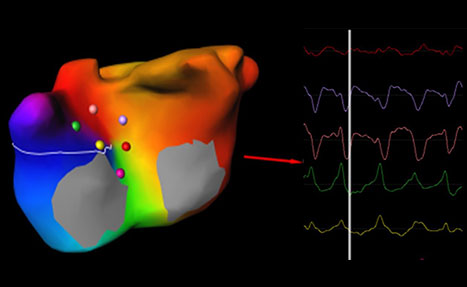 The two figures show maps created in AF (one using Cartofinder and the other with ECG-I) with rotational activity in the left atrium supporting AF depicted by colours.
Key Publications
Honarbakhsh S, Hunter L, Chow A, Hunter RJ. Bradyarrhythmias and pacemakers. BMJ 2018 published online first.
Honarbakhsh S, Schilling RJ, Dhillon G, Ullah W, Keating E, Providencia R, Chow A, Earley MJ, Hunter RJ. A Novel Mapping System for Panoramic Mapping of the Left Atrium: Application to Detect and Characterize Localized Sources Maintaining Atrial Fibrillation. JACC Clin Electrophysiol. 2018 Jan;4(1):124-134.
Honarbakhsh S, Schilling RJ, Providência R, Dhillon G, Sawhney V, Martin CA, Keating E, Finlay M, Ahsan S, Chow A, Earley MJ, Hunter RJ. Panoramic atrial mapping with basket catheters: A quantitative analysis to optimize practice, patient selection, and catheter choice. J Cardiovasc Electrophysiol. 2017 Dec;28(12):1423-1432.
Hunter RJ, Baker V, Finlay MC, Duncan ER, Lovell MJ, Tayebjee MH, Ullah W, Siddiqui MS, McLean A, Richmond L, Kirkby C, Ginks MR, Dhinoja M, Sporton S, Earley MJ, Schilling RJ. Point-by-Point Radiofrequency Ablation Versus the Cryoballoon or a Novel Combined Approach: A Randomized Trial Comparing 3 Methods of Pulmonary Vein Isolation for Paroxysmal Atrial Fibrillation (The Cryo Versus RF Trial). J Cardiovasc Electrophysiol. 2015 Dec;26(12):1307-14.
Ullah W, Ling LH, Prabhu S, Lee G, Kistler P, Finlay MC, Earley MJ, Sporton S, Bashir Y, Betts TR, Rajappan K, Thomas G, Duncan E, Staniforth A, Mann I, Chow A, Lambiase P, Schilling RJ, Hunter RJ. Catheter ablation of atrial fibrillation in patients with heart failure: impact of maintaining sinus rhythm on heart failure status and long-term rates of stroke and death. Europace. 2016 May;18(5):679-86.
Comorbidity of atrial fibrillation and heart failure. Ling LH, Kistler PM, Kalman JM, Schilling RJ, Hunter RJ. Nature Rev Cardiol. 2016 Mar;13(3):131-47.
Hunter RJ, Berriman TJ, Diab I, Kamdar R, Richmond L, Baker V, Goromonzi F, Sawhney V, Duncan E, Page SP, Ullah W, Unsworth B, Mayet J, Dhinoja M, Earley MJ, Sporton S, Schilling RJ. A randomized controlled trial of catheter ablation versus medical treatment of atrial fibrillation in heart failure (the CAMTAF trial). Circ Arrhythm Electrophysiol. 2014 Feb;7(1):31-8.
Collaborators
Professor Wen Wang, Department of Medical Engineering, QMUL
Professor Andy Tinker, Department of Electrophysiology, WHRI & QMUL
Professor Richard Schilling, Consultant Cardiologist, Barts Heart Centre
Professor Pier Lambiase, Consultant Cardiologist, Barts Heart Centre
Professor Maria Longhi, WHRI and QMUL