Professor Andreas Baumbach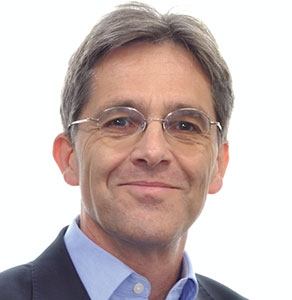 Chair for Device Innovation
Centre: CV Medicine and Devices
Email: a.baumbach@qmul.ac.uk Telephone: +44(0) 203 765 8740
Profile
Andreas Baumbach graduated in Medicine in 1989 from the University of Tübingen, Germany. He trained in Internal Medicine, Cardiology and Intensive Care Medicine at the University Hospital Tübingen.
He obtained his MD and later Habilitation and (apl) Professor of Medicine in Tübingen, where he established his research focussing on restenosis and imaging of coronary artery disease.
He moved to the University of Bristol in 2000 and helped establish the Bristol Heart Institute (2008). He developed the clinical research programme in cardiology and was part of the Bristol NIHR Biomedical Research Unit.
In 2017 he was appointed as Professor for Device Innovation at the William Harvey Research Institute, Queen Mary University of London. His is an honorary Consultant Cardiologist at the Barts Heart Centre, and the Research Lead for Interventional Cardiology.
Professor Baumbach is an active interventional cardiologist with a keen interest in developing improved therapies for patients with coronary and structural conditions. He has published extensively in the field of device research covering preclinical research, first in man, pivotal and post-market studies.
He is on the board of directors of the largest interventional congress EuroPCR and brings an extensive network and industry relations in the field. He is active in learned societies and is the 2018-20 President of the European Association of Percutaneous Cardiovascular Interventions (EAPCI).
Memberships/Awards
President (2018-20): European Association of Percutaneous Cardiovascular Intervention (EAPCI)
British Cardiovascular Intervention Society (BCIS)
British Cardiovascular Society (BCS)
German Society of Cardiology


Research
Cardiovascular Device Innovation
Clinical evaluations of device-based embolic protection to reduce stroke during cardiovascular interventions
Definitions of endpoints for neurological injury in cardiovascular trials
New stent technology (e.g. absorbable scaffolds, drug-eluting stents with absorbable polymers, and novel delivery mechanisms)
First in man use of novel device concepts
Advanced coronary diagnostics using imaging and physiology
Key Publications
Baumbach A, Zaman A, West NE, O'Kane P, Egred M, Johnson T, Wheatcroft S, Bowles R, de Belder A, Bouras G, Lansky A, Hill J, Mathur A, de Belder MA, Banning A. Acute and one year clinical outcomes following implantation of bioresorbable vascular scaffolds: the ABSORB UK Registry. EuroIntervention. 2018; 13:1554-60.
Lansky AJ, Messé SR, Brickman AM, Dwyer M, van der Worp HB, Lazar RM, Pietras CG, Abrams KJ, McFadden E, Petersen NH, Browndyke J, Prendergast B, Ng VG, Cutlip DE, Kapadia S, Krucoff MW, Linke A, Moy CS, Schofer J, van Es GA, Virmani R, Popma J, Parides MK, Kodali S, Bilello M, Zivadinov R, Akar J, Furie KL, Gress D, Voros S, Moses J, Greer D, Forrest JK, Holmes D, Kappetein AP, Mack M, Baumbach A. Proposed Standardized Neurological Endpoints for Cardiovascular Clinical Trials: An Academic Research Consortium Initiative. J Am Coll Cardiol. 2017;69:679-691.
Baumbach A, Heg D, Räber L, Ostoijc M, Brugaletta S, Strange JW, Johnson TW, Juni P, Engstrøm T, Serruys PW, Sabate M, Windecker S. Selective use of contemporary drug-eluting stents in primary angioplasty for ST-elevation myocardial infarction: pooled analysis of COMFORTABLE AMI and EXAMINATION. EuroIntervention. 2017;12:1577-1586.
van Nunen LX, Zimmermann FM, Tonino PA, Barbato E, Baumbach A, Engstrøm T,Klauss V, MacCarthy PA, Manoharan G, Oldroyd KG, Ver Lee PN, Van't Veer M, Fearon WF, De Bruyne B, Pijls NH; FAME Study Investigators. Fractional flow reserve versus angiography for guidance of PCI in patients with multivessel coronary artery disease (FAME): 5-year follow-up of a randomised controlled trial. Lancet. 2015; 386: 1853-60.
Burchell AE, Chan K, Ratcliffe LE, Hart EC, Saxena M, Collier DJ, Jain AK, Mathur A, Knight CJ, Caulfield MJ, Paton JF, Nightingale AK, Lobo MD, Baumbach A. Controversies Surrounding Renal Denervation: Lessons Learned From Real-World Experience in Two United Kingdom Centers. J Clin Hypertens (Greenwich). 2016;18:Epub 2016 Feb 9.
Lansky AJ, Schofer J, Tchetche D, Stella P, Pietras CG, Parise H, Abrams K, Forrest JK, Cleman M, Reinöhl J, Cuisset T, Blackman D, Bolotin G, Spitzer S, Kappert U, Gilard M, Modine T, Hildick-Smith D, Haude M, Margolis P, Brickman AM, Voros S, Baumbach A. A prospective randomized evaluation of the TriGuard™ HDH embolic DEFLECTion device during transcatheter aortic valve implantation: results from the DEFLECT III trial. Eur Heart J. 2015; 36:2017-8.
Baumbach A, Mullen M, Brickman AM, Aggarwal SK, Pietras CG, Forrest JK, Hildick-Smith D, Meller SM, Gambone L, den Heijer P, Margolis P, Voros S, Lansky AJ. Safety and performance of a novel embolic deflection device in patients undergoing transcatheter aortic valve replacement: results from the DEFLECT I study. EuroIntervention. 2015;11:75-84.
Johnson TW, Mumford AD, Scott LJ, Mundell S, Butler M, Strange JW, Rogers CA,Reeves BC, Baumbach A. A Study of Platelet Inhibition, Using a 'Point of Care'Platelet Function Test, following Primary Percutaneous Coronary Intervention for ST-Elevation Myocardial Infarction [PINPOINT-PPCI]. PLoS One. 2015;10::e0144984.
Räber L, Kelbæk H, Ostoijc M, Baumbach A, Heg D, Tüller D, von Birgelen C, Roffi M, Moschovitis A, Khattab AA, Wenaweser P, Bonvini R, Pedrazzini G, Kornowski R, Weber K, Trelle S, Lüscher TF, Taniwaki M, Matter CM, Meier B, Jüni P, Windecker S; COMFORTABLE AMI Trial Investigators. Effect of biolimus-eluting stents with biodegradable polymer vs bare-metal stents on cardiovascular events among patients with acute myocardial infarction: the COMFORTABLE AMI randomized trial. JAMA. 2012;308:777-87.
Moat NE, Ludman P, de Belder MA, Bridgewater B, Cunningham AD, Young CP, Thomas M, Kovac J, Spyt T, Maccarthy PA, Wendler O, Hildick-Smith D, Davies SW, Trivedi U, Blackman DJ, Levy RD, Brecker SJ, Baumbach A, Daniel T, Gray H, Mullen MJ. Long-Term Outcomes After Transcatheter Aortic Valve Implantation in High-Risk Patients With Severe Aortic Stenosis: The U.K. TAVI (United Kingdom Transcatheter Aortic Valve Implantation) Registry. J Am Coll Cardiol. 2011;58:2130-8.
Byrne RA, Stefanini GG, Capodanno D, Onuma Y, Baumbach A, Escaned J, Haude M, James S, Joner M, Jüni P, Kastrati A, Oktay S, Wijns W, Serruys PW, Windecker S. Report of an ESC-EAPCI Task Force on the evaluation and use of bioresorbable scaffolds for percutaneous coronary intervention: executive summary. Eur Heart J. 2017 Aug 28. [Epub ahead of print].
Banning AP, Baumbach A, Blackman D, Curzen N, Devadathan S, Fraser D, Ludman P, Norell M, Muir D, Nolan J, Redwood S; British Cardiovascular Intervention Society. Percutaneous coronary intervention in the UK: recommendations for good practice 2015. Heart. 2015;101 Suppl 3:1-13.
McAlindon E, Bucciarelli-Ducci C, Suleiman MS, Baumbach A. Infarct size reduction in acute myocardial infarction. Heart. 2015 ; 101:155-60.
Byrne RA, Serruys PW, Baumbach A, Escaned J, Fajadet J, James S, Joner M, Oktay S, Jüni P, Kastrati A, Sianos G, Stefanini GG, Wijns W, Windecker S. Report of a European Society of Cardiology-European Association of Percutaneous Cardiovascular Interventions task force on the evaluation of coronary stents in Europe: executive summary. Eur Heart J. 2015; 36:2608-20
Sponsors