We are pleased to announce the Writer in Residence 2018:
Judith Kuckart
(12.11.-24.11.2018)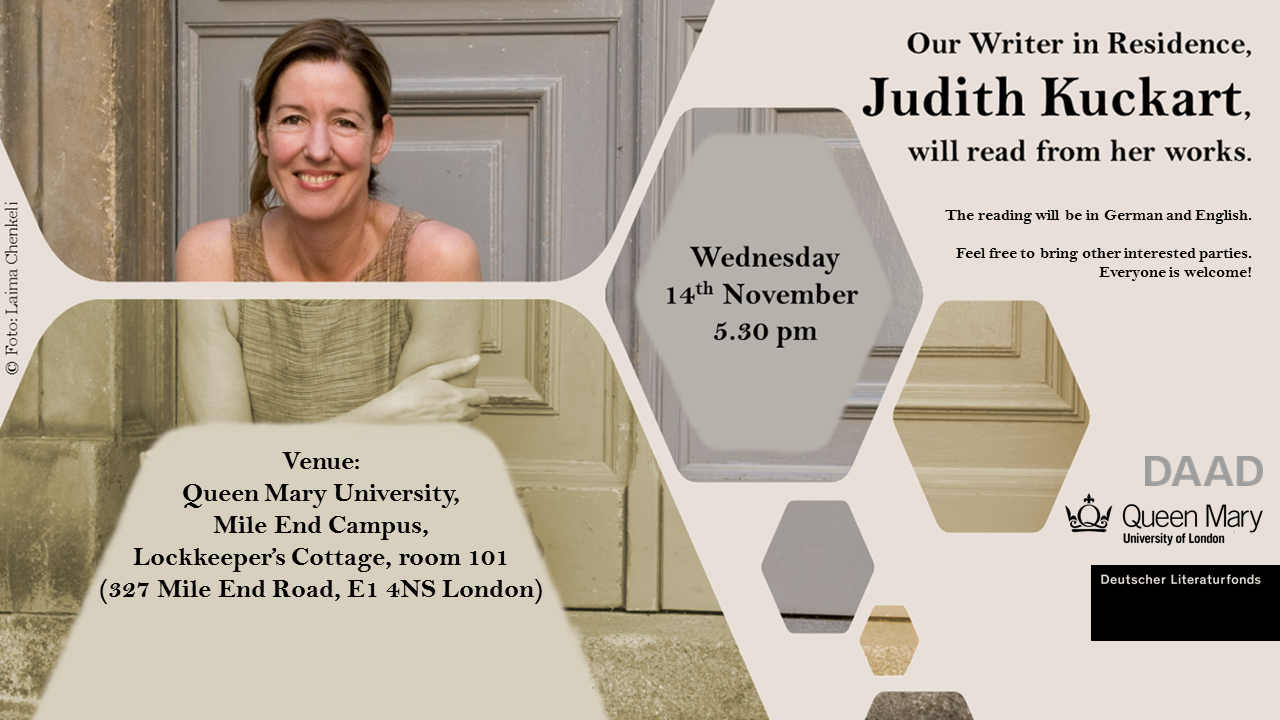 Judith Kuckart is a German dancer, choreographer, director and author. Her works range from plays to radio plays and from novels to stories. In the past the author cooperated with other colleagues like fine artists, so that another layer was added to her keenly observant and precise formulated narrations.
In her latest novel, Dass man durch Belgien muss auf dem Weg zum Glück, Judith Kuckart describes eleven episodes of persons in everyday situations. Their stories are somehow linked by cunning intersections, but above all, they share a melancholic, yet not desperate mood in their lives. Every figure lacks something: offsprings, autonomy, the courage to say goodbye… though not everyone is aware of it. The engaging language in the novel creates pictures of a near inevitable loss of lightness like the first autumn days replacing warm summer evenings every year.
The text Judith Kuckart will read is characterised by the same mood as her latest novel. After the reading, which will be conducted in German and English, the author will give a lecture on how a dancer transformed into a writer.
Book your free ticket here!
The Writer in Residence Programme showcases recent developments in contemporary German, Austrian and Swiss literature and was established in 2005 as part of the activities of the Centre for Anglo-German Cultural Relations.
The Centre for Anglo-German Cultural Relations hosts writers whose work is representative of critically acclaimed contemporary literature in German and enables our visiting authors to reside at the College for short periods (approximately 10 weeks). This initiative was co-founded by the Deutscher Literaturfonds and enjoys the generous support of Queen Mary College, University of London.
Broadening the focus of the CAGCR on contemporary literature in German, the Writer in Residence Programme offers students the unique possibility of familiarising themselves with new trends in the literary scene of the German speaking world and of closely working together with our visiting writers, thus profiting from their experience and expertise (e.g. in Creative Writing Workshops specifically tailored to the students' needs. Please see our Diary of Events).
Aims of our Writer in Residence programme are:
to invigorate the profile of contemporary writers working in a German, Austrian, Swiss context
to promote diversity, reflecting the broad range of cultural concepts in the German speaking world
to trace the current trends and developments in literature and enter into an intercultural discourse
to combine academic and creative approaches to literature in German
to establish synergies with cultural institutions such as Deutscher Literaturfonds, the German Academic Exchange Service (DAAD), the Goethe-Institut and the German Embassy
Current and former writer(s) in residence
For detailed information about the Writers in Residence at the CAGCR, please click here.
For forthcoming talks please check our Diary of Events
For more information pertaining to the purpose and profile of the Writer in Residence Programme, please contact:
Ingrid Kutz, co-ordinator of the Writer in Residence Programme.