Dr Ana Cabral, PhD, SFHEA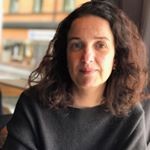 Academic Practice and Student Engagement Manager
Email: a.cabral@qmul.ac.ukTelephone: +44 (0)207 882 2810Room Number: Third Floor, Department W
Profile
Ana Cabral is a member of the Education and Recognition team within the Queen Mary Academy which provides strategic, developmental, practical, project and consultancy support for the development and enhancement of learning and teaching across QMUL.
Ana holds a PhD in Education and is a Senior Fellow of the Higher Education Academy. She has a wide teaching experience both in secondary school education and in Higher Education. She was an academic for 12 years teaching research methodologies and education modules and supervising undergraduate and postgraduate students.
Ana was also the director of a research centre and the manager of a CPD hub. As a researcher, she led many research and intervention projects related to interconnected areas: teaching and learning in HE, linking teaching and research, educational research quality assessment (postdoc), and academic retention and success.
Since joining QMUL in 2018, Ana has developed project work in all three faculties within the areas of technical thinking and writing, curriculum design and development and (inclusive) assessment. Since the beginning of 2019, she has also been acting as a mentor and reviewer of HEA fellowships.
Before joining QMUL, Ana was a Research Fellow for five years (University of Greenwich). She supported a series of professional development modules for primary and secondary school teachers undertaking action (practitioner) research about their practice. In this context, Ana has also led the development of the research project TasR: Teachers as Researchers, which resulted in a wide range of presentations and publications about reflective practice and 'transformational' professional learning.
Teaching
Modules taught within the Taught programmes* offered by the Queen Mary Academy -
Teaching and Learning in Higher Education (ADP7116 and ADP 7216 – distance learning)
Action (Practitioner) Research Project (ADP7219)
*Programmes:
- Certificate in Learning and Teaching (CILT)
- Postgraduate Certificate in Academic Practice (PGCAP)
Research
Research Interests:
Her research interests include:
enhancement of teaching and learning in HE
reflective practice and professional development
Publications
(selected – last five years)
Tombros, A., Cabral, A. and Donohue, J. (2019). Establishing partnerships with students through active learning and interactive teaching innovations: outcomes for students' experience and the lecture's professional development In M. Malik, J. Andrews, R. Clark, R. Penlington and R Broadbent (Eds.), Realising Ambitions: Proceedings of the 6th Annual Symposium of the United Kingdom and Ireland Engineering Education Research Network 2018 (p.353-364). Portsmouth, University of Portsmouth https://hefocus.raeng.org.uk/network-events/
Timotijevic, T., Cabral, A. and Donohue, J. (2019) Case study: Strengthening technical thinking through writing: a pilot study in the Design and Build project in Electronic Engineering at QMUL. New approaches to engineering higher education in practice (pp 18-21). The Institution of Engineering and Technology and Engineering Professors Council.https://www.theiet.org/media/4820/new-approaches-practice.pdf
Lambirth, A., Cabral, A., McDonald, R., Philpott, C., Brett, A. and Magaji, A. (2019). Teacher-led professional development through a model of action research, collaboration and facilitation. Professional Development in Education, DOI: 10.1080/19415257.2019.1685565
Lambirth, A., Cabral, A. and McDonald, R. (2019). Transformational professional development: (re)claiming agency and change (in the margins). Teacher Development, 23(3), 387-405. DOI: https://doi.org/10.1080/13664530.2019.1605407
Cabral, A. and Baptista, A. (2019) Faculty as active learners about their practice: towards innovation and change in nursing education. The Journal of Continuing Education in Nursing, 50(3), 134-140. DOI: https://doi.org/10.3928/00220124-20190218-09
Cabral, A., Oram, C. and Allum, S. (2019). Developing Nursing Leadership Talent - views from the NHS nursing leadership for South East England.  Journal of Nursing Management, 27(1), 75-83. doi: https://onlinelibrary.wiley.com/doi/full/10.1111/jonm.12650
Lambirth, A. and Cabral, A. (2017). Issues of agency, discipline and criticality: an interplay of challenges involved in teachers engaging in research in a school's performative context. Educational Action Research 25(4), 650-666. DOI: http://www.tandfonline.com/doi/full/10.1080/09650792.2016.1218350
Cabral, A. and Lambirth, A. (2017). Accelerated Degrees in Education: a new Profile, Alternative Access to Teaching or part of a Re-tooling Process? Journal of Further and Higher Education. DOI: http://dx.doi.org/10.1080/0309877X.2017.1311995
Cabral, A.P. and Huet, I. (2015). Growing separation between teaching, learning and research – anticipating the impacts from REF 2014. COMPASS: Journal of Learning and Teaching, 6(10), 1-13. https://journals.gre.ac.uk/index.php/compass/article/view/205/228