Mr Gavin Sutter, LLB, LLM (Queens, Belfast)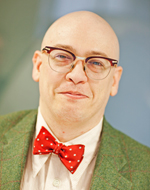 Senior Lecturer
Email: g.p.sutter@qmul.ac.ukTelephone: +44 (0)20 7882 8082Room Number: Lincoln's Inn Fields
Profile
Gavin Sutter is Senior Lecturer in Media Law and a member of the Institute of Computer and Communications Law at the Centre for Commercial Law Studies, Queen Mary University of London. He established, manages and teaches on the LLB and LLM Media Law courses at Queen Mary, as well as writing in the field. His key areas of interest are in the regulation of content in both traditional and new media, with a particular emphasis on the issues of defamation, obscenity, and intermediary liability. He is also actively involved in teaching on the ICCL's LLM by Internet programme, for which he wrote the Internet Content Regulation and Online Media Regulation modules.
Further teaching activities have included several visits to the Beijing University of Post and Telecommunications, where he has taught law to Chinese students taking the joint Queen Mary-BUPT programme in E-commerce. In addition to his teaching duties, Gavin has also played an active role in ICCL research projects, including the ECLIP (Electronic Commerce Legal Issues Platform). A member of the executive committee of BILETA (British and Irish Law, Education & Technology Association) since 2002, he is currently Chair of the organisation. He also sits on the advisory board of Communications Law journal.
Gavin's publications include Media Law & Practice (Goldberg, Sutter & Walden, Oxford University Press, 2009). He has published in a wide range of academic volumes and journals, and is pleased to note that his professional views on internet pornography and sexual harassment in the workplace were once quoted in Shine, a glossy magazine marketed at women in their late twenties. He has spoken at academic conferences in locations as diverse as London, Belfast, Glasgow, Dublin, Boston Mass, Washington DC, Amsterdam, Vienna, and the National Law School of India University in Bangalore, where he was invited as an international speaker to present on the issue of online intermediary liability.
Gavin read Honours Law at the Queen's University of Belfast between 1994-1997. During 1997-98 he read for the LLM Degree of Computers & Law, graduating with Distinction in December 1998.
Undergraduate Teaching
Postgraduate Teaching
Research
Research Interests:
Gavin's personal research interests include a wide range of content regulations issues as they apply to material on the internet (e.g. obscenity, defamation, copyright infringement). He has also been actively involved in a wide range of other research, including the interception of electronic communications for the purposes of criminal investigations, the enforcement of Internet regulation and electronic payment systems.
Publications
Legal Protection of Copy-Protection Mechanisms (with Dr. Martina Gillen) in Journal of the Copyright Society of the USA Vol 51 No 4
Sutter [2007] "Online Intermediary Liability" in Reed & Angel (eds) Computer Law (6th Edition), OUP, Oxford ISBN 978-0-19-920596-7
Sutter [2006] "One Way or Another? Is it time for the introduction of the single publication rule in English defamation law?", Contemporary Issues in Law Vol 7 Issue 4, ISSN: 1357-0374
Internet Service Providers and Liability, in M. Klang and A. Murray (Editors), Human Rights in the Digital Age, London: Routledge, 2005, 71-84, ISBN: 1904385311
Defamation on the Net, in S. Stokes and R. Carolins (Editors), Encyclopedia of E-commerce Law, London: Sweet & Maxwell, 2004, 17-1 to 17-50, ISBN: 0421742607
Electronic Commerce (Co-author with C. Reed), in C. Reed and J. Angel (Editors), Computer Law, 5ed, Oxford: Oxford University Press, 2003, 331-392, ISBN: 0199263507 [URL]
Penny Dreadfuls and Perverse Domains: Victorian and Modern Moral Panics, in J. Rowbotham and K. Stevenson (Editors), Behaving Badly: Visible Crime, Social Panics and Legal Responses - Victorian and Modern Parallels, Aldershot: Ashgate, 2003, ISBN: 0754609650
Don't shoot the messenger? The evolution of liability for third party provided content in the UK [2003] 17(1) International Review of Law, Computers & Technology 73-84, ISSN: 1360-0869
Directive 97/7/EC on the Protection of Consumers in Respect of Distance Contracts (Co-author with Dr J. Hornle and I. Walden), in A. Lodder and H. Kaspersen (Editors), eDirectives: Guide to European Union Law on E-Commerce, The Hague: Kluwer Law International, 2002, 11-22, ISBN: 9041117520
Electronic Payments: The Smart Card (Co-author with S. Newman) [2002] 18(4-5) Computer Law and Security Report 235-240 and 307-313, ISSN: 0267-3649
Regulation of Investigatory Powers Act 2000: An Update Part One: Interception of Content and An Update Part Two: Communications Data, Encryption, Scrutiny and the Way Ahead [2002] 4(11-12) Electronic Business Law 4-7 and 4-6, ISSN: 1464-9624
Publish and be damned? [2001] 3(11) Electronic Business Law 5-7, ISSN: 1464-9624
To have and to hold and to handover: data security and data handover (Co-author with Gillen) [2001] 3(9) Electronic Business Law 11-13, ISSN: 1464-9624
Big Brother goes online: e-mail monitoring and interception 2001 [2001] 3(2) Electronic Business Law 9-12, ISSN: 1464-9624