Dr Gaetano Dimita, Diploma di Laurea in Giurisprudenza (Rome), LLM (London), PhD (London), Avvocato (Italian Bar - Rome)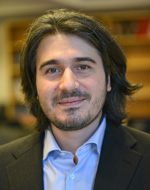 Senior Lecturer in International Intellectual Property Law
Email: g.dimita@qmul.ac.ukTelephone: +44(0)20 7882 6185Room Number: Room 1.4 - Lincoln's Inn FieldsWebsite: https://twitter.com/gaetanodimita
Profile
Gaetano is the Director of Taught Programmes, CCLS, the Co-director of the LLM in Intellectual Property Law, the Director of the Flexible Part-Time LLM and teaches Interactive Entertainment Law, International and Comparative Law of Copyright and Related Rights; Global Intellectual Property Law and Art and Intellectual Property Law.
He is a member of the Queen Mary Intellectual Property Research Institute, an Executive Committee Member of the British Literary and Artistic Copyright Association, the UK national group of the Association Litteraire et Artistique Internationale, a member of the British Copyright Council - Copyright and Technology Working Group, the editor-in-chief of the new Interactive Entertainment Law Review, Edward Elgar, the Editor of the Queen Mary School of Law SSRN series and the organiser of the 'More than Just a Game' conference
Gaetano is a qualified Avvocato in Italy (Italian Bar Association – Rome).
Postgraduate Teaching
LLM programme (London)
LLM programme (Paris)
Research
Publications
Selected Publications
'The WIPO Right of Making Available', in Paul Torremans, Research Handbook on Copyright Law, Second Edition, Edward Elgar, 2017
"Impact of Brexit on UK copyright law" Co-Authored with Florian Koempel, Phil Sherrell and Heather Randles, 2017
Networking Technologies and the Future of Copyright: How Technology Changed and Should Change the Law, Edward Elgar 2016 (Forthcoming)
The WIPO Right of making Available, in TORREMANS, P.L.C., ed., 2017. Copyright Law: A Handbook of Contemporary Research 2nd. Edward Elgar. (In Press.)
The Business of Being an Author: A Survey of Author's Earnings and Contracts, April 2015 (co-author with Professor Johanna Gibson ad Professor Phillip Johnson)
'Six characters in search of infringement: potential liability for creating, downloading, and disseminating .torrent files', Journal of Intellectual Property Law & Practice (2012) 7(6): 466-472
Supervision
The underlying theme of Gaetano's research is the exploration of the relationship among technology, society and the law. The primary purpose is to propose new theoretical frameworks for the regulation and governance of intellectual property works, based on creativity, interactivity, connectivity and property theories as influenced and shaped by the business practices and enforcement strategies of the creative industries, and in light of the societal needs.
Gaetano is willing to supervise on the relationship between copyright, new technologies and creativity, alternative remuneration systems, and interactive entertainment law, transactions and regulation.
Current students:
Pinar Oruç, The Role of Copyright in the Digitisation of Cultural Heritage
Chun-Chi Hung, Is the State's Registration System an Appropriate Approach to Protect Traditional Cultural Expression? A Post-Colonial Perspective
Heesob Nam: A Human Rights Approach in Global Intellectual Property Regime: 'Trade Related' v. 'Human Rights Related'
Students who successfully obtained their doctorates:
Dr Mary Gani-Ikilama (Herchel Smith scholar): An analysis of the effects of copyright law on the creative autonomy of the performing author in the Nigerian popular music industry (as second supervisor)
Khanuengnit Khaosaeng: Copyright and online fandom: the reconciliation between copyright holders and fan works creators
Public Engagement
Dr Dimita

attended the Video Game Law Summit, 27-28 April 2017, Vilnius

Dr Dimita

spoke at the e-gameshow, Ankara, 11-14 May 2017

Dr Dimita

spoke at the 6th International Summer School in Cyber Law (ISSC 2017), Moscow, 3-7 July 2017

Dr Dimita

attended the VGBA eurosummit, 23 August 2017, Cologne

Dr Dimita

will be speaking (or spoke) at 'Mastering the Game', 16-17 November, Warsaw
Dr Dimita spoke at the Digital Think-in Lab, MAXXI – Museo Nazionale delle Arti del XXI secolo, in Rome, 9 June 2017
Dr Dimita spoke on 'Big Data: A Video Games Perspective', at EIPIN International Conference, London, 27 January 2017
Dr Dimita spoke on 'The Socio-Legal Regulation of the Creation, Consumption and Monetisation of Virtual Reality Heritage Assets, at Picture Library Symposium: Moore Stephens LLP, London 25 October 2016
Dr Dimita will be attending the Game Industry Law Summit in Vilnius, 28-29 April 2016
Dr Dimita will be speaking at the ALAI 2016 International Congress 'Applied Arts under IP Law: the Uncertain Border between Beauty and Usefulness' in Rome, 15-16 September 2016
Dr Dimita Spoke at Zelous X, 12 January 2016
Dr Dimita to speak at City University on 'Video games and IP: The intricate relationship between Interactivity and Creativity', 2 December 2015
Dr Dimita to speak at MPA Copyright & Music Publishing Seminar, 5 November 2015
Dr Dimita spoke at Universidad Autónoma de Madrid on 'Cartier International AG v British Sky Broadcasting Ltd – The next generation of site blocking orders is here', 5 June 2015
Dr Dimita spoke at the 'Private Use in EU Copyright Law' Seminar at the Adam Mickiewicz University in Poznan, 19 May 2015
Dr Dimita spoke at Bocconi University Milan on 'New Public? Reading between the lines of the CJEU decisions', 15 December 2014
Dr Dimita will be attending the ALAI Congress 2013 in Cartagena, Colombia from 14-19 September 2013
Dr Gaetano Dimita interviewed by the Voice of Russia on 'The Patent War: Apple v Samsung' (19 September 2012).
---
Related news