Sir William Blair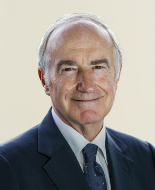 Professor of Financial Law and Ethics
Room Number: Lincoln's Inn Fields
Profile
Sir William (Bill) Blair is a Professor of Financial Law and Ethics at Queen Mary University of London, Centre for Commercial Law Studies (CCLS), Queen Mary University of London (QMUL) and a member of the Institute of Banking and Finance Law, CCLS.
Bill is also an Associate Member of leading barristers' Chambers at 3 Verulam Buildings (3VB), London, in the International Advisory and Dispute Resolution Unit (IADRU) from which he is now sitting as an international arbitrator.
As a leading practitioner in the field of international banking and finance, he became a QC (Queen's Counsel) in 1994 and was Chair of the Commercial Bar Association between 2003 and 2005.
Bill served as a High Court Judge in England and Wales for nearly ten years and was Judge in Charge of the London Commercial Court from 2016 helping to establish the specialist Financial List and the Standing International Forum of Commercial Courts. He has handed down many decisions in the field of arbitration and had overall responsibility for the arbitration cases as Judge in Charge. He continues to sit occasionally in the Court.
Bill sits as a Deputy Judge of the Court of First Instance of the High Court of Hong Kong SAR, China, and in 2018 sat as a Judge of the Qatar International Court. He currently sits as an international arbitrator in ICSID and LCIA cases, and he is in the Beijing International Arbitration Center's Panel of Arbitrators.
In 2018, he was appointed a member of the International Commercial Expert Committee of the Supreme People's Court of the People's Republic of China, and he is Chair of the Enforcement Decision Making Committee of the Bank of England
At the European Union level, he is President of the Board of Appeal of the European Supervisory Authorities. He is a member of London's Financial Markets Law Committee and chairs the Monetary Law Committee of the International Law Association. He is a member of the Expert Working Group on Commercial Dispute Resolution of the Chinese and UK judiciaries, and an expert adviser to the Oxford University OBOR Institute.
Bill graduated from Oxford University, and holds or has held visiting Professorships at the London School of Economics (LSE), Peking University Law School (PKU), East China University of Political Science and Law (ECUPL), is Cheng Yu Tung Visiting Professor, Faculty of Law, University of Hong Kong (HKU), and a Fellow of the Oxford University Commercial Law Centre. He is a member of P.R.I.M.E. Finance's Advisory Board and its Panel of Experts.
In 2018, Bill joined the Ethics Committee of Digital Catapult's AI Machine Intelligence Garage.
Research
Publications
Books
Editor Banks and Remedies, 2nd edn (LLP, London, 1999)

Co-editor Encyclopaedia of Banking Law (Butterworths, London, 1999) looseleaf and electronic format

Editor Banks, Liability and Risk, 3rd edn (LLP, London, 2001)

Co-author Banking and Financial Services Regulation, 3rd edn (Butterworths, London, 2002)

Consultant editor, Butterworths Securities and Financial Services Law Handbook, 2009 Recession Special Supplement (Lexis-Nexis 2009)

Consultant editor, Butterworth's Banking Law Handbook, 8th edn (Lexis-Nexis, 2010)

General editor Bullen & Leake & Jacob's Precedents of Pleadings, 18th edn (Sweet & Maxwell 2015)

Co-editor, Banks and Financial Crime, the International Law of Tainted Money, 2nd edn (Oxford University Press, 2017)

Forthcoming: Research Handbook on Ethics in Banking and Finance, co-ed with Costanza Russo and Rosa Lastra to be published by Edward Elgar Publishing.

General Editor Journal of Banking Regulation
Periodicals
Member editorial board of Capital Markets Law Journal

Member of the editorial advisory board of Journal of International Banking Law and Regulation

Foreign contributing editor, Banking & Finance Law Review (Canada)

Charges over Cash Deposits, International Financial Law Review, Nov 1983, p.14
Articles, reviews, case notes etc.
Cash Deposits as a Form of Security, Butterworths, Banking and Financial Law Review, 1987, p.162

Negotiability and Estoppel, 1988, 1 JIBL (Journal of International Banking Law), p.8

Following the Proceeds of Fraud, Current Developments in International Banking, ed Koh Kheng Liang and others, Butterworths, Singapore, 1989 (with P. Cresswell QC), p.266

Extraterritorial Orders Affecting Banks, BFLR (Banking & Finance Law Review), May 1992

The Modern Relationship of Banker and Customer in English Law, (a chapter in European Banking Law, ed R. Cranston, Lloyds of London Press, 1993, 2nd edn, 1999)

Regulation and Deregulation in UK, (a chapter in International Banking Regulation eds JJ Norton, CJ Cheng & I Fletcher, Graham & Trotman, London, 1994) p.81

Insulating against Perceived Risks and the Role of the Choice of Law, NAFTA, Law & Business Review of the Americas, Autumn 1995, p.60

Liability Risks in Derivative Sales, [1996] 1 JIBL, p.18

Derivatives Sales Liability: Approach of the English and US Courts, [1996] 7 JIBL, (with C. Olive), p.263

Set-off and Charges over Cash, 12 BFLR, Sept 1996, p.167

Recent Developments in UK Banking Law, (a chapter in Current Legal Issues Affecting Central Banks, ed R. Effros, Vol 4, International Monetary Fund, March 1997) p.235

Liability for Foreign Branch Deposits in English Law, (a chapter in Making Commercial

Law, Essays in honour of Roy Goode, ed R.Cranston, Clarendon Press, Oxford, 1997) p.323

Contracts and Monetary Union, 8 European Business Law Review, Oct 1997, p.228.

The Reform of Financial Regulation in the UK, [1998] JIBL, p.43

The Legal Status of Central Bank Investments under English Law, [1998] Vol 57, Cambridge Law Journal, p.374

Derivatives Sales: Private Law and the Impact of Regulatory Standards, (a chapter in

European Securities markets, ed G. Ferrarini, Kluwer, London, 1998) p.135

Dealing with Banks in Distress, foreword and afterword to chs 10 and 11 of Current Legal Issues affecting Central Banks (ed R. Effros, Vol 5, IMF, April 1998) pp.252 and 303

Payment Obligations during the Transitional Phase of Monetary Union, JIBL, special issue on the international financial markets, 1998, p.2 (with Richard Brent)

Enforcement of Bank Claims and the Law of Security, (a chapter in Current Developments in Monetary and Financial Law, Vol 1, International Monetary Fund, 1999), p.451

Secondary Liability of Financial Institutions for the Fraud of Third Parties, (2000) Vol 30 Hong Kong Law Journal p.74

Interference of Public Law in the Performance of International Monetary Obligations, Ch 21, International Monetary Law, ed Giovanoli, (Oxford University Press, Oxford, 2000)

A Successful Milestone in the UK's Regulatory Reform, Journal of Internat. Banking Reg'n, Vol 2 No 2, July 2000, p.1 (editorial)

Liability of Central Banks and Supervisory Authorities, BIS Legal Experts' Symposium, 19 October 2000

International Standards in the Governance of Financial Markets, Journal of Financial Crime, Vol 8, No 3, Feb 2001, p.248 (with Cheong Ann Png)

Jurisdiction, Conflicts of Law, and the Internet, (chapter 8 in Capital Markets in the Age of the Euro, ed Ferrarini, Hopt and Wymeersch, Kluwer, The Hague, 2002) p.153 (with D Quest)

Supervision of Financial Institutions in the United Kingdom, Chapter 23 in Current Developments in Monetary and Financial Law, Vol 2 (International Monetary Fund, 2003), p.489

Commentary on 'Documents and Contractual Convergence in International Trade', in Commercial Law and Commercial Practice, ed Sarah Worthington (Hart, Oxford, 2003), p.213

Global Financial Law, Law and Financial Markets Review, Vol 1, Issue 5 (Sept 2007)

CSR in Finance: the Development of International Norms, published in Studies on Corporate Social Responsibility, ed Jianbo Lou, Peking University Press, Beijing 2009, pp. 559–566

Standards and the Rule of Law after the Global Financial Crisis, Chapter 4 of International Monetary and Financial Law, The Global Crisis, ed Giovanoli and Devos, Oxford University Press, 2010.

European Business Organization Law Review, Vol 14, Issue 01, March 2013, p. 141-3, book review of Avgouleas, Governance of Global Financial Markets: The Law, the Economics, the Politics, Cambridge University Press, 2012.

Board of Appeal of the European Supervisory Authorities (2013) 24 European Business Law Review, Issue 2, pp. 165–171

Awrey, Blair, and Kershaw, Between Law and Markets: Is there a role for culture and ethics in financial regulation?, 38 DEL. J. CORP. L, 191 (2013)

Odious debt, chapter 17 of Sovereign Debt Management, ed Rosa Lastra and Lee Buchheit, Oxford University Press, 2014

Is there a role for culture and ethics in financial regulation?, chapter 9 of Functional or dysfunctional – the law as a cure? Risks and liability in the financial markets. Stockholm Centre for Commercial Law, publication number 22, 2014, p.173

Remedies—Injunctive Relief, chapter 12 of International Financial Disputes, Arbitration and Mediation, Oxford University Press, 2015

Book review in Arbitration International, 2015, 31, 515–518, Rethinking the New York Convention: A Law and Economics Approach by Professor Shen Wei (published by Intersentia, Cambridge, 2013)

Reconceptualizing the role of standards in supporting financial regulation, chapter in Rethinking Global Finance and its Regulation, Cambridge University Press, 2016

Alternative Dispute Resolution and its Relationship with the Judicial Process, a chapter in Commitment to Law, Development and Public Policy: A Festschrift in Honour of Dr S.K.B. Asante, ed Oppong and Agyebeng, 2016, Wildy, Simmonds and Hill Publishing, p.201

The role of judicial review in the EU's financial architecture and the development of alternative remedies: The experience of the Board of Appeal of the European Supervisory Authorities, with Grace Cheng, Quaderno di Ricerca Giuridica n. 84 - Judicial Review in the Banking Union (Banca d'Italia)
Public Engagement
---
Related news