Sophie Colacicchi from Central Working in Interview with qLegal's Romain Bouteille
Sophie Colacicchi has been manager of the Whitechapel Central Working club for now seven months. In this interview with Romain Bouteille, an Intern at QMUL's qLegal, she explains how the business works. She guides us into a collaborative world that precisely matches our world's evolutions in terms of entrepreneurship and business.
Published:
Can you tell us about Central Working?
Central Working is a business founded in 2011 by James Layfield. After observing crowded cafés, packed with people working on their laptops, James Layfield had the idea to gather these people in the same office, so that they could make contact with each other. Central Working provides start-ups and SMEs infrastructures and networks that will create the favourable conditions for the growth of their structure. By placing various companies in the same office, effortless communication is enabled and each company can discover how they can be useful to each other. This creates a network that keeps growing day by day. Whether it is for a couple of hours or for a permanent stay, Central Working offers numerous workspaces and everyone is welcome. As of today, there are seven sites and three more are going to be opened by the end of the year. The company has 21 employees.
Central Working mostly host start-ups and SMEs. At the beginning we considered offering our services to companies with a maximum of 10 employees. But with the boom of co-working and the concept gaining popularity, we have expanded this number. Our largest company manages around forty employees, and in the future we are thinking about hosting companies with up to a hundred workers.
What is your role in this company?
I (Sophie Colacicchi) am the manager of the Whitechapel Club, which is the largest Central Working site in London. When a client requires a workspace, I meet the client in order to get an overview of their business, needs, plans and dreams… Once this is done the start-up can move in.
As a manager of the Whitechapel Club, it is important for me to know what kind of businesses choose us so that I can place them in relation with another business that could be helpful for their activity. I work with an associate that spends two months in each Central Working club in order to be aware of all the businesses currently working across the clubs. He then can report to the other clubs what type of businesses are growing and link them with other businesses from different clubs.
What is the aim of Central Working and what are the benefits of co-working spaces?
At first, the goal of Central Working was to gather people in the same place, so that they could communicate more easily. Now a real network has been built and joining Central Working offers the possibility for start-ups and SMEs to gain new contacts and expand. In fact, our seven sites host more than 2,500 members. In the Whitechapel club, we have more than seventy companies. A major advantage of co-working is that it enables communication and allows new start-ups to get integrated to the start-up world. Companies share an office, but it is more than that. Instead of being turned inwards (as in traditional offices), companies get to discover potential partners or clients. They can share advice, discuss future plans and even become friends!
Thanks to co-working, two companies that may appear to have very little in common can end up working together. We have a great example of this in our club. On one side, Everledger is a company that registers the routing of diamonds with a permanent ledger on a secure blockchain interface. On the other side, Vastari is an art platform that links museums searching pieces for an exhibition with private art collectors willing to lend their artworks. Thanks to Central Working, these two companies have met, discussed, and created a common project. They work together to track the provenance of paintings. Without Central Working this collaboration may not have happened, and we are proud to see such projects arise. Therefore, by offering a space to share, Central Working also acts as an accelerator for start-ups because the available infrastructures and networks favour their development.
It seems to be a really great idea. Would you say there are downsides to this?
Major downsides? Probably not… Except it can get noisy at points! As there are many different companies working in the same place the noise can sometimes be disruptive for people - but it creates atmosphere.
Central Working is probably not suitable when a business is super confidential. The offices are open and people can come in and out. This is why sectors that require confidentiality do not usually find the fit of Central Working appropriate.
Your website shows a partnership with One Thought, can you tell us more about that?
One Thought is what we call a "school of thought". They provide us with monthly training, offering a reflection on our way of thinking and acting. Contemporary issues make it necessary for us to have a healthy mind, as it is the key to efficiency. One Thought's outlooks create an organised and healthy mind that provides many benefits. Clients that have used One Thought have discovered an enhancement of their work relationships and found that they were less stressed.
Your key words are flexibility and environment. What do they mean for Central Working?
Flexibility is an important matter for start-ups and new entrepreneurs because their business can evolve rapidly. Central Working allows adaptability for these businesses. If a start-up is growing and needs to hire new people, it can easily move to a new office. In our Whitechapel Club, an entrepreneur started working in our offices six months ago, and he has hired one person per month since then. The growth of his business is fantastic and our goal is to be able to respond to those needs quickly and efficiently.
In co-working, flexibility is a major perk. When a start-up signs up, a simple deposit replaces a traditional contract that shackles young businesses. Whenever a company feels the need to leave, it can do so without constraint. Therefore the commitment is weak, providing a monthly payment so that businesses do not fear for their future. Central is an asset for the tech start-up sphere.
The work environment is also a key to success. The interior layout of an office highly impacts productivity. At Central Working we believe that a clean and open workspace contributes to a worker's motivation. Every worker has different needs, so we need to dispose an environment that is adapted to the worker. For example, these tables were tailor-made, so that they would perfectly suit the person.
---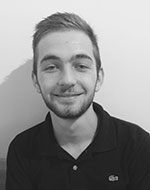 Romain Bouteille (pictured right) is about to start studying law and history in Sorbonne University, Paris. He has written this article whilst undertaking an internship at qLegal, Queen Mary University of London.
Many thanks to Sophie Colacicchi for welcoming me at Central Working, Whitechapel, and for taking the time to answer all my questions.
Find out more about Central Working on their website and follow them on Twitter or Facebook.