North America Chapter Event
CCLS North America Alumni Chapter Held its First Zoom Event.
Published: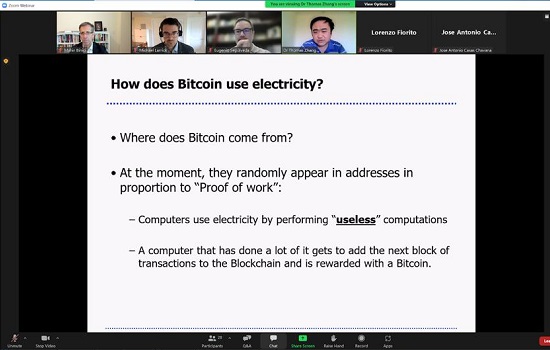 On 27th May the CCLS North America Alumni Chapter held its first event on Zoom. This is what Ayca Ozer (Law and Finance MSc, 2013) said about the event: "Thank you for the immense interest! Last week, we had an amazing panel on "Blockchain Technology, Cryptocurrency Mining, and Sustainable Energy Consumption". Our distinguished panelists gave insight on latest developments in blockchain usage for sustainability governance, crypto currency mining energy consumption concerns and global risk implications in the financial system. Special thanks to Professor Rafael Leal-Arcas for dedicating his time and joining us from London by bridging the North America Chapter to the CCLS.
Huge thanks to Lorenzo Fiorito (Comparative and International Dispute Resolution LLM, 2020) and to Dr Mahir Binici, who are renowned and well-respected experts in their fields for making it possible. As policy advisors and legal practitioners, we need to keep our eyes on that amazing transformation. We greatly enjoyed having attendees all over the globe. It is one of the most amazing parts of being such an internationally diverse community! We are looking forward to seeing more CCLS alumni at our future events!"
Michael Larrick (Comparative and International Dispute Resolution LLM, 2020) acted as the event moderator.
Read more about CCLS North America Chapter.