CCLS Kenya Alumni Chapter Welcome Event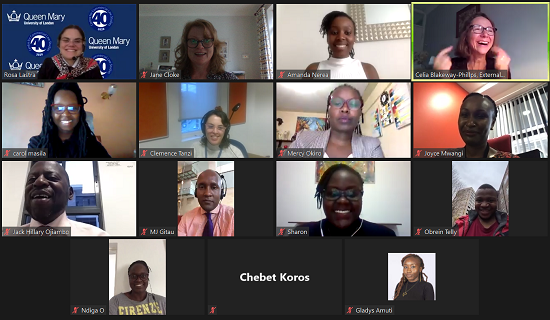 The CCLS Kenya Alumni chapter has "officially" launched with a welcome event hosted by the Chapter Lead, Jack Hillary Ojiambo (International Commercial Abitration LLM 2007), and Prof Rosa Lastra (Sir John Lubbock Chair in Banking Law, CCLS). The event brought together 14 alumni via Zoom for an introduction to the Chapter's aims and purpose and for some informal reminiscing about life in London and studying at CCLS.
Sharon Odeny (Corporate and Commercial Law LLM, 2020) shared the following: 'The second half of my time studying at CCLS was not so easy adjusting to the Covid situation but the first six months were some of the best times for me because I got to meet some of the best academics in the world. I remember being taught by the legendary sovereign debt guru – Lee Buchheit. Sitting in the London parks were other highlights, despite the cold in the Autumn season. I am happy that I have been able to grow my network and made many friends and I hope to be part of this network for a lifetime'.
Joyce Mwangi (Tax Law LLM, 2013) shared how she thought that she might be the oldest alumnus present at the event and her memory was how she studied at CCLS on a career and family break whilst leaving her family behind and had a surprisingly lovely time!
Chebet Koros-Musumba (Intellectual Property Law LLM, 2018) said about the event: 'It's been lovely to meet and hear from other alumni. I look forward to more interactions'.
As Rosa Lastra said: 'Your alma mater in London really appreciates all of you being with us today'.
Acquaintances were renewed at the event and email addresses were exchanged during a very enjoyable hour of social interaction. Kenya Chapter lead Jack stayed on the Zoom call for longer and there were further discussions and nostalgic chat.
Thank you all for attending the inaugural event. We are very much looking forward to more get-togethers among the alumni in Kenya!