Donor story: Keith Thomas, The London Hospital Medical College, Class of 1955
Published:
We recently contacted Dr Thomas to take part in our Annual Fund Telephone Campaign, where our students are given the opportunity to talk to our experienced alumni, tell them about the University today and promote the Annual Fund.
Keith was one of many who kindly shared his tales as a student of The London Hospital Medical College, where he enrolled to study medicine in 1950.
Keith was born in the year of 1931 in Cardiff to Welsh parents, Marian Evans and Oswald Thomas. Though Welsh originally, Marian was born in east London where her parents had settled after marriage – they owned a grocery store in Leytonstone. They, however, returned to Wales in the late 1890s when their venture, sadly, failed. Keith's father, on the other hand, was born in the Village of Senghenydd and left school at the age of twelve to work in the local pits – as was common in his day. Over the years he found himself in London where he worked in a brass foundry, eventually moving back to Wales in 1930. This is when he met Keith's mother, while working as a bus conductor.
Keith grew up in a mining village called Abertridwr (translates to 'the meeting of three waters'), a mile from where his father was born. Incidentally, Senghenydd was the site of the worst mining accident in British mining history; on 14th October 1913, 439 men and boys were killed in a mining explosion.
'My schooling consisted of the local infant school, then primary school, followed by free education at the local secondary school, named Caerphilly Boys' Secondary School.' Keith considers himself as part of the 'fortunate generation', firstly because he was too young to sign up for the War and secondly for being just the right age to take advantage of the opportunities peace had presented.
'Due to the War, there were no men to go and see playing sport, so the headmaster decreed we could play rugby once a week. Due to the rationing of clothes, we could wear anything as a jersey. My mother promptly gave me one of her jumpers. It was lavender with yellow flowers around the neck. Upon hearing of my pretty jumper, my father bought me my first jersey! Slowly, my interest and skill at rugby improved – it was yet to be understood that rugby was going to be important in my life.
'During my time at sixth form, two very singular events occurred. One, I was sixteen going on seventeen, when I went out with a girl, Diana. We watched 'A Matter of Life and Death' (known as 'A Stairway to Heaven' in the US). As for my date? The boy-girl relationship was sustained. Two, while studying my A Levels in chemistry, physics and biology, my rugby skills had developed such that I was by then playing against other schools in other valleys and was eventually chosen to play in the Final Schoolboy International Trials against England. On this very day, I met Gywn Rowlands, a medical student, who later played international rugby for the Wales national team. He told me about The London and asked me why I hadn't applied. I explained I'd already been accepted at Sheffield and my accommodation had been organised – I was to stay with a vicar much to my mother's delight. He told me he could get me in – my interest was piqued and three days later I received a telegram inviting me to interview. I met with the Sub Dean, John Ellis, and in short, I was accepted and moving to London (but no longer living with a vicar much to my mother's chagrin).
'Essentially, my entrance to The London was cooked up around my rugby skills. I was told I'd have to do my first MB externally and was advised to do a 'crammer'. The plan was to begin in September, take the exam in December and then join up with my year in January as a beginner. Everything was going well until I went home for the summer, at the end of my first year, when all of a sudden I had developed a pain in the right side of my chest. My mother listened to my chest – I suspect she had seen the doctor do that to her mother who had died during the Influenza epidemic of 1918. At the time she said nothing, but after having spoken to one of her chapel friends, who was incidentally a nurse at the local chest clinic, I found myself seen to, screened and then became resident at Sully Hospital. I had tuberculosis.
'After my interval with TB, the Dean thought it best to keep me under a watchful eye so, during the final years of my student career, I was resident to the comforts of the student hostel. Now might be the time to reveal an episode in my career of which I said little then. It was in September 1954, on a Sunday morning, when a porter knocked on my door to tell me there was a midwife waiting for me in front of the hospital. (We'd just started learning about midwifery and were told we would all have to witness childbirth.)
The midwife was on her bicycle, next to mine, both loaded with equipment. We cycled down Turner Street, through Commercial Road and further into Shadwell, when we arrived at a high block of flats. I was introduced to the patient as the Doctor – flattering but not at all right just yet given my lack of experience. Around lunchtime, the midwife left to have lunch – I remember holding my hands in prayer, mouthing "please don't go" but she left and the scene was set. To cut an incredibly riveting story short, by the end of the day I had experienced the contents of all the major orifices of the female body but what was that in comparison to hearing a new-born cry for the first time?
A medical student's first job: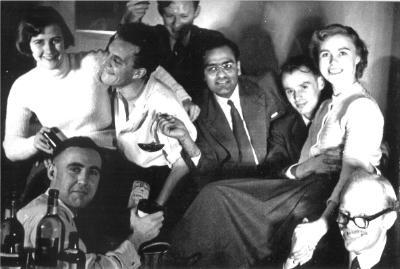 Firm: 1953 medical students having a quiet drink
'In my day consultants headed a 'firm'; this was made up of a supporting 'senior registrar' and junior staff – the most junior being a 'house officer'. In those days, being a house officer was a medic student's first job and this role lasted about a year. During this time, I was responsible for attending outpatients, doing ward rounds and visiting surgeons' operating sessions. In those days it was required to do two such jobs, one surgical and one medical – this is equivalent to today's Foundation Training.
'You might be wondering what happened to my girlfriend. One of the advantages of being in London – there was always work available. Diana qualified as a teacher and taught at George Lansbury School in Bow. In due course, I qualified. It was on a Thursday, we went home on the Friday, saw the local vicar on Saturday and married three weeks later.
'My first job after registering was acting as a locum for a doctor who was due a holiday, at Poplar Hospital. He was a grade above me so I was inexperienced for the job but it was just for two weeks and there was £14 wages in it for me. Luckily, this experience was a real gateway into hospital medicine and led to a range of jobs.
'I then went on to do my National Service in the Royal Air Force as a medical officer. Thankfully, it was after I had qualified – the less fortunate did it the other way and this disrupted studies and development for many. After that, I ventured into General Practice after some paediatric and obstetric experience up until the age of seventy.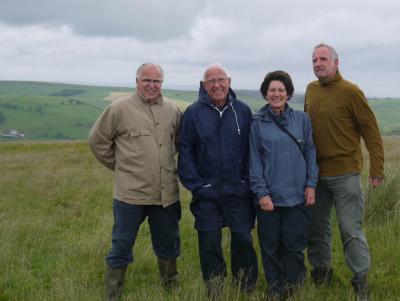 (L-R) Matthew, Keith, Louise, Mark
'My wife and I had three children: Paediatrician Louise (60), Mark (57) runs his own business and elderly-care Consultant Matthew (52). Both Louise and Matthew studied at The London also.'
Louise: My father remained a very popular doctor throughout his career because of his thoroughness, his intuition and clinical acumen and his genuine understanding of people's motivations and their frailties. I am sure he will feel happy to have provided some support to students needing a helping hand as he feels people were kind to him. He has always enjoyed the memories of his time at The London and has many outrageous stories that he has always been pleased to share.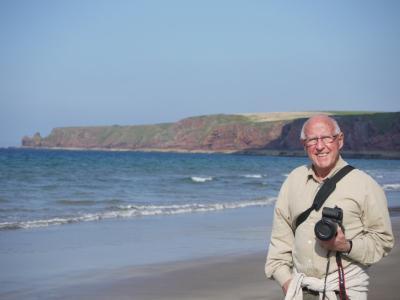 Keith with his camera
Keith is now happily retired, and has been for the last fifteen years. He lives in Wales and continues to maintain an active lifestyle; he visits his gym several times a week and does Pilates. He writes and has submitted plays to BBC Wales for consideration and is a keen photographer.