Staff volunteer opportunities
There are many ways to support your local communities through volunteering, giving your time and skills to help local people and places. Below are just a few examples of roles in organisations and charities local to Queen Mary's London campuses.
If you'd like to volunteer nearer to where you live, please search for your local area's volunteer centre, who will be able to help find you an opportunity.
If you would like to support local communities in response to Covid-19, please visit our coronavirus response volunteering opportunities page.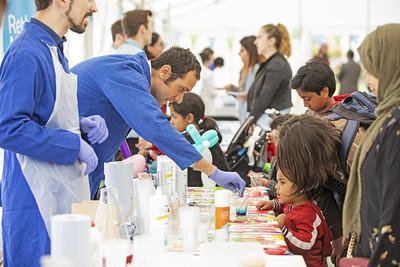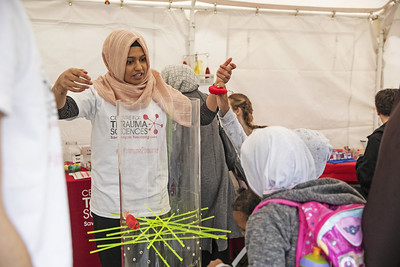 Community Languages – Translation opportunity
As an University we work closely with non-profit organisations and charities across east London. There is a need locally for these organisations to informally translate their written resources into languages a lot of our local residents are more familiar with – Somali, Bengali/Bangla, Sylheti and Chinese Cantonese.
If you are fluent in one of these languages, and would like to volunteer a few hours to support our local groups and projects in providing some simple written translation, please email publicengagement@qmul.ac.uk
East London Cares – Befriending older residents
East London Cares is a community network of professionals and older neighbours helping one another to overcome loneliness and isolation in Tower Hamlets and Hackney. 
Their 'Love Your Neighbour' scheme brings people over 65 together with younger neighbours to spend time one-to-one weekly on the phone. 
They also have opportunities to volunteer through social clubs.
Usually, everyone is brought together in person at various events and programmes which are volunteer-led, but these have moved online. 
Commitment can be flexible, from an hour or two a week to a session a month.

If you are interested in finding out more, fill in this form and join a virtual induction, which takes place monthly.
Coram Beanstalk – Volunteer reading helper in schools
As a Coram Beanstalk reading helper, you'll be placed in a local primary school or nursery setting to help three or more children aged between 3-11. With your support, you'll help them improve their reading ability, confidence and learn to love reading.
Currently, the scheme is not active as schools are closed, but you can still register and receive training ready to support schools and children with their literacy.
Tower Hamlets Cemetery Park – Nature conservation volunteers
The Friends of Tower Hamlets Cemetery Park are always looking for new volunteers to participate in making the cemetery park welcoming for all local residents.
From biodiversity monitoring of local wildlife, to caring for the plant life, to researching the stories and lives of the people buried there – there are many ways to get involved in this secret haven a few minutes' walk from the Mile End campus.
Other opportunities in Tower Hamlets
For many other volunteering opportunities in Tower Hamlets, visit Tower Hamlets Volunteer Centre.