The beginning of the Queen Mary journey
Queen Mary has a long, proud and distinctive history built on four historic institutions stretching back to 1785 and beyond.
St Bartholomew's Hospital Medical College
St Bartholomew's Hospital was founded to improve the health of the community of West Smithfield in the suburbs of the City of London. It was known legally as the "House of the Poore in Farringdon in the suburbs of the City of London of Henry VIII's Foundation".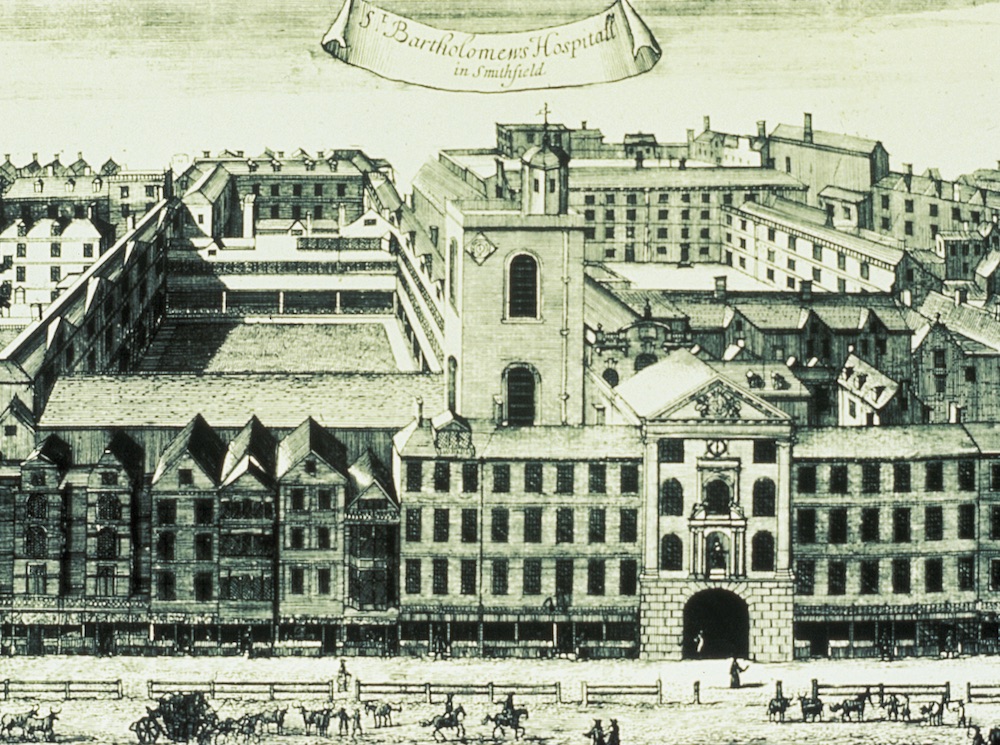 Medical education took place from 1123, although teaching was not officially recognised until 1843 when St Bartholomew's Hospital Medical College was established.
Distinguished alumni and staff include:
William Harvey, famous for his research into anatomy and the circulatory system, became the Physician in charge at St Bartholomew's Hospital in 1609
John Abernethy, a surgeon who is considered to be the founder of the medical school, gave lectures in his home until a theatre was built in 1791
Sir James Paget, English surgeon and one of the founders of scientific medical pathology, enrolled as a student in 1834
Elizabeth Blackwell was the first woman to get a medical degree in the US, and a pioneer in for women doctors. She enrolled at St Bartholomew's Hospital in 1850
Elizabeth Gordon Manson became Matron of St Bartholomew's Hospital in 1881. She was a pioneer for the nursing profession and established the British College of Nurses in 1927
The London Hospital Medical College
The London Hospital was founded in 1740 to improve the health of the local communities living in London's East End. Its aim was "the relief of all sick and diseased persons and, in particular, manufacturers, seamen in the merchant service and their wives and children". It was rooted in the community it served.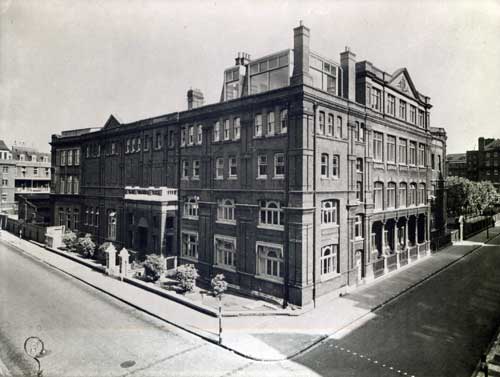 In 1785, the London Hospital Medical College was founded next to The London Hospital and was England's first purpose-built medical school. It pioneered a new kind of medical education that provided teaching in theory as well as clinical skills.
One of the founders of the College was Sir William Blizard, who is famous for his teaching of anatomy, physiology and surgery, as well as for his wide interests, including charitable work, social reform and writing poetry. Blizard was also an innovator in the medical profession. For example, he introduced the practice of walking the wards, nowadays an indispensable part of medical education. He stressed dignity – of the patient, the human body, and the doctor – and precision in language and practice.
Blizard's ethos, innovations and rigorous intellectual approach are embodiments of Queen Mary's continued belief in achieving the previously unthinkable.
Westfield College
Westfield College was founded in 1882 to provide higher education to women. In the second half of the nineteenth century, it was one of only four colleges that opened exclusively for women. Modelled on women's colleges in Oxford and Cambridge, it was the first residential institution for women in London.
Its founder and first principal was Constance Louisa Maynard, a pioneer of women's education, who was also the first woman to study Moral Sciences at the University of Cambridge.
When it opened in 1882, there were just five students; this had risen to 60 by 1913.
In 1903, non-resident students were allowed to attend and in 1965, men were admitted.
With its education ethos strongly grounded in Christianity, it forged links with institutions around the world and was renowned for its progressive international outlook. The College's first resident lecturer had worked in Japan in 1888, while students often travelled on missionary visits to countries such as Nigeria and India.
In 1916, Pao Swen Tseng was the first Chinese student to graduate from the University of London, having studied botany under one of Westfield's visionary academics, Dr Ellen Delf-Smith.
Today, Queen Mary continues to have a global outlook and is one of the most internationally diverse institutions in the world.
Queen Mary College
Queen Mary College was founded in the nineteenth century to provide education to working class people living in London's East End. It originated from the People's Palace Technical Colleges, which opened in 1887 and were funded by the Draper's Company. Opened by Queen Victoria, the People's Palace provided evening classes, a library, reading rooms and social activities. Its purpose resonates with Queen Mary today. It existed to provide education to people from all backgrounds and as "a place where people of all classes and conditions congregate", it promoted diversity.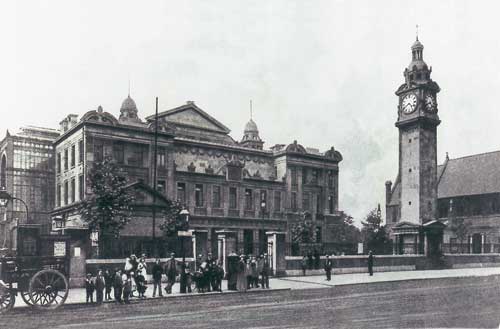 In 1896, the People's Palace Technical Colleges became the East London Technical College, providing day and evening classes in a range of subjects, including engineering and physics. It also prepared students for entry into the Civil Service and for University of London exams.
In 1905, there was further name change – to East London College – and a new aim of the institution: to promote higher education in East London. Classes would help prepare students for university or to develop a trade or profession.
Queen Mary College continued to be a progressive institution, with particular strengths in science and engineering as demonstrated by the teaching of Computer Science from 1968, the same year that the institute received its first computer.
It has also led innovation in other areas, for example Professor Sir Roy Goode set up the UK's first Centre for Commercial Law Studies in 1980.
From 1887 to 1901, the People's Palace library was located in The Octagon building, designed by the progressive and renowned architect Edward Robert Robson. Inspired by the Reading Room at the British Museum, it is still used for examinations, concerts and graduations.
In 1931, the original People's Palace was burnt down; the new building was opened by King George VI in 1937.
Discover more about our history by visiting the Queen Mary University of London Archives or read more about some of our notable people.