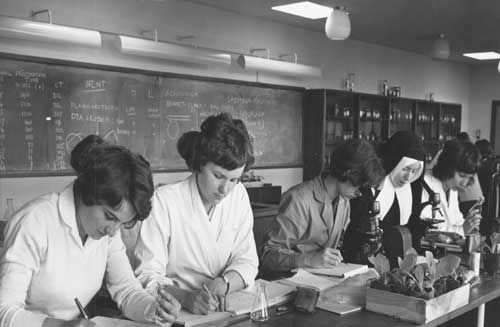 Westfield College students working in The Laboratory, 1962
The efforts of four 19th century pioneers brought further education to their fellow women when this was not considered a priority. Rejecting a purely domestic lifestyle, there was an aim – and a clear need – to extend the empowerment and liberation offered by higher education to women.
Westfield College was founded in 1882 through the efforts of Ann Dudin Brown, Constance Maynard, Caroline Cavendish and Mary Petrie. Situated on a leafy campus in Hampstead, it was the first college to open with the specific aim of preparing women for degrees from the University of London, and taught subjects beyond those traditionally considered relevant to their lives. Alongside its strengths in the arts and humanities, the College introduced the study of botany in 1905 which enabled female students to take part in research: they conducted experiments in laboratories and participated in fieldwork.
The whole world of endeavour was gained
- Constance Maynard, circa 1914
Westfield was particularly renowned for its progressive international outlook. The College's first resident lecturer had an opportunity to work in Japan in 1888, while students often travelled on missionary visits as far afield as Nigeria and India. In 1916, Pao Swen Tseng was the first Chinese student to graduate from the University of London, having studied botany under one of Westfield's visionary academics, Dr Ellen Delf-Smith.
After receiving its Royal Charter of Incorporation in 1932, Westfield continued to broaden its scope before admitting male students for the first time in 1965.
Arts joins the sciences
Westfield College and Queen Mary College (QMC) had long recognised each other's academic strengths: the former specialised in the arts while Queen Mary was particularly renowned for its excellent teaching, research and facilities in the sciences. The colleges merged their respective expertise in the 1980s to create Queen Mary and Westfield College, bringing Westfield's staff and students to our home in Mile End.
The Westfield legacy
Today, the values of Westfield continue to weave through our commitment to equality, development and empowerment. In 2004, we opened the Westfield Student Village, which features several residences named after outstanding women in the College's history including Chesney House and Stocks Court (in honour of Principals Kathleen Chesney and Mary Stocks, respectively). Between 1989 and 2010, the Westfield Trust provided more than £4m of support towards a number of key QMUL projects including extensions to our Mile End Library and Students' Union, the restoration of the Queens' Building and the Octagon, the establishment of the Westfield Nursery, and the pastoral work of St Benet's Chaplaincy.