Unit for Social and Community Psychiatry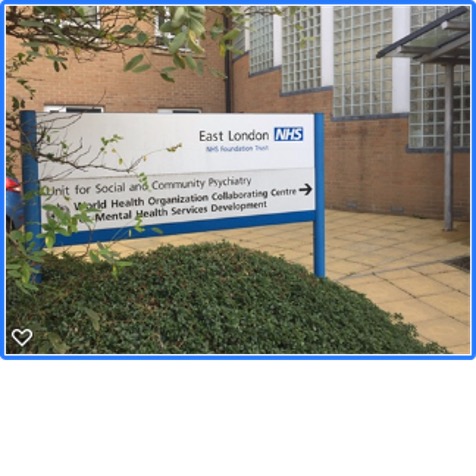 UNIT LEAD Professor Stefan Priebe (sabbatical) and Professor Victoria Bird (Acting Lead)
The USCP, based in Newham, collaborates with local services and has international links in Europe, Africa and South America. It provides postgraduate teaching, an extensive research programme and service development. In 2012 it became a WHO Collaborating Centre for mental health service development and is the only such centre in the world.
Research addresses concepts, methods and practice of social and community psychiatry and includes arts-based approaches, development and evaluation of novel interventions, therapeutic relationships, communication and patient reported outcomes.
Core resources are jointly funded through QMUL and ELFT: 2 Professors, a Senior Lecturer, a Clinical Lecturer, and USCP Manager. Additional resources fund around 40 researchers, PhD students and interns.
Research projects are funded by the MRC, Wellcome Trust, NIHR, Department of Health, and the European Commission. Since 2007 it has generated more than £30m external research funding, leading on a number of international studies, with partners in around 19 other countries.
Social dimension of mental health care.


Concepts, methods and practice of social and community psychiatry.


Development and evaluation of novel intervention.


Therapeutic relationships.


Communication.


Patient reported outcomes.


Arts based methods.
OUR TEAM
Stefan Priebe – Unit Lead
Victoria Bird – Professor
Catherine Carr – Clinical Lecturer
Nikolina Jovanovic – Clinical Lecturer
Eleanor Blunt - CSO
Zivile Jakaite - CSO
Myerscough, Anna - CSO
Gonca Ramjaun - CSO
Agnes Chevalier – Trial Manager
Harpreet Matharu – Trial Manager
Philip McNamee – Trial Manager
Emma Medlicott – Trial Manager
Renata Peppl – Trial Manager
Manuela Russo, Trial Manager
Sana Sajun – Trial Manager
Francois Van Loggerenberg – Trial Manager
Catherine Fung – Programme Manager
Erin Burn – Researcher
Mébh Conneely – Researcher
Kathryn Elliot – Researcher
Jennifer French – Researcher
Aleksandra Matanov – Researcher
Mimi Suzuki – Researcher
Matthew Faires – Research Assistant
Nadia Halim – Research Assistant
Lauren Hounsell – Research Assistant
Lauren Jerome – Research Assistant
Lopez Chemas, Natalia – Research Assistant
Emma Millard – Research Assistant
Katy Packer – Research Assistant
Tamara Pemovska – Research Assistant
Teodora Popnikolova – Research Assistant
Diana Romei – Research Assistant
Jodie Smith – Research Assistant
Anna Walker – Research Assistant
Ayed, Nadia – PhD Student
Merve Dilgul – PhD Student
Franziska Mosler – PhD Student
Nicola Power – PhD Student
Vian Rajabzadeh – PhD Student
Megan Tjasink – PhD Student (from January 2022)

CONTACT
Carolanne Ellis-Brewer (c.ellis@qmul.ac.uk; carolanne.ellis-brewer@nhs.net)
Unit for Social and Community Psychiatry
Newham Centre for Mental Health
Glen Road
London
E13 8SP