Queen Mary University of London is based in one of the world's truly global cities and our international community reflects this. We have students and staff from 155 countries and our international partnerships and activities allow us to deliver teaching and research with an international dimension and impact.
International student life
Watch this video of some of our international students talking about their experience living and studying in London.
English language requirements
All applicants to Queen Mary must show they meet a minimum academic English language standard for admission and to be successful on the course, to the indicated levels for the area of study. While you may not need to provide an official English language qualification, you need to provide evidence of sufficient English language ability in line with the IELTS requirements for the course to which you are applying. Please check Queen Mary's English language entry requirements for further information on the English language levels required before applying.
English language and study skills
If you have not achieved the required English language level yet, you may be eligible to take a Pre-sessional English course, or continue to take English language tests in your country to reach the level needed. Find out more on the Language Centre website.
Accommodation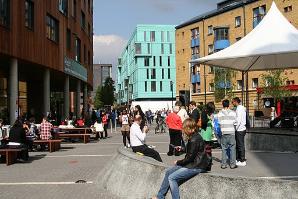 Queen Mary is a campus-based university, with five sites across east and central London. Our main campus in Mile End is one of the largest self-contained residential campuses in the capital.
Our students are able to enjoy all the advantages of campus life: a friendly student community, safety, and convenience. Nothing is ever more than a five minute walk away; we have shops, restaurants, a bar, gym, bank and accommodation all on site.
When you accept your place to study at Queen Mary our Admissions Office will send you information on how to apply for Queen Mary accommodation.
Scholarships
The School of Biological and Behavioural Sciences offers international students scholarships of up to £3,000.
Full details and further information is available on our International Science and Engineering Excellence Award pages.
You might also be interested in: