Teaching interest group
The Teaching Interest Group and Education Research (TIGER) is a group and discussion forum for anyone actively involved in teaching, curriculum or education development within the School of Biological and Behavioural Sciences. The main focus of TIGER is to support and share good teaching practice.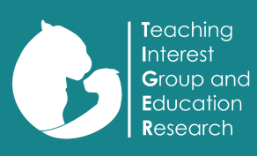 Enhancing the student learning experience is central to the School of Biological and Behavioural Sciences and TIGER provides a platform for academic staff to discuss the latest thinking in education, share best practice or simply listen to expert speakers. TIGER encourages engagement with online learning tools, such as our internal online learning environment QMplus, and using new teaching technologies and practices, recognising the importance of supporting different learning needs. The TIGER committee meets once a term to discuss ongoing initiatives.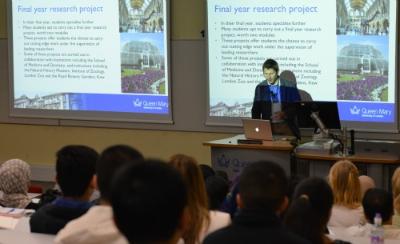 TIGER activities include a lunchtime seminar series and the development of an internal teaching support network where staff can share experiences and offer support and advice for educational projects. Our seminar series includes external speakers and workshops that focus on academic teaching needs. These workshops also contribute to the Academic Development, Education and the Promotion of Teaching programme.
Past events
| | | | |
| --- | --- | --- | --- |
| Title | Speaker | More information | Date |
| Making the most of your scholarship | | Read our event blog | Thursday 28 February 2019 |
| Engage, contextualise, share: Innovative use of social media in higher education | | Read our event blog | Monday 4 February 2019 |
| Calculating feedback for the masses | | Read our event blog | Thursday 25 October 2018 |
| Education research forum: Improving graduate outcomes | Dr Greg Szulgit, Dr Elke Vlemincx, James Wilkinson, Dr Sabita Menon, Dr Jayne Dennis | Read our event blog | Tuesday 11 September 2018 |
| What is teaching excellence? | Dr Jane Reid (Director of Taught Programmes and Senior Lecturer in EECS), Dr Nathalie Lebrausseur (Deputy Director of Taught Programmes for Chemistry and Senior Lecturer), Adam Sparkes (VP for Welfare, QMSU), Sumeera Ahmad (VP for Education) | Watch the video of the event | Thursday 17 March 2017 |
| Exploring how to make a smooth and effective transition for first year students | Dr Harriet Jones, University of East Anglia | Read our event blog, including a video of the seminar | Monday 5 December 2016 |
| Large group teaching | Dr Janelle Jones, Dr Nathalie Lebrasseur | Read our event blog, including a video of the seminar | Thursday 30 June 2016 |
| Enhancing teaching and learning (and academic careers) in the sciences through scholarly activity | Professor David Read, University of Southampton | Read our event blog, including a video of the seminar | Friday 15 January 2016 |
| | Dr James Pickering, University of Leeds | Read our event blog, including a video of the seminar | Friday 6 November 2015 |
Membership