Hear from some of our recent graduates about their experience at the SBBS and the University as a whole.
Carola Bigogno – BSc Biomedical Sciences (graduated 2018)
Now studying Medicine at Barts and the London School of Medicine and Dentistry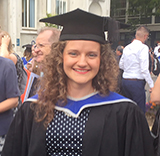 Being at Queen Mary was an incredible honour and an amazing experience – I studied at a top university, lived in an incredible city and met many friends, some of which truly became my family away from home. During my three years at the University, I was part of many societies and social committees. I was involved in the Catholic Society and founded the Red Cross on campus with some friends. Being part of societies was an incredible opportunity, as it gave me the chance to meet people and build on my professional and interpersonal skills. Overall, studying at Queen Mary has been an eye-opening experience. I was able to get out of my comfort zone and I really learned a lot about myself and my strengths.
Becky Oldroyd - BSc Psychology (graduated 2018)
Now Doctoral Researcher in Developmental Psychology Queen Mary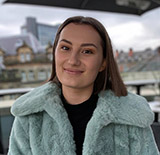 Studying as an undergraduate student at Queen Mary was one of the greatest experiences of my life – so much so that I decided to stay here to complete my PhD! As an undergraduate, I studied BSc Psychology. The course at Queen Mary was unlike any other top university course, as it had a strong biological and statistical component which prepared me from transferring straight from an undergraduate to a PhD programme. As an undergraduate, there were multiple opportunities to volunteer and get involved outside of your course, from things such as being a wellbeing mentor to A Level students, to being a research assistant working alongside PhD students, to the QInsight Civil Service course, which led to us going to Number 10 Downing Street to have a Q&A session with the head of the Civil Service! It was due to the wealth of opportunities and the world-class education that I left Queen Mary as a more confident and well-rounded version of myself. For that, I will always be grateful and proud to be a Queen Mary alumni.
Lilian Goodchild - BSc Biomedical Sciences (graduated 2018)
Now Genetic Technologist in Molecular Genetics at St George's University Hospitals NHS Foundation Trust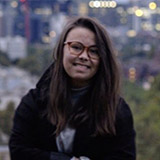 I obtained my BSc in Biomedical Sciences from Queen Mary in 2018. Studying a degree that so broadly covers the fundamental aspects of both molecular and cellular biology, pharmacology, physiology, anatomy, genetics and genomics has been so beneficial and has opened doors in such an array of scientific disciplines. For my final year thesis, I was lucky enough to put my passion for cancer biology into practice and undertake a research project at Barts Cancer Institute where I investigated the mechanisms driving chromosomal instability in pancreatic cancer. After I graduated with First Class Honours, I moved straight into a cancer research internship within the Centre for Cancer Prevention at the Wolfson Institute of Population Health, where for the next 6 months I worked on a project aiming to work towards an in-depth characterisation of the pathways leading from gene methylation to specific programmes of cell differentiation. These experiences led me to my current position as Genetic Technologist in Molecular Genetics at St George's, which without the opportunities that I had and the plethora of skills that I acquired throughout my studies and internship at Queen Mary would not have been possible. My time at Queen Mary really fuelled and strengthened my ambitions to pursue a career within cancer biology and genetics, and I am incredibly proud to be a Queen Mary alumni.
Simon Munro – BSc Biomedical Sciences (graduated 2017)
Now Tax Associate at PwC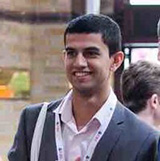 In September 2014 I began my BSc degree in Biomedical Science at Queen Mary University of London. The next three years to follow would see me travel over five and half thousand miles to China twice and prepare myself for working life within the financial sector. Whilst at Queen Mary I was lucky enough to represent the university presenting the life of a student in the UK to over 200 medical students in Nanchang, China explaining what it means to be a Queen Mary student. After showing the students the state of the art facilities in SBBS, students were desperate to visit. I completed my thesis in Bioinformatics, which helped me develop key analytic skills, whilst being supervised by Professor Conrad Bessant, a leader in proteomics. Both he and the SBBS staff helped to explain how the key skills developed through my degree at Queen Mary were transferable to a career in science and the wider financial industry. My experiences at Queen Mary and the supportive team within SBBS have been paramount in my achievements while at university and since.
Razia Chowdhry - BSc Biochemistry (graduated 2016)
Now PhD Student at University of Oxford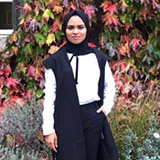 I studied Biochemistry at Queen Mary University of London, which was the best decision I've made. The course gave me the chance to explore various areas of chemistry in biology, which is becoming more and more important in scientific research as we combine different fields to understand a scientific concept. There were academics and lecturers who were very passionate about their subjects and were always willing to have a conversation. The degree helped me to move onto Imperial College London to carry out a master's degree in Biomedical Research and then into University of Oxford for a PhD. There were academics at SBBS who played important roles in my decision to pursue a PhD. Dr Ewan Main, who was my undergraduate research supervisor, gave a lot of motivation and encouragement, and Dr Jon Nield who went out of his way to help me through the application process and guided me in many ways. I also had the chance to take part in societies and make many good friends during my time at Queen Mary. I was the Vice President of the Archery Club where I was taught archery and which I continue to practice at Oxford. Queen Mary has given me a solid foundation, which I am using and plan to continue using in science to contribute to society in some way.
Cinderella Jawahar – BSc Medical Genetics (graduated 2016)
Now PhD Student in Cancer Immunotherapy at University of Southampton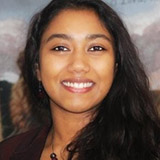 I thoroughly enjoyed my time as an undergraduate at Queen Mary. I studied Medical Genetics and graduated in 2016, and the teaching and training I received prepared me well for my PhD. Our course had a strong bioinformatics basis that has been particularly useful for my research. I really enjoyed having a wide range of module choices across various biological disciplines, as these helped me identify areas I was passionate about and sparked my interest to study further. During my time at Queen Mary, I also had the opportunity to develop various skills, learn new hobbies, and even organise a Christmas themed outreach for rough sleepers. It was a wonderful three years of my life, and my time at Queen Mary has undoubtedly played an important role in shaping the person I am today.
Tasqeen Ahmed - BSc Biochemistry (graduated 2015)
Now Policy and Public Affairs Officer - Civil Service Science and Engineering Fast Stream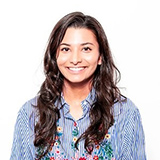 My four years at Queen Mary laid a brilliant foundation for my future. I studied BSc Biochemistry and undertook my final year project at a biotechnology company, BioMoti, focused on engineering cancer therapeutics. This fuelled my interest in the field of cancer research, which led me to study MSc Cancer & Molecular Pathology and Genomics at Barts Cancer Institute. No other university provided such a breadth of modules taught by leading experts. Whilst at Queen Mary, I took advantage of the many great opportunities including: interning at BP, hosting a weekly radio show for Quest Radio, working as a student ambassador, and interning at Pfizer through Q-Mentoring. Not only did this add a lot of colour to my CV, but also allowed me to develop soft skills like team work and communication which strengthened my application for the Science and Engineering Fast Stream. As part of the Fast Stream, I'm a member of the Queen Mary Outreach team and regularly attend panel events on campus to raise awareness of the Fast Stream, support students with applications and provide careers advice. I am forever grateful for my time at Queen Mary and am more than happy to provide guidance and support to students!
Ibrahim Farah – BSc Medical Genetics (graduated 2015)
Now Head of Translational Research and Discovery at Shivom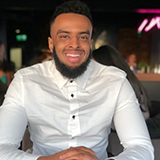 Studying Medical Genetics from leading experts and academics at one of the most respected institutions has opened many doors for me in industry and the academic world. The course was strategically designed so that I would be able further progress in genetics either through a wet lab or a bioinformatics route. This gave me an opportunity to study genetics from other areas including evolutionary and plant-based genetics, giving me a broad understanding of the field. The option to select modules empowered me to take control of my learning, and has since led me to further research into the field of neuroscience through my MSc and now in my current capacity at health-tech company Shivom. I have made lifelong friends from the course who are in the field as well and I keep in contact with them. My experience at Queen Mary shaped me into who I am today and undoubtedly SBBS will continue to shape and nurture the next generation of leading scientists.
Chloe Sinclair - BSc Biology (graduated 2015)
Now HR Program Manager at UBS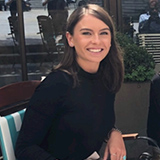 I truly enjoyed my experience at Queen Mary's School of Biological and Behavioural Sciences (SBBS) and have been able to apply many of the skills that I developed during my degree to my new career in Investment Banking. These range from technical skills in statistical analysis, to softer skills such as communication and perhaps most importantly, critical thinking. There was a good balance between lectures, lab assessments and free study time, which I found to be essential in enabling me to enhance my CV with work experience and extracurricular activities. I'm proud to have studied at Queen Mary, which enjoys a strong reputation in the business world - I've also met many other alumni in my current role. I'd highly recommend SBBS to prospective students and can assure current students that their experience at the School will be applicable to many career options, not limited to STEM alone. Thanks Queen Mary!
Dr Emmanuel Gonzalez Escobar – Genetics (graduated 2013)
Now Plant Biochemist at Lancaster University
I graduated from Queen Mary in 2013. The course structure of my Genetics degree allowed me to select modules ranging from ecology to chemistry, and I grew to appreciate the fundamentals of biological research. It was this freedom to choose from several modules that reignited my interest in biochemistry, an interest that I previously had, but it was only nurtured under the guidance of the University's academics. In a way, it was the challenging aspect of these chemistry-orientated subjects, which made me push harder. I sometimes wonder how I ended up as a plant biochemist, despite receiving little tuition on plant science during my undergraduate days. At Queen Mary, I recognised that our careers should not defined by the subject we choose to study and instead our career development starts by how we use the opportunities given to us. I personally relied on how understanding SBBS lecturers were during tutorials, and having the chance to talk openly, ask questions and debate over concepts. Queen Mary wasn't just a stepping stone to my research career, it set the foundation to where I am now, and I am very appreciative of the way we were pushed through challenges and the opportunities to carry out hands-on research during practicals. Each year I chose biochemistry-related modules, which culminated in doing a third-year project with Professor Conrad Mullineaux, studying the regulation of photosynthesis in tiny, single-cell cyanobacteria. The skills that I learned then, plus the opportunity to conduct independent research motivated me to pursue a PhD degree directly after graduating. I am now working to improve photosynthesis globally for food security. I am also the Project Lead and Founder of a UK-led initiative called Seanasol that envisions better sustainable agricultural practices in harsh and remote environments, and maybe, eventually, outer space. Looking back at my time in Queen Mary, I suppose I was never ready to study in a big city, but it was the variety of opportunities at the University and the vast diversity in London that best prepared me for reaching out to the rest of the world.
Dr Sally Faulkner – Zoology (graduated 2012)
Now Lecturer in Conservation and Ecology at Queen Mary University of London
I came to Queen Mary to study a BSc in Zoology, as a mature student in 2009. It was a big decision for me to make, as I was giving up a ten-year long career to undertake these studies. I found Queen Mary and in particular SBBS to be warm and welcoming from my first day right through to my last. I felt there was an inspiring and engaging community feel among the department I was involved in. The many field trips meant that I could get to know my lecturers and technical staff well and I really got to understand how academic life works. I was lucky to be able collect data for my final year project in a remote rainforest in Indonesia and this, along with encouragement from my lecturers started my career as a conservation scientist. I passed with First Class Honours and moved straight to do an MRes in Primatology at University of Roehampton. I was then offered a place on the first cohort of the London NERC DTP programme. Despite seeing many other universities on this programme it was the experiences at Queen Mary that drew me back and I was able to pursue a PhD within SBBS, co-supervised by the Institute of Zoology. After my PhD I knew I wanted to pursue a career where I could inspire students the same way that I had been inspired when I was an undergraduate. I have since been offered a lectureship position within the department where my academic career first started. I try to take the lessons I learned as an undergraduate student to every lecture I give as an academic staff member and I am incredibly proud to be part of the past, present and future of Queen Mary.
Nargis Begum – Medical Genetics (graduated 2011)
Now Assistant Trial Manager at University of Oxford
I obtained my BSc in Medical Genetics from Queen Mary back in 2011, which seems like a lifetime ago. As part of my degree I was able to take modules across a range of topics and disciplines which ultimately led me to my current role of working in Clinical Trials. My time at SBBS taught me a lot but the guidance and support I received from lecturers and tutors moved me to continue to pursue a career in research. They are supportive of all students including their alumni, which is really wonderful, as it's nice to still be a part of the community in some way. I look back on my time at SBBS with fond memories; it provided me with a skillset and confidence that can be applied to any field. The School nurtures students as individuals to ensure that whatever they go on to accomplish, they do so by providing them with confidence and guidance. I feel incredibly privileged to still be a part of the SBBS family.
Dr Simon Renny-Byfield – Genetics (graduated 2008)
Now Research Officer at Corteva Agriscience
I graduated from Queen Mary University of London in 2008 (Genetics, BSc) and 2012 (Plant Genetics, PhD). My years at Queen Mary were among the most formative of my life, and the skills and experience I gained working in the lab of Professor Andrew Leitch have been the building blocks of a successful career in science. I never imagined that beginning a degree in genetics at Queen Mary would take me across the globe, to live and work abroad in the United States. After graduating from Queen Mary I secured several post-doctoral positions, including one at the University of California, and applied the expertise I had developed at Queen Mary in an academic research setting. I now work in industry, for Corteva Agriscience, a multinational company and one of the largest providers of elite crop seeds in the world. My role at Corteva, in the Applied Genomics group, involves supporting breeders to help improve disease resistance and crop yield by discovering and curating genetic information about the crops we grow. The skills I acquired at Queen Mary have been essential to me contributing to sustaining food security for future generations and have given me the opportunity for a rewarding and fascinating career.