Dr Guy Westwell, BA, MPhil, PhD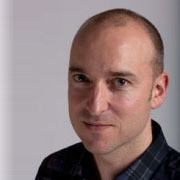 Senior Lecturer in Film Studies
Email: g.r.westwell@qmul.ac.ukTelephone: +44 (0)20 7882 8337Room Number: Arts One 1.43Website: https://qmul.academia.edu/GuyWestwellOffice Hours: Please email for an appointment
Profile
I am a graduate of Keele University (BA Hons) and the University of Glasgow (MPhil, PhD). I joined Queen Mary in 2006. My research focuses on the war film and antiwar film, film and politics, film and cultural memory, 9/11 and film, and iconic photographs and film. I welcome applications from students interested in pursuing doctoral research in any of these areas. At undergraduate level I teach FLM4200 Concepts and History, FLM308 Contemporary Hollywood Cinema, and FLM603 Mapping Contemporary Cinema. At postgraduate level I teach on the MA core course and deliver the optional module 9/11 and American Film. I was the recipient of Drapers' Award for excellence in teaching in 2009.
I am the editor of the Mapping Contemporary Cinema website, a student writing project, which publishes in-depth accounts of contemporary US, German, French and Russian British films, as well as short guides on a range of different themes.
Teaching
FLM4200 Concepts and History
FLM603 Mapping Contemporary Cinema
FLM309 Contemporary Hollywood Cinema
FLM6202 UG dissertation module
MA Film Studies core course
Current PhD Supervision
Tim Lindemann: 'New Rural Cinema - The Landscape of Rural Poverty in Recent American Indie Film', co-supervised with Dr. Alasdair King
Aditi Tara Verma: 'Making the Cut: A Study on Editing Practice for Contemporary Hindi Cinema', co-supervised with Dr. Ashvin Devasundaram
Research
Research Interests:
war and antiwar film
9/11 and film
film and politics
film and cultural memory
iconic photographs and film
peace and pacifism
film and ethics
Publications
Books and edited works

Parallel Lines: 9/11 and American Film (London: Wallflower Press, 2014)
Oxford Dictionary of Film Studies, co-authored with Annette Kuhn (Oxford: Oxford University Press, 2012).
War Cinema: Hollywood on the Front Line (Wallflower Press, 2006).
Selected articles and book chapters

'Acts of Redemption and 'The Falling Man' Photograph in Post-9/11 US Cinema', in American Cinema in the Shadow of 9/11 (Edinburgh, Edinburgh University Press, 2016), pp.67-88.
'In country: narrating the Iraq War in US cinema', in A Companion to the Historical Film (Wiley-Blackwell, 2012).
'Regarding the pain of others: scenarios of obligation in post-9/11 US cinema', Journal of American Studies, vol.45, no.4 (2011), pp.815-834.
'Accidental Napalm Attack and hegemonic visions of America's war in Vietnam', Critical Studies in Media Communication, vol.28, no.5 (2011), pp.407-423.
'In country: mapping the Iraq war in recent Hollywood combat movies' in Screens of Terror: Representations of War and Terrorism in Film and Television Since 9/11 (Abramis Academic, 2011), pp.19-37.
'One image begets another: a comparative analysis of Flag-raising on Iwo Jima and Ground Zero Spirit', Journal of War and Culture Studies, vol.1, no.3 (2008), pp.325-40.
˜The domestic vision of Vietnam Home Movies" in Image as Witness: Trauma, Memory and Visual Culture (Wallflower Press, 2007), pp.143-159.
See also my Queen Mary Research publications page: References