Dr Guy Westwell, BA, MPhil, PhD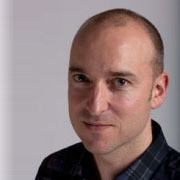 Reader in Film Studies
Email: g.r.westwell@qmul.ac.ukTelephone: +44 (0)20 7882 8337Room Number: Arts One 1.43Website: https://qmul.academia.edu/GuyWestwellOffice Hours: Please email for an appointment
Profile
My research focuses on the war film and antiwar film, 9/11 and film, iconic photographs and film, and peace and pacifism. I welcome applications from students interested in pursuing doctoral research in any of these areas.
At undergraduate level I teach FLM4204 Concepts and History, FLM308 Contemporary Hollywood Cinema, and FLM603 Mapping Contemporary Cinema. At postgraduate level I teach on the MA Film Studies.
I was the recipient of Drapers' Award for excellence in teaching in 2009 and The QMUL Teaching Excellence Award in 2020.
I am the editor of the Mapping Contemporary Cinema website, a student writing project which publishes in-depth accounts of contemporary US, German, French, and Russian films, as well as short guides on a range of different topics.
Teaching
UG
FLM4204 US Cinema: Key Concepts
FLM603 Mapping Contemporary Cinema
FLM308 Contemporary Hollywood Cinema
FLM6202 UG dissertation module
PG
MA Film Studies core course and dissertation
PhD

Hannah Cliff: 'Globalisation, Supranational Markets and National Cultures: How French Film and Digital Television Distribution is Changing in the On-Demand Era (2015 – present)', co-supervised with Prof. Sue Harris
Tim Lindemann: 'New Rural Cinema: The Landscape of Rural Poverty in Recent American Indie Film', co-supervised with Dr. Alasdair King
Aditi Tara Verma: 'Making the Cut: A Study of Editing Practice in Contemporary Hindi Cinema', co-supervised with Dr. Ashvin Devasundaram
Research
Research Interests:
peace and pacifism
war and antiwar film
9/11 and film
film and cultural memory
iconic photographs and film
film and ethics/politics
ideological film criticism
Publications
Books

Oxford Dictionary of Film Studies (2012, 2020)
Parallel Lines: Post-9/11 American Cinema (2016)
War Cinema: Hollywood on the Front Line (2006)
Journal articles and book chapters

'Religious pacifism and the Hollywood war film: from Sergeant York (1941) to Hacksaw Ridge (2017)' Negotiators of Identity: Figures of Transgression in War Representation (Edinburgh University Press, 2020).
'Peace Cinema: Religious Pacifism and Anti-War Sensibility in Friendly Persuasion (1956),' Open Screens, vol.2, no.1 (2019), DOI: http://doi.org/10.16995/os.11
'Dossier: Rising Flags, Falling Soldiers: Film, Icons and Political Violence,' Screen, vol.57, no.3 (2016), pp. 336-361.
'Acts of Redemption and 'The Falling Man' Photograph in Post-9/11 US Cinema', in American Cinema in the Shadow of 9/11 (Edinburgh, Edinburgh University Press, 2016), pp.67-88.
'In country: narrating the Iraq War in US cinema', in A Companion to the Historical Film (Wiley-Blackwell, 2012).
'Regarding the pain of others: scenarios of obligation in post-9/11 US cinema', Journal of American Studies, vol.45, no.4 (2011), pp.815-834.
'Accidental Napalm Attack and hegemonic visions of America's war in Vietnam', Critical Studies in Media Communication, vol.28, no.5 (2011), pp.407-423.
'In country: mapping the Iraq war in recent Hollywood combat movies' in Screens of Terror: Representations of War and Terrorism in Film and Television Since 9/11 (Abramis Academic, 2011), pp.19-37.
'One image begets another: a comparative analysis of Flag-raising on Iwo Jima and Ground Zero Spirit', Journal of War and Culture Studies, vol.1, no.3 (2008), pp.325-40.
˜The domestic vision of Vietnam Home Movies" in Image as Witness: Trauma, Memory and Visual Culture (Wallflower Press, 2007), pp.143-159.
See also my Queen Mary Research publications page: References