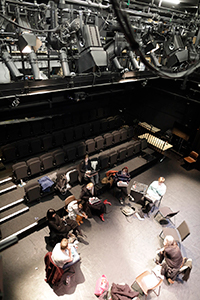 If you choose to study Film Studies at Queen Mary you will have access to a large range of professional and broadcast-standard production and post-production equipment.
Depending on the level and nature of the module, students are trained in a variety of practical filmmaking skills and then free to book the equipment they need using our web based boking system, Connect2.
We shoot on full-frame Canon DSLRs, Canon C100 Digital Cinematography Cameras and Sony 4K FS7s, with a selection of lenses, shoulder rigs, follow-focus and external monitoring.
Our store holds a wide range of lighting equipment including LED panels, Red Heads and Arri Blondes and Dedo lights, as well as reflectors, gels, flags, diffusers and softboxes. You can record the highest quality audio with digital audio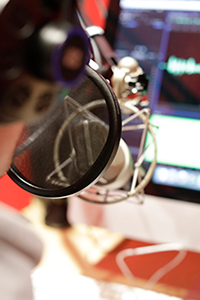 recorders, professional mixers, windjammers, and radio mics. We also have a wide range of grip equipment including a sit-on dolly and flexible track, suitcase dollies, handheld gimbals, the DJI Ronin, dolly mounted jib arms, and DSLR sliders.
Students can cast, rehearse and shoot their films in one of our two film studios with professional lighting grids, as well as shoot large scale green-screen work. They can also record professional quality voice over and foley effects in our professional audio booth.
Productions are edited on 27" iMac and Mac Pro workstations spread across two edit suites. These are installed with the complete Adobe Creative Suite, Final Cut Pro X and Davinci Resolve.