Engage Watermark Gold Award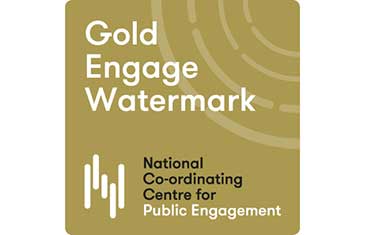 Queen Mary University of London (QMUL) are proud to be an Engage Watermark Gold Award accredited institution, a national accreditation issued to higher education institutions for excellence in the support and practice of public engagement by the National Co-ordinating Centre for Public Engagement (NCCPE).
Acting in a similar way to a charter mark, the Engage Watermark recognises the university's strategic support for public engagement and their commitment to improve the support offered.
The Gold Award level is given to an institution which is a beacon of excellence in the support it offers to public engagement. Gold Award accredited institutions invest significant resources over a period of time to build substantial momentum, and are ambitious to build on success and address areas where development is necessary.
We're delighted and extremely proud to receive the Engage Watermark. At QMUL we acknowledge public engagement as an integral part of research and teaching, and believe in creating and sharing knowledge with a broad range of public and community partners.

The Engage Watermark also demonstrates that we look forward to expanding our existing public engagement work to ensure QMUL is always building awareness, developing our reputation and engaging with communities.
Professor Simon Gaskell, QMUL President and Principal
QMUL are the first institution to achieve the accreditation, working closely with the NCCPE to evaluate the watermark process, while in return receiving a synthesis of key data relating to the institution, highlighting core strengths as well as highlighting areas for development.
A key criteria of achieving the Engage Watermark Gold Award is an ambition to build on success and use feedback from the process to address potential areas for development. This will be integrated into the existing QMUL commitment to continually develop and further embed public engagement, evidenced in its status as one of five key strategic aims in the college strategy 2015 – 2020.
Addressing this action plan will allow QMUL to apply for a Platinum Award on renewal, a status only available to current Gold Award institutions.
If you are interested in hearing more about the university's status as an NCCPE Engage Watermark Gold Award accredited university, or to find out more about public engagement at QMUL you can visit the university's public engagement webpages, or contact the Centre for Public Engagement team.
Internal staff and students can promote being part of an Engage Watermark Gold Award accredited university by visiting the watermark resource pages on the internal Intranet pages.
We are delighted to be able to award Queen Mary University of London a Gold Engage Watermark. They have made exceptional progress in realising the potential of public engagement for their staff, students, and local, national and international communities. We hope they will inspire others to do the same.
Paul Manners, Director of the National Co-ordinating Centre for Public Engagement