Rachel Frith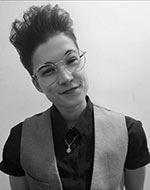 PhD Student
Email: r.e.frith@qmul.ac.uk
Profile
Thesis title
How does the uncoupling of 'femaleness' and 'motherhood', as represented by the legal recognition of trans men as mothers, contribute to the theoretical understanding of the multiplicity of gender?
Supervisors
Summary of research
As the nature of parenthood and procreation adapts in the modern world, the acquisition of any parental title remains undeniably significant, be that for social, moral, biological, or legal reasons. This thesis draws upon feminist methods to investigate the nature and multiplicity of gender in relation to parenthood and embarks upon a socio-legal study to address: the relationship in law between gender and parental identity; the implications of recognising a transsexual man as the legal mother of his child; and relevant feminist concerns surrounding transsexual men and women's rights.
Biography
Full-time PhD student having just graduated from Queen Mary with an LLM in Legal Theory. Previously worked in Family and Children law as a paralegal but returned to academia in a search for answers as to how to improve our legal system for those most vulnerable. Whilst continuing my studies and research, I hold a position at the London Ambulance Service as an Emergency Medical Dispatcher handling 999 calls for the city.
Research