Information for students from Hungary
Queen Mary University of London has a long history of welcoming students from around the world. Over the years, many thousands of international students have graduated from the university and gone on to pursue successful careers. Today, we are home to students from more than 162 different countries and over 45% of our student body come from outside of the UK. This diversity contributes to a lively and welcoming community which should make you feel comfortable and at home.
We are one of the largest colleges of the University of London and one of the few with fully integrated teaching, research and residential facilities. Our setting provides our students with the benefits of both a large campus environment, and the countless academic and social opportunities provided by London.
There are currently 29 students from Hungary studying at Queen Mary who are enrolled on a range of degree programmes at both undergraduate and postgraduate levels.
Brexit update:
The UK government has guaranteed that EU students starting a degree in 2019-20 will continue to be eligible for 'home fee status' for the duration of their studies in England and Wales.
It means that:
EU students will pay the same fees as UK students for all levels of study.
EU students will be able to apply for funding support for the duration of their studies at Queen Mary.
Further information can be found on the UK Department of Education's website.
Entry requirements
Undergraduate (BA, BSc, BEng, LLB etc.)
Students that have successfully completed A-Levels, the European Baccalaureate, or the International Baccalaureate can be considered for admission to our undergraduate degrees.
Please check the grade requirements for your chosen degree programme via the undergraduate study section of our website.
We also consider students from Hungary with the following qualifications:
This is QMUL's equivalency table for GCE A-Levels and the Érettségi Bizonyítvány:
| | | | | |
| --- | --- | --- | --- | --- |
| A*AA | AAA | AAB | ABB | BBB |
| 5 overall, including two Advanced Level subjects at grade 5 | 5 overall, including one Advanced Level subject at grade 5 | 5 overall | 4.5 overall | 4.5 overall |
Please note, actual offers may differ slightly.
Please see the information included in the English Language Requirements section below.
UK foundation programme from QMUL or certain other approved institutions
Students whose grades do not meet our minimum requirements may be considered for entry onto our Foundation Programmes.
If you are currently studying another UK foundation programme elsewhere and would like to progress to one of our Bachelor degrees, please get in touch via the contact details at the bottom of the page.
Undergraduate Medicine and Dentistry admissions
For detailed Medicine and Dentistry entry requirements and instructions on how to apply, please refer to the School of Medicine and Dentistry website.
Please note, the Érettségi Bizonyítvány is not accepted for admission to our MBBS or BDS programmes that are delivered in London (but it is accepted for all other undergraduate programmes delivered in London). However, the Érettségi Bizonyítvány is accepted for our MBBS programme delivered in the Republic of Malta.
Postgraduate
Taught degrees (MA, MSc, LLM etc.)
Students that apply to one of our Master degree courses are normally expected to have achieved a UK Upper Second Class bachelor degree, however some courses will also accept a Lower Second Class classification.
Please check the grade requirements for your chosen degree programme via the postgraduate study section of our website.
We are also pleased to also consider students if they have obtained a Hungarian Alapfokozat/Bachelor Degree/Egyetemi Oklevél or Mesterfokozat/Master degree.
This is QMUL's equivalency table for UK and Hungarian bachelor degree classifications:
| | | | | | |
| --- | --- | --- | --- | --- | --- |
| UK Bachelor Degree Classification | First Class (1st) | Upper Second Class Hons (2:1) | High –Lower Second Class Hons (2:2) | Standard – Lower Second Class Hons (2:2) | Third Class Hons (3rd) |
| Hungarian Bachelor Degree Classification | 4.75/5 | 4/5 | 3.8/5 | 3.5/5 | 2/5 |
Please note, actual offers may differ slightly.
Please see the link included below under the English Language Requirements section. Students are considered on an individual basis, but some Hungarian degrees that are taught in English can potentially be accepted as proof of English proficiency, and can be accepted instead of IELTS/TOEFL/Cambridge/Pearson etc.
Research degrees (MPhil/PhD)
Competitive applications to our postgraduate research degree programmes will include high overall grades achieved in their Master degree.
For more information regarding our research specialisms and opportunities, please see our dedicated webpages.
English language requirements
Please refer to the English language requirements webpage for more information regarding our English proficiency criteria.
Students that fall slightly below the published requirements may be offered a place on one of our pre-sessional English courses.
How to apply
For further information on how to apply, please refer to these links:
Foundation Programmes:
Student profiles and Alumni ambassadors
Julia Bihary
English and European Law LLB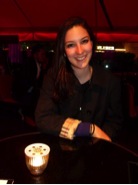 I have always wanted to study Law and chose Queen Mary because it has one of the best Law Schools in the UK.
I enjoy the intellectual challenge that a Law degree offers, the need to read, understand, digest and be able to apply information in a quick and creative way. Studying a degree is very different to being at school and it takes time to get used to the academic expectations at university level. However, this is something that everyone has to go through, and the teachers understand that students may find it difficult to cope during the first few weeks and are very supportive and approachable.
One of the main advantages of Queen Mary over other London universities is its unique campus. Not only does it provide a safe environment for students, it also helps create a close community of students within the university. The library, cafes and restaurants and our own bar and gym on campus all enhance the social life and help create a sense of belonging
Queen Mary is situated in East London and is around 15 minutes by tube to central London. It has great travel connections and it's easy to get around the city. East London is a very vibrant and multicultural area of the city, with Brick Lane, Shoreditch, the Olympic Park and Stratford in the neighbourhood. East London really is one of the best places to live in in London today and I'm able to spend Sunday afternoons at Brick Lane where locals, young artists and students flock the streets, enjoying the vintage markets and street food.
In country representatives
Visits to your country
Country manager
Cathy Drew Beresford
International Officer - Europe
Marketing and Communications
Queen Mary University of London
Mile End Road
London E1 4NS
Email: europe@qmul.ac.uk
Tel: +44(0) 20 7882 6519