Information for students from Philippines
Kumusta!
Queen Mary University of London has a long history of welcoming students from around the world. Over the years, many thousands of international students have graduated from the university and gone on to pursue successful careers. Today, we are home to students from more than 162 different countries and over 45% of our student body come from outside of the UK. This diversity contributes to a lively and welcoming community which should make you feel comfortable and at home.
We are one of the largest colleges of the University of London and one of the few with fully integrated teaching, research and residential facilities. Our setting provides our students with the benefits of both a large campus environment, and the countless academic and social opportunities provided by London.
There are currently 16 students from the Philippines studying at Queen Mary who are enrolled on a range of degree programmes at both undergraduate and postgraduate levels.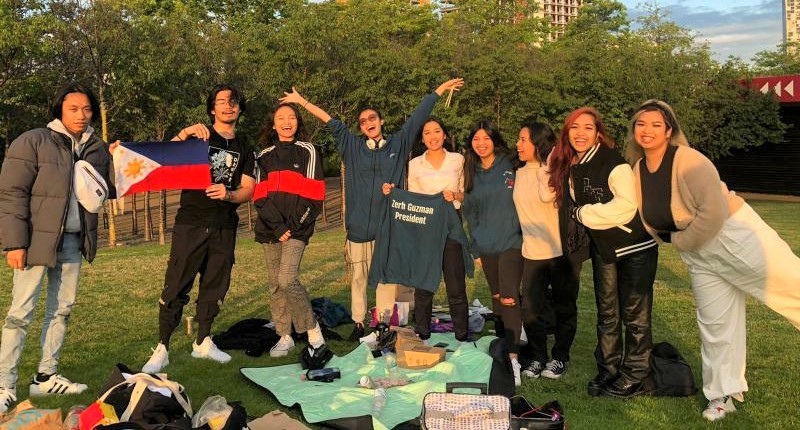 The University has an established Filipino Students Society.
Queen Mary has a staff based in South East Asia to support in country promotional activities including fairs and exhibitions. You can get in touch with one of our in country representatives or Country Manager.
Entry requirements



Foundation programmes
Students who have completed the High School (with Senior High School Diploma after 12 years) in the Filipino education system will need to complete an International Foundation programme in order to enter into the first year of a bachelor's degree programme.
Undergraduate
We also accept students from the Philippines with the following qualification for direct entry to our Undergraduate programmes.
Three A-levels
International Baccalaureate (IB)
Students whose grades do not meet our minimum requirements may, in some cases, be considered for entry onto our foundation programmes.
Applicants who have completed one or two years of higher education study in the Philippines may be considered for Year One entry.
For more detailed information on Medicine and Dentistry requirements and how to apply, please refer to the School of Medicine and Dentistry website.
Postgraduate
We normally consider the following qualifications for entry to our postgraduate taught programmes: Bachelor Degree from selected institutions or Juris Doctor; Bachelor of Laws; Doctor of Medicine; Doctor of Dentistry/ Optometry/ Veterinary Medicine; or Masters Degree from recognised institutions in the Philippines.

UK 1st class degree: 3.6 out of 4.0; or 94%; or 1.25 out of 5
UK 2:1 degree: 3.0 out of 4.0; or 86%; or 1.75 out of 5
UK 2:2 degree: 2.5 out of 4.0; or 80%; or 2.5 out of 5
The above 'out of 5' scale assumes 1 is highest mark and 3 is the pass mark.
Information on the comparability of international qualifications can be found on the Entry Requirements section under the listings for each programme in the course finder.
Please note this information is only intended as a guide as the final decision on equivalency of overseas qualifications will be made by the Admissions Office at Queen Mary.
For information on how to apply for a postgraduate programme at Queen Mary, please refer to postgraduate study.
English language requirements
Student profiles and Alumni ambassadors
Alumni ambassador
Vivien Leigh Rodulfo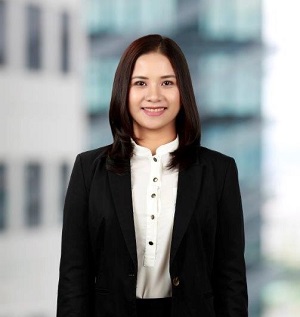 Email Vivien
I graduated from the Queen Mary University in 2016 with a Masters of Law (LLM) in International Economic Law degree. Among the universities offering an LLM program, Queen Mary was the only school offering a wide array of specialisms and was the only one that specifically offered the specialism that I wanted to pursue. Based on research I made, Queen Mary also has an exceptional reputation as an academic institution and have extinguished professors and lecturers who are considered experts in their respective fields.
On top of that, Queen Mary is located in the most international and culturally diverse city in the world - London. There was never a dull day in Queen Mary or in London. Learning was not limited to the classroom, Queen Mary makes sure that students also enjoy the sights and sounds that London and the UK has to offer.
Queen Mary ensures that there is holistic development for each student, offering activities that will develop and/or enhance one's skills and interests. Queen Mary also helps students in tackling the next most important step in their lives - finding a job or fast-tracking their career development.
Studying at Queen Mary has opened a lot of opportunities for me. After studying at Queen Mary, I returned to the Philippines to continue my work as an associate in Quisumbing Torres (a member firm of Baker Mckenzie). Subsequently, I was offered a position to be the legal counsel of a multinational company which is among the major players in the pharmaceutical industry in the Philippines.
Indeed, attending Queen Mary was one of the best decisions I have made in my life. My LLM degree has given me an edge among other job applicants and in my career progression. Most importantly, the colleagues and friends I have made during my study has expanded my network and enriched both my professional and personal life.
---
Naealla Bainto
Chevening Scholar 2013-14, LLM in Law
I earned my Management Economics (2005) and Juris Doctor (2009) degrees from Ateneo de Manila University, Philippines and was admitted to the Philippine Bar in 2010, ranking 10th among the successful takers.
Before studying in Queen Mary, I was working in the Office of the President of the Philippines where my work centred on the development of varying policies, mostly in the legal, economic and developmental spheres. Having this kind of job, I knew that it was incumbent to expand my knowledge of the law and to gain a better understanding of varying experiences of the international community.
Having been granted a Chevening Scholarship, I chose to go to Queen Mary as I was drawn to the wide array of modules being offered. I signed up for Corporate Governance, Terrorism and Human Rights Law, and the Law of the Sea, subject matters which I feel are very relevant to the current Philippine situation. I am also very much impressed with the outstanding credentials of the Queen Mary LLM professors who are always willing to engage in constructive debates in class. The student support system and the facilities of Queen Mary are also very remarkable. Queen Mary has beautiful campuses across London which makes each school day a worthwhile experience. I must also say that the school workload at Queen Mary allows one to have the proper balance of school and 'play' allowing not only intellectual, but also personal, social and cultural growth.
My experience in Queen Mary, and in London in general, will greatly help me when I return to my country to continue working for the government.
Student Profile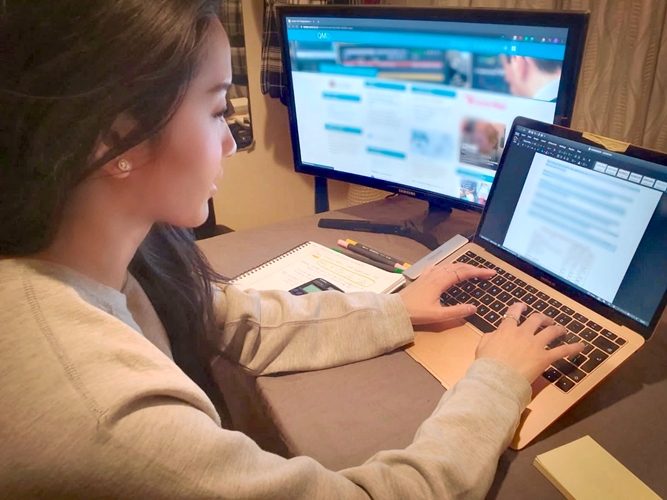 Zerh Guzman
MSc Corporate Finance, 2020-2021
President of Queen Mary Filipino Student Society 2020/21
Physical learning to blended-learning has been both challenging and stimulating. Even though most of our lectures are online, Queen Mary has given us resources to make sure our blended-learning is still top quality.
As a master's student, it's important that I stay connected with my lecturers, especially regarding my research deadlines. Therefore, I appreciate the great lengths that the Queen Mary staff have undertaken, like providing various online events (academic & social) to make sure we are engaged with our university experience.
Blended-learning gives us the flexibility to attend some physical lectures. I feel confident coming in and out of campus as there are Covid-mitigated practices. Lecture halls have spread-out tables and seating to ensure social distancing, and individual study spaces are frequently sanitized. There are also many measures in place around London for your travels. Face masks are mandatory on public transport, and there are hand-sanitizers placed at every station.
Rest assured, that if you do need any support, Queen Mary welcomes you with many facilities to ease your transition.
Scholarships and Funding
Queen Mary offers a wide range of scholarship schemes to international students at both undergraduate and postgraduate levels.
Please refer to our scholarships and funding page for more information.
In country representatives
Queen Mary has staff based in South East Asia but we also have appointed representatives in country to help prospective students submit applications to the university, apply for study visa, look at flights and accommodation, and other services required by our students before they enrol at Queen Mary.
UKEAS Philippines
Unit 301 GC Corporate Plaza
150 Legaspi Street, Legaspi Village, Makati City
Tel: +63 917 654 5143
Email:
manila@ukeas.ph
SI-UK
UG36, Alfaro Place,
146, LP Leviste Street,
Salcedo Village, Makati City
Tel: +63 920 951 9657
Email: manila@studyin-uk.com
www.studyin-uk.com.ph
AUG Manila
Unit 104, GF, E-Square Building,
#416 Ortigas Ave, San Juan City,
1500 Metro Manila
Tel: +63 2 8655 8800
Mobile: +63 939 804 5258
Email: manila@augstudy.com
augstudy.com/philippines/
IDP Education Ltd
16/F, Marco Polo Ortigas Sapphire Road,
Ortigas Business Center Pasig City, Manila
Tel: +632 5835 3320
Mobile: +63 919 080 5349
www.idp.com/philippines/
Visits to your country
Country manager
Siewmang Yee is the Country Manager for the Philippines and is happy to help any of our prospective Filipino students in the Philippines with any questions they might have about the university.
Ms Siewmang Yee
Regional Advisor
Email: s.m.yee@qmul.ac.uk