Information for students from India
Queen Mary University of London is one of the prestigious world class universities with five campuses in London. We offer a wide range of courses that are designed to develop your knowledge and prepare you for a career in a globalised environment.
Studying in our London campus is an intellectually enriching experience where you get to embrace a culturally diverse environment first hand. We are located at a short distance from the financial hub of London with unlimited access to the world famous museums, galleries beautiful parks, West End shows etc.
There are currently 525 students from India studying at Queen Mary London campus who are enrolled on a range of degree programmes at both undergraduate and postgraduate levels.
All are programs are administered by world class faculty. Our state of the art infrastructure, well planned on-campus resources and dedicated internship Coordinators are some of the support you can expect as an International student.
Country manager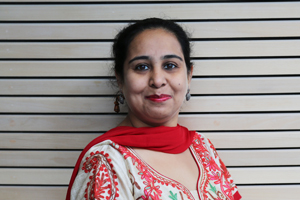 Queen Mary University of London – Consultant's office
C/o Sannam S4 Management Services
3rd Floor,
Devika Tower Nehru Place,
New Delhi 110019
Email: india-students@qmul.ac.uk
Tel: +91 11 4212 4129/30/31/32
Ms Jaspreet Kaur
Regional Advisor - South Asia
Email: j.kaur@qmul.ac.uk
Ms Mishi Sardana
Recruitment Advisor - India
Tel: +91 11 4212 4129
Mob: +91 9810 800 116
Email: m.sardana@qmul.ac.uk
Mr Abhishek Boral
Recruitment Advisor - India
Tel: +91 11 4212 4132
Mob: +91 9650 303 537
Email: a.boral@qmul.ac.uk
Ms Saniya Khan
Assistant Recruitment Advisor - India
Tel: +91 11 4212 4129
Mob: +91 9971 345 765
Email: saniya.khan@qmul.ac.uk