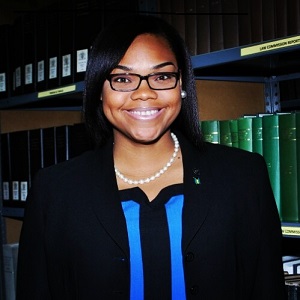 Email Theominique
My name is Theominique Nottage and I am an attorney from Nassau, The Bahamas.

I graduated from Queen Mary, University of London in December 2016 with a Masters of Law with Merit in Comparative and International Dispute Resolution.

I studied at Queen Mary as a 2015 Chevening Scholar and I chose Queen Mary because of the unmatched stellar reputation of the School of International Arbitration and by extension, the Centre for Commercial Law Studies. An added bonus was the fact that Queen Mary is a member of the Russell Group, an organization of 24 leading UK universities akin to the American "Ivy League" university grouping. This guaranteed that my LLM would be well-respected by the global community.

Queen Mary is home to such notable faculty as Professor Loukas Mistelis and Professor Dr. Julian Lew, QC both of whom quite literally wrote the book on international commercial arbitration (along with Stefan Kroll). Having lectures with them on such modules as International and Comparative Commercial Arbitration and International Trade and Investment Dispute Settlement was certainly an enriching educational experience.

I thoroughly enjoyed my time at Queen Mary, having served as a Co-Coach for the QMUL 2016 Frankfurt Investment Arbitration Moot Court Team and on the Committee for the Inaugural Dispute Resolution Ball held in June 2016. Through these extracurricular activities, my QMUL experience was enhanced as I learned of how truly supportive and committed both the faculty and administration are to the students.

Besides this, Queen Mary also provided amazing networking opportunities for its students with leading commercial law firms based in London. At these networking events, I was able to interact with the 'who's who' of international arbitration practitioners in addition to becoming more acquainted with my colleagues who hailed from such countries as Indonesia, Philippines, Greece, Nigeria, Romania, Bulgaria, Turkey and India. Having been raised in a country with a population of less than 400,000, transitioning to a city with a population of more than 8 million proved to be less difficult with the support I received from Queen Mary.

My experience at Queen Mary and in London was life changing and for that the school will always be of special importance to me. I am at your disposal for any questions you may have regarding the life at QMUL and in London.