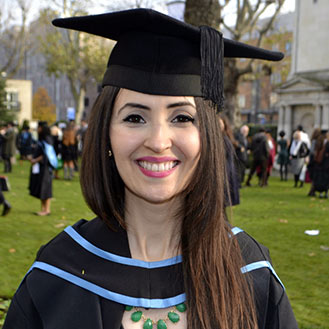 Email Sezen
I am Sezen Kama, a Queen Mary University of London LL.M. graduate and currently a research fellow at Istanbul Medeniyet University Faculty of Law Department of Constitutional Law in Turkey.
I found Queen Mary University of London LL.M. in Human Rights Law challenging and diverse. Modules such as 'European Human Rights Law', 'International and Comparative and Social Justice', 'International Law' in particular. It was an extremely productive but at the same time compelling period for me. However Queen Mary makes everything easier for you.
Firstly, our lecturers are friendly and ready to help students. Even completing your study, they still guide you through your academic studies. For instance, my dissertation for International and Comparative Social Justice module was "Another Dimension of the Right to Education: Is "Equally Accessible Higher Education" a Dream?" will be published in Queen Mary Human Rights Law Review, thanks to Prof. Geraldine Van Bueren (one of the original drafters of the United Nations Convention on the Rights of the Child). In addition, Queen Mary LL.M. Officers and a career consultant for law students are other important figures for student prospects. They are always available to help and answer any questions.
I became one of LL.M. representatives and a Vice-President at Queen Mary Turkish Society. My team members and I at QMUL Turkish Society organised many social organizations, like Traditional Turkish Breakfast, A Donation Night for Syria with UNICEF Syria Campaign and so on. This is because I am experienced with international organizations and have been a member of Human Rights Lawyer Association since 2012.
I am here to answer your questions related to LL.M., accommodation, and of course London, the capital city of all good memories. Do not forget; "When a man is tired of London, he is tired of life; for there is in London all that life can afford."
— Samuel Johnson