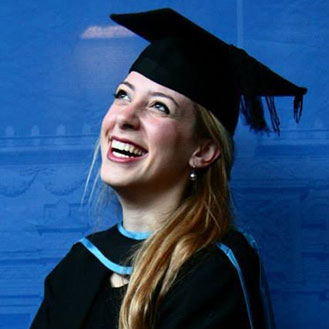 Email Athina
My face shows how happy one can be as a Queen Mary University of London graduate!
I obtained the LL.M. in International Business Law in 2013 and I was awarded School of Law prize for the 'Best Student 2012-13 specialising in International Business Law'.
Queen Mary constantly proves its high level of commitment towards its students. Both the academics and administrative staff are always ready to help students. The structure of the modules is designed to fulfil every students' need – it is flexible and up to date. My personal experience was amazing! The modules I chose were taught by both high profile academics and professionals of top law firms, thus enabling me to get a thorough knowledge of the relevant legal issues. Queen Mary students receive the latest updates regarding the events in the city relevant to their areas of interest and so they get the most out of London as well.
Although the balance of study and social life in London may sound difficult to achieve, it is not. Living in London and sharing the experience with all the wonderful people you come across during your studies is unique. You will learn how to develop your organization skills so you can balance academic and personal life. By studying at Queen Mary and living in London you have the very best of choice… so seize the day!
I am at your disposal if you have any questions about what it is like to live and study at QMUL.