Welcome to the Centre for Oral Clinical Research
The Centre for Oral Clinical Research (COCR) at Institute of Dentistry, Barts & The London School of Medicine and Dentistry, Queen's Mary University of London (QMUL) is a dedicated clinical research centre and facility located at Whitechapel in London. COCR benefits from direct access to NHS patients attending the Barts and The London Dental Hospital as well as from volunteers who wish to participate in clinical studies.
COCR is currently conducting a number of randomized controlled clinical trials and observational studies related to the diagnosis and clinical treatment of patients with periodontal and implant dentistry needs.
COCR is dedicated to improve oral health by conducting patient centred, translational and experimental medicine research, as well as by providing postgraduate training for oral health professionals on both, research methodology and clinical implementation of innovative treatment modalities.
COCR values multi-disciplinary clinical expertise, evidence based approaches, pro-active interaction with industry and general public engagement in order to develop and implement diagnostic and treatment innovations relevant to oral and general health.
To be considered for one of our studies you must be over 18 years of age and with good general health.
If you wish to still participate in this study and/or require more information please contact the Centre of Oral Clinical Research on 0207 882 3076 or Email: BHNT.clinicaloralresearchcentre.nhs.net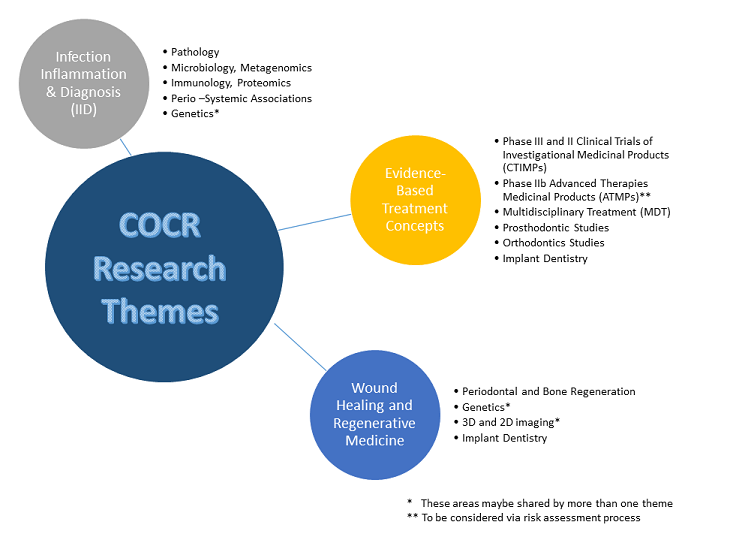 Networking and collaborating
Please email s.a.goodey@qmul.ac.uk and the relevant Faculty member/COCR team member will reply within 7 days.


COCR Collaborators
We are welcoming cooperation with UK and international research partners. As an example of our current records activities we are developing, setting up and delivering investigator initiated studies funded by prestigious organisations. COCR is also hosting clinical trials with industrial partners who are also interested in investigating the efficacy and safety of their products. We are able to host long term commercial trials including randomised and open extension clinical trials. We can also facilitate industry or investigator led short term trials lasting 1-3 months. The latter includes intervention or screening studies for relevant disease biomarkers or oral microbial profile; as well as different products for improving oral health and well-being with healthy volunteers or NHS patients.
For further expression of interest and collaboration please contact Shirley Goodey s.a.goodey@qmul.ac.uk
Centre: Centre for Oral Clincial Research