Dr Ashvin Immanuel Devasundaram, MA, PhD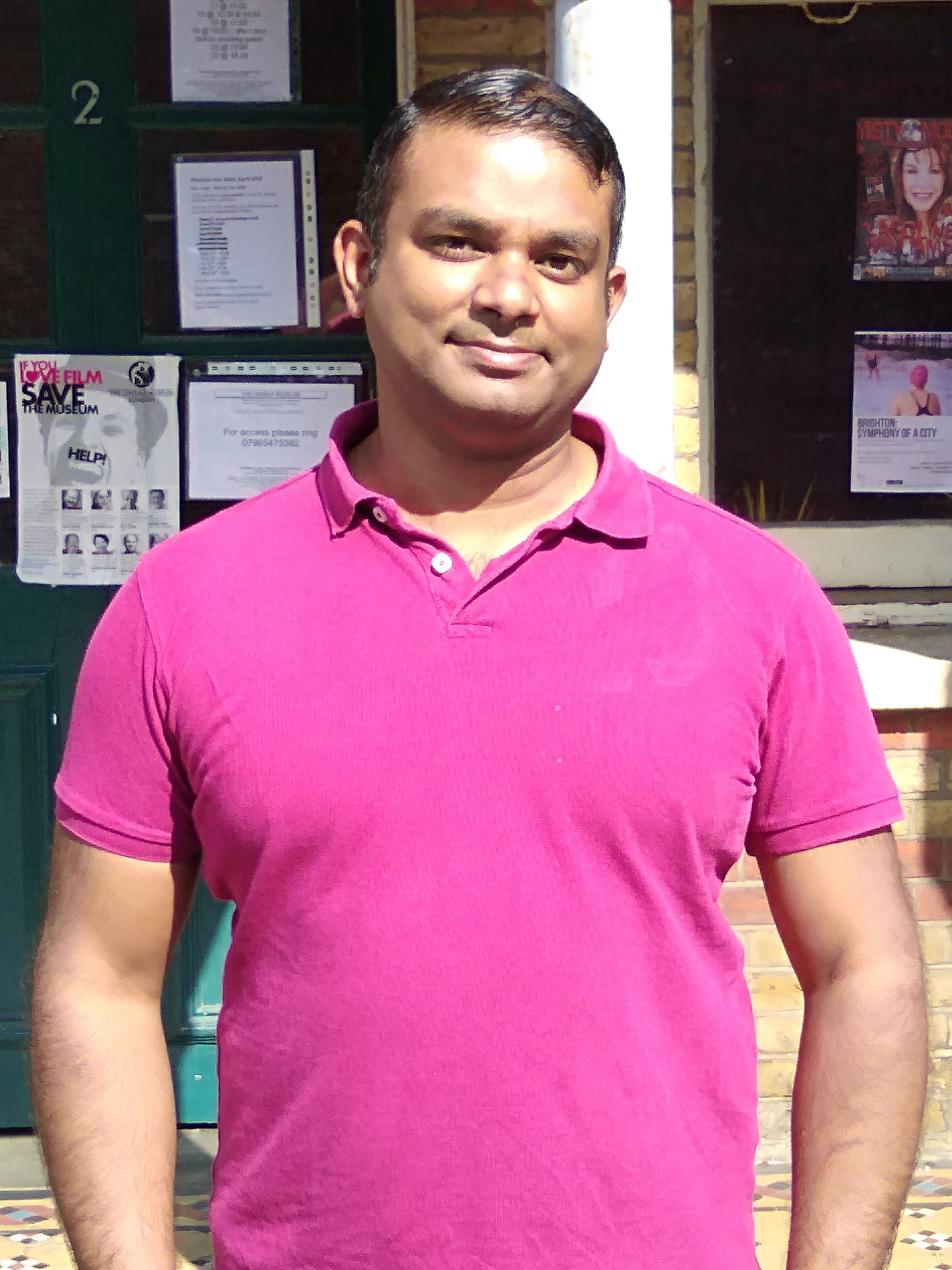 Senior Lecturer
Email: a.devasundaram@qmul.ac.ukTelephone: +44 (0)20 7882 8291Room Number: Arts One 1.01A
Profile
Whilst specialising in World Cinemas, particularly new independent Indian Cinema, emerging cinemas from South Asia, the Middle East, Latin America and Africa, my teaching and research interests are open to transdisciplinary and intercultural exploration. I am also interested in intersections of cinematic representations with topical themes and alternative discourses, particularly through the prism of philosophy, politics, drama, visual art, postcolonialism, postmodernism, migration, LGBTQ issues, marginalised and minority narratives and subalternity.
My monograph India's New Independent Cinema: Rise of the Hybrid (Routledge Advances in Film Studies, 2016) and forthcoming edited volume Indian Cinema Beyond Bollywood: The New Independent Cinema Revolution (Routledge, 2018) are the world's first books on new Indian Indie cinema.
I delivered keynote lectures at the Community Cinema Conference and Film Society Awards 2017, organised by Cinema For All (British Federation of Film Societies), the Frankfurt New Generations Independent Indian Film Festival, 2016, and the 12th Annual Phalke Memorial Lecture 2015 at the Indian High Commission's Nehru Centre in London. I am actively engaged in film festival curation as Associate Director of the UK Asian Film Festival - London (UKAFF), and I founded the Edinburgh edition of the festival at the Filmhouse, in 2016.
I also directed the documentary film Movies, Memories, Magic (2018) as lead researcher on a Heritage Lottery-funded project – Memories Through Cinema, about the London-based South Asian diaspora's recollections of cinema.
I received the Edinburgh University Literary Award in 2012 for my analysis of Belgian filmmaker Chantal Akerman's La Folie Almayer. I have worked in the past as a television documentary researcher and filmmaker with Channel 4. I am currently a BBC Academy Expert Voice in Cultural Studies and Visual Arts, and was an advisory panel member for BFI India on Film – part of the UK-India Year of Culture 2017.
Some of the themes from my academic and philosophical introspections spill over into music - I compose songs and play lead guitar with transglobal neo-progressive rock project -The Multitude.
Teaching
SMLM035: MA Film Studies and Core Course (Module convenor, 2018-19)
FLM4202: Approaches & Analysis
FLM5202: Contemporary World Cinemas
FLM6208: New Independent Indian Cinema
Current PhD Supervision
Aditi Tara Verma: 'Making the Cut: A Study on Editing Practice for Contemporary Hindi Cinema', co-supervised with Dr. Guy Westwell
Research
Research Interests:
World Cinemas
New Independent Indian Cinema
South Asian Studies
Film Philosophy
Visual Cultures
Globalisation and Neoliberalism
Cultural Theory
Politics and Irregular Migration
Ethnography
Postcolonial Theory and Subaltern Studies
Poststructuralism
Postmodernism
Publications
Forthcoming publications
Indian Cinema Beyond Bollywood: The New Independent Indian Cinema Revolution, edited volume (Routledge Advances in Film Studies, forthcoming in 2018)
'Cinematic Contestations: Indian Independent Film as a Political Medium' in Political Communication in India: Actors, Structures and Processes, edited by Lion Koenig (Oxford Handbook Series, Oxford University Press, forthcoming in 2018)
Books and edited works
India's New Independent Cinema: Rise of the Hybrid (Routledge Advances in Film Studies, 2016)
South Asian Diasporic Cinema and Theatre: Re-visiting Screen and Stage in the New Millennium, co-edited with Ajay Chaubey (Rawat Publications, 2017)
Selected articles and book chapters
'Beyond Brand Bollywood: Alternative Articulations of Geopolitical Discourse in New Indian Films', in Popular Geopolitics: Plotting an Evolving Interdiscipline, edited by Robert Saunders and Vlad Strukov (Routledge Research in Place, Space and Politics, 2018)
'Back where we Belong: Reverse Migration, Global Communities and Cultural Interflows in The Best Exotic Marigold Hotel', in Making Sense of Popular Culture: Essays in Cultural Studies, edited by Maria Ramón- Torrijos and Eduardo de Gregorio-Godeo (Cambridge Scholars Publishing, 2017)
'Contesting the Conventionalising of Castilian: The Role of Galician Parents as Counter-Elites', co-authored with Anik Nandi, in Bilingualism and Minority Languages in Europe: Current Trends and Developments, edited by Fraser Lauchlan and Maria Parafita Couto (Cambridge Scholars Publishing, 2017)
'The Representation of Building Events in Wim Wenders' Cathedrals of Culture', co-authored with Ursula Boser & Mairead Nic Craith, Studies in Documentary Film, 11:1, 2017
'Bollywood's Soft Power: Branding the nation, sustaining a meta-hegemony', New Cinemas Journal of Contemporary Film, 14:1, 2016

'Giving Voice to Heritage: A Virtual Case Study', co-authored with Mairead Nic Craith and Ursula Boser, European Association of Social Anthropologists Social Anthropology/ Anthropologie Sociale, 24:3, 2016
'Cyber Buccaneers, Public and Pirate Spheres: The Phenomenon of BitTorrent downloads in the transforming terrain of Indian Cinema', Media International Australia, 152:1, 2014
'Autumnal explorations of Alterity: Conjuring Ghosts of Kashmir's Forgotten and Disappeared in 'Harud', The South Asianist Journal of South Asian Studies, 2:3, 2013

Other Publications
'New Indian Cinema Guide', Cinema For All (British Federation of Film Societies) 2017 https://cinemaforall.org.uk/advice/new-resources-2018/new-indian-cinema-guide/
'Alternative Narratives from New Indian Indie Cinema', IAPS dialogue: The Online Magazine of the Institute of Asian & Pacific Studies. University of Nottingham, 25th July 2017 https://iapsdialogue.org/2017/07/25/alternative-narratives-from-new-indian-indie-cinema/
'India's New Independent Cinema', India Independent Films, web feature, 2016 http://indiaindependentfilms.com/2016/07/11/rise-of-the-hybrid-book-indian-indies/
'Defiantly Different: How India's New Indies are Kindling an Indian Cinema Revolution - The World's First Book on the Phenomenon', guest editor Shashi Tharoor, Litro Magazine: Inaugural India Series, Arts and Culture, London, 1st October 2016 https://www.litro.co.uk/2016/10/defiantly-different-indias-new-indies-kindling-indian-cinema-revolution/
'Viceroy's House is very watchable – but its account of Indian independence is limited', The Conversation, 3rd March, 2017 https://theconversation.com/viceroys-house-is-very-watchable-but-its-account-of-indian-independence-is-limited-73884
'...And One Woman in Her Time Plays Many Parts', Review of Edinburgh Fringe theatre production - Lady Shakespeare at Paradise in the Vault (Venue 29), Aug 17-20, 22-28, 2016
Review Article: The Cinema of Michael Winterbottom: Borders, Intimacy, Terror by Bruce Bennett, in Making Media Participatory, edited by Christina Spurgeon and Maura Edmond, Media International Australia, 154, February 2015
'The Pitfalls in the Pendulum: Swinging between Script and Screen', Litro Magazine, 25th March 2014
'Imagining Isolation, Suspending Time and Space: Diving into the Depths of Almayer's Folly', Division of European Languages and Cultures, University of Edinburgh [website], March 2012
Media and Public Engagement
Directed Movies, Memories, Magic (2018) - a documentary charting the London South Asian community's cinematic journeys from Brick Lane and Ilford to Southall and Harrow. Following the film's premiere at the 20th UK Asian Film Festival, the documentary will be screened at several venues to diverse regional, national and international audiences.
As part of my involvement in a QMUL Refugee Arts Project spanning Athens, London and Paris, I organised a public screening of the film Bag Mohajer and chaired a panel discussion with filmmaker Adrian Oeser and Prof. Kavita Datta (QMUL) as part of a QMUL programme at the Tate Modern, 4-6 May 2018.
Organised and chaired several QMUL screenings/panel discussions as part of the official UKAFF film festival programme, from 2016 to the present. Films include Anatomy of Violence (Deepa Mehta), My Great Journey (Mile End Community Project), Shalom Bollywood (Danny Ben-Moshe) and Insha'Allah Democracy (Mohammed Naqvi)
British Library public lecture – 'Breaching Bollywood's Bastion', part of the South Asia Lecture Series, Feb 2018
Interviewed on BBC World Service radio programme The Why Factor – Dubbing Movies, Nov 2017
Advisory Panel member for BFI India on Film – a major initiative, part of UK-India Year of Culture 2017
Presentation and book reading at Litro Live! event to launch 'India Series' & panel speaker with Dr Shashi Tharoor - 'Readings and Conversations from Indian Writers', 13th October 2016, Waterstones Piccadilly, London
Co-organised and curated Edinburgh's first Just Independent Asian Film Festival (JIAFF 2014) at the Scottish Storytelling Centre, 9th-12th July 2014. The event showcased Scottish and World premieres of several Indian and Cambodian films