Dr Tom A. Fearnley taught a special class at CCLS to energy law and banking and finance law students
Published: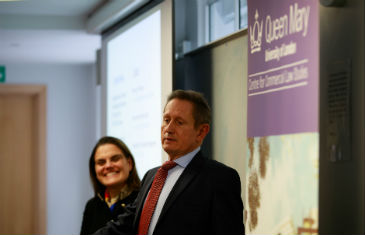 Dr Tom A. Fearnley, Investment Director at the Norwegian Finance Ministry - which manages the Norwegian Government Pension Fund taught a special class to our students in energy law and banking and finance law on Sovereign Wealth Funds (SWFs) and ethical considerations in the management and investment decisions of SWF on 2 February. The Norwegian SWF is currently the world's largest sovereign wealth fund (about USD 1.1 trillion) and Norway's experience and leadership when it comes to ethical issues presents a model for other countries with SWFs.
Tom Fearnley's first career was in high energy physics, mostly at the CERN international particle physics laboratory in Geneva, Switzerland. He holds doctoral degrees in both Economics and Physics, a PhD in International Economics and Finance from The Graduate Institute of International and Development Studies, University of Geneva (2002), as well as a PhD in High Energy Physics from Oslo University (1986). He also holds two Masters degrees, one in International Economics from The Graduate Institute of International and Development Studies, University of Geneva (1997), and one in Physics from Oxford University (1987). He also holds a Bachelor's degree in Natural Sciences and Mathematics from Oslo University (1979).
The students from the University of Bergen – part of the Programme of International Financial Law – were particularly appreciative of having such a distinguished figure in their own country come and teach at CCLS. The speaker was introduced by Professor Rosa Lastra and then Professors Raphael Heffron and Malik Dahlan said a few words about the role of Government in Energy and the role played by Norway in general. Following the excellent presentation by Dr Fearnley, both John Taylor and Professor William Blair said a few comments about SWFs and then the floor was open to questions and answers from the students. Upon his return to Oslo, Dr Tom Fearnley wrote to say that Visiting CCLS was a wonderful experience and that he was impressed with our expertise and interesting comments from the students. He also wrote that he would love to return!