QMUL LLM Student performs poem on 'Exodus of Kashmiri Pandits' at House of Commons
Published: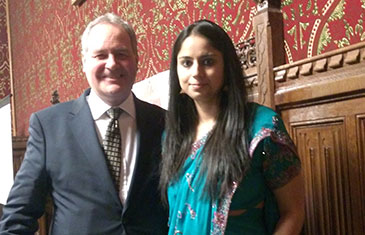 MP Bob Blackman (left) and Shireen Moti (right)
Shireen Moti, an FCO British Chevening Scholar from India studying the LLM in Law Programme at Queen Mary University of London (QMUL), was invited by MP Bob Blackman to present her poem on the 'Exodus of Kashmiri Pandits' at the House of Commons, London, 18 January. Her reading was part of an event discussing the issues and the violation of human rights of Kashmiris [PDF 304KB] to mark what has been recognized by the UK Government and the Indian Government as the Kashmiri Pandit Exodus Day, 19 January.
Exodus of Kashmiri Pandits
One day, strangers came
Shouting slogans of endless shame
No time to wonder, life was precious
Pushed out of the door of the house we made
Landed to an unknown space
Cold, shattered, penniless, but life remained
Then rose the morning sun and with that our struggle began
Food, water, and shelter were no longer necessities
They were bigger than luxuries and caused immense pain
By and by life returned to normal
But life was never the same
Neighbours, friends, relatives, and strangers in pain
All were the same
I thought to myself what had remained
All lost, nothing regained
Years later, we flourished
In a new city amongst new people, we had a place
Yet the feeling of anonymity, loneliness remained
I felt ashamed
Abandoned, unwanted and violently pushed away
Abandoned, unwanted and violently pushed away
Enough to kill the feeling of belongingness and worth
But the human spirit remained
When I think of Kashmir and battas today,
I stop my tears from rolling away,
Not because I am any less a Kashmiri
But because Kashmir is in unending pain
Returning to our homeland seems like a far-fetched dream
Returning with pride, dignity and honour seems even further away
Nevertheless, the quest has begun and is growing stronger each day
There will come a time, when the presence of Kashmiri Pandits is celebrated in the Kashmir valley again.