LLM in Immigration Law holds migration and asylum law and policy meet and greet
Published:
On 11 November 2015, QMUL's LLM in Immigration Law held a meet and greet between LLM students and representatives from governmental and non-governmental organisations active in the area of migration and asylum law and policy. The event was open to all LLM students; however students across specialisms with an interest in migration and human rights issues were encouraged to attend.
Each of the representatives gave a presentation introducing themselves, their organisations and their work. These were then followed by an open discussion, allowing students the opportunity to ask questions regarding the different organisations. We were also given crucial information about exclusive opportunities for volunteerships, internships and job openings which would help LLM students to enter the work market after graduation. Drinks were served at the end in the lobby, which offered us a chance to engage in conversation on an informal level and to exchange contact details.
Jamie Crummie, LLM student at Queen Mary, said: "It was inspiring and motivational – definitely opened my eyes to career opportunities that I hadn't always considered. It was run stupendously and fantastic that there are internship opportunities solely for Queen Mary students." Ann-Christin Boelter, also an LLM student, added: "I think the Meet and Greet was very useful especially since we had the opportunity to directly talk to the people and get a better idea of what the internship and, more in general, working for the different organizations and firms required."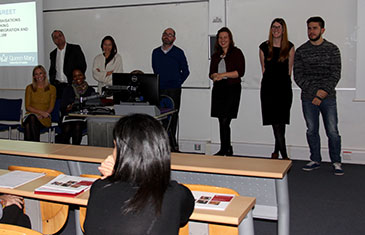 The speakers were Lena Donner (House of Lords, Policy Analyst, European Union Home Affairs Sub-Committee); Amanda Taylor (Junior Legal Officer of The Asylum Information Database /AIDA/ and European Database of Asylum Law /EDAL/) and Minos Mouzourakis (AIDA Coordinator), both from the European Council on Refugees and Exiles; M. Sevda Tunaboylu (volunteer at the International Refugee Rights Initiative founded by Dr Barbara Harrell-Bond – Rights in Exile Programme); Matthew Evans (the Director the AIRE Centre: Advice on Individual Rights in Europe); Jonathan Ellis (Head of Police, Research and Advocacy – British Red Cross); and Marcia Longdon (Partner in Immigration Law area), Rachel Aylett (of Human Resources) and Laura Penman (Immigration Paralegal), all from Kingsley Napley.