Kenneth Linton, BSc, PhD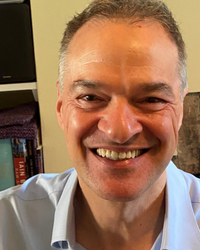 Professor of Protein Biochemistry, Director of Graduate Studies, Molecular and Cellular Medicine Theme Lead
Email: k.j.linton@qmul.ac.ukTelephone: 07951 218 149
Profile
Prof. Linton's tertiary education was wholly Scottish with a BSc in Biological Sciences with honours in Microbiology from Edinburgh University, and a PhD from Glasgow University. The latter study of the molecular genetics of antibiotic production and resistance in soil bacteria included the first description of the molecular mechanism by which the producing organism protects itself against an ionophore antibiotic; extrusion of the product from the cell membrane via an ATP binding cassette (ABC) transporter.
A move to the University of Wisconsin continued the study of antibiotic biosynthesis, this time focusing on the molecular biology of glycosylation of erythromycin. A return to the UK in 1994 to join Chris Higgins at the Institute of Molecular Medicine in Oxford, involved a return to working on drug resistance to explore structure and function relationships within the mammalian ABC transporter, the multidrug resistance P-glycoprotein (P-gp; ABCB1).
A move in 1999 to the Medical Research Council's Clinical Sciences Centre, embedded within the Hammersmith Hospital campus of Imperial College, saw a continuation of the research into P-gp, and afforded collaborations with clinicians Prof. Cath Williamson (Imperial) and Prof. Richard Thompson (Kings). From this interaction developed an interest in cholestatic liver disease in which two close relatives of P-gp, the bile sort export pump (ABCB11) and the phosphatidylcholine floppase (ABCB4) are key.
Research into the human ABC transporters continues alongside new studies of different classes of membrane proteins; the class B scavenger receptor CD36 implicated in the development of atherosclerosis, and fatty acid transport proteins (FATPs) that are important in lipid metabolism. The relationship between the structure and function of these proteins and how this relates to human physiology and disease is being explored. As none of these proteins is likely to work alone the group is also developing expertise to explore their molecular interactions, making use of new and established techniques to analyse protein:protein interactions at the plasma membrane. From these studies it is hoped to develop understanding of the molecular mechanism of each of the proteins and to begin to integrate their function into the cell biological system
Supervisor and Mentor to postdoctoral researchers: Dr, J.J. Wharton, Dr M. Snippe, Dr J.K. Zolnerciks, Dr E.J. Andress and Dr T.K. Ritchie
Summary
BSc (with honours in Microbiology), University of Edinburgh
PhD Department of Genetics, University of Glasgow
Recent and ongoing research projects:
Molecular mechanism of action of the multidrug resistance P-glycoprotein (ABCB1).
ABCB4 and ABCB11 mutations and cholestatic liver disease.
ABCB5 and cell cycle control.
Structure and function analysis of the scavenger receptor (CD36) linked to atherosclerosis and obesity.
Structure and function analysis of fatty acid transport proteins.
Teaching
Course co-ordinator for the Cell Biology module of Fundamentals of Medicine
FunMed lectures and labs year 1 medical students
Problem based learning; medical students years 1 and 2
Supervisor for student selected components
Supervisor to Masters and PhD students
Supervisor to BMedSci students
Topics for PhD supervision:
Molecular characterisation of the of ABCB4 mutations linked to cholestatic liver disease.
Characterisation of the interaction between CD36 and thrombospondin and its role in lung fibrosis.
Characterisation of the role of the drug transporter ABCB5 in regulation of p16 and control of the cell cycle.
Probing the Molecular Mechanism of a Drug Efflux Pump.
---
Research
Research Interests:
The structure and molecular mechanism of proteins that transport solutes across cellular membranes, and their roles in the pathophysiology of disease.
Publications
GROEN A., ROMERO M.R., KUNNE C., HOOSDALLY S.J., DIXON P.H., WOODING C., WILLIAMSON C., SEPPEN J., VAN DEN OEVER K., MOK K.S., PAULUSMA C.C., LINTON K.J.AND OUDE ELFERINK R.P.J. Complementary function of the flippase ATP8B1 and the floppase ABCB4 in maintenance of canalicular membrane integrity. Joint first and senior authorship. GASTROENTEROLOGY 2011, PMID:21820390.
ZOLNERCIKS, J. K., WOODING, C. & LINTON, K. J. (2007) Evidence for a Sav1866-like architecture for the human multidrug transporter P-glycoprotein. FASEB J, 21, 3937-3948.
HIGGINS, C. F. & LINTON, K. J. (2004) The ATP switch model for ABC transporters. NAT STRUCT MOL BIOL, 11, 918-926.
BYRNE, J. A., STRAUTNIEKS, S. S., MIELI-VERGANI, G., HIGGINS, C. F., LINTON, K. J. & THOMPSON, R. J. (2002) The human bile salt export pump: Characterization of substrate specificity and identification of inhibitors. GASTROENTEROLOGY, 123, 1649-1658.
ROSENBERG, M. F., VELARDE, G., FORD, R. C., MARTIN, C., BERRIDGE, G., KERR, I. D., CALLAGHAN, R., SCHMIDLIN, A., WOODING, C., LINTON, K. J. & HIGGINS, C. F. (2001) Repacking of the transmembrane domains of P-glycoprotein during the transport ATPase cycle. EMBO J, 20, 5615-5625.
---
View all Kenneth Linton's Research Publications at: http://www.researchpublications.qmul.ac.uk