In 2013, Barts Cancer Institute (BCI) partnered with the charity Access Work Placements to create a course for local A level students that allowed them to experience cancer research first-hand.
In 2016, the constellation expanded for the first time to include the Blizard Institute. Our Science Training for Aspiring Research Scientists (STARS) programme offers pupils with an interest in science – whether they're thinking of medical research, dentistry, or are generally curious about lab work – the opportunity to perform experiments and learn techniques within the state-of-the-art active research laboratories of the award-winning Blizard Building.
Upcoming STARS courses
Dates: June 2021 – Date(s) to be confirmed
Location: Virtually, but with PhD students from Blizard Institute, Barts and The London School of Medicine and Dentistry, Queen Mary University of London
Contact: Cleo Bishop
Applications: Mayor's Fund for London – Access Aspiration
Blizard STARS is a widening participation scheme run in collaboration with the Mayor's Fund for London. It gives the opportunity of a work experience placement in a scientific environment to pupils with an interest in science, exposing them to the workplace and the possibilities of a STEM degree. Equally important, it provides these students with access to and advice from PhD students, which can prove invaluable when they are considering applying to university.
We also focus on the opportunity for our postgraduate students and senior researchers (we call them STARS facilitators) to engage with the students to reinforce their science communication and teaching skills.
We believe the interaction is beneficial for everyone involved; both inspiring young people to pursue careers in scientific subjects and renewing the enthusiasm of early career and established researchers.
Student feedback has shown that the course also tackles negative stereotypes of scientists and science, showing young people that science can be fun and that scientists are like them, making such a career seem more appealing and achievable.
The pilot course was made possible by generous funding from the
Queen Mary Centre for Public Engagement.
Upcoming STARS courses
Dates: June 2021 – Date(s) to be confirmed
Location: Blizard Institute, Barts and The London School of Medicine and Dentistry, Queen Mary University of London
Contact: Cleo Bishop
Applications: Mayor's Fund for London

Previous STARS courses
Dates: Monday 1 – Friday 5 June 2019; Monday 16 – Friday 20 July 2018; Monday 17 – Friday 21 July 2017; Monday 18 – Friday 22 July 2016
Location: Blizard Institute, Barts and The London School of Medicine and Dentistry, Queen Mary University of London
Contact: Cleo Bishop


See further information on the BCI STARS and KCL STARS contacts.
---
Updates
April 2019 – STARS insight day
Our insight day got even bigger – 28 young Londoners interested in medical research joined our PhD students for a unique perspective on the research environment at the award winning Blizard Institute.
August 2018 – Blizard STARS awarded the Blizard Institute's 'Outstanding Contribution Award for Public Engagement 2018'.
July 2018 – STARS 2018
The third successful STARS cohort graduate from the programme!
April 2018 – STARS insight day
14 young Londoners interested in the medical field were given a unique experience of the research environment at the Blizard Institute – billed as 'London's coolest medical laboratory'!
ACCESS – Recognised by the London Mayor's office
Sadiq Khan's office has recognised the value of the work that ACCESS performs and is moving to establish formal links with the charity.
April 2017 – STARS insight day
Potential STARS recruits were invited to the Blizard for a day of discussions with PhD students about university life and the day-to-day of science research, as well as tours of the state-of-the-art research environment.
February 2017 – INSPIRE awards
BCI STARS was shortlisted for the INSPIRE Awards at the Queen Mary Engagement and Enterprise awards.
October 2016 – STARS Lite
A day of mock university interviews were held for STARS alumni, which was great fun and very useful for the STARS' preparation in this process.
July 2016 – The first year of the Blizard STARS programme was completed successfully!
February 2016 – the STARS constellation began! The Blizard Institute and King's College London offered STARS programmes for the first time in 2016.
**Due to current restrictions, we will not be able to offer on-site activities in 2021. However, we are hoping that we can provide students within in person activites in 2022.**
A description of what we hope to offer in 2022 is provided below.
Students start the day with a brief introduction to the day's research theme. This is followed by practical sessions embedded within the active research laboratories at the Blizard Institute. Students work in groups of three, alongside a facilitator, and get hands-on experience performing experiments using state-of-the-art research techniques to answer a real research question. Each day closes with a debrief session where students and facilitators can discuss what they liked, what they would change and follow up any questions that they feel were not answered previously. The week closes with an awards ceremony and refreshments on Friday afternoon.
Examples of some of the techniques that the Blizard STARS learn throughout the week:
How to accurately prepare solutions and dilutions
Examining different cell types under the microscope
How to grow cells in the lab (tissue culture)
Working with your own DNA to extract it from your saliva
Amplifying your DNA using polymerase chain reaction (PCR)
Detecting and visualising your DNA using agarose gel electrophoresis
Dismantling cells to study their proteins using polyacrylamide gel electrophoresis (SDS-PAGE) and western blotting
Detecting specific proteins in tissue samples using immunohistochemistry
Investigating the interaction of cells with different types of biomaterials
Careers advice from medical students and clinical registrars
Take a look at an example timetable for the week:
A selection of our favourite photos so far:
2019
2018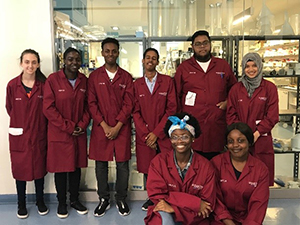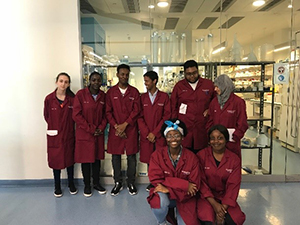 2017
2016
"I didn't think research was this fun!"
"I now know that I would like to study biochemistry/biomedical sciences"
"I enjoyed every minute but the one thing that I loved the most was talking to the PhD students, and especially the dark room"
"A greater insight into research and how it relates into different careers such as medicine"
"I improved my lab skills and learnt how to use advanced equipment not used in schools labs such as the Gibson pipettes"
"...helped me realise that pharmacology and research is something I want to do..."
"...I thought research would be boring but I find it very interesting now...!"
"...It improved my view on research; I learned it is much more relaxed than I thought whilst being just as useful..."
"It improved my perception because I got the chance to speak to the PhD students doing the research"
"It showed me that university is a great and fun experience that I am sure to enjoy"
Access Aspiration is an employability programme designed to provide careers support and guidance for 16–24 year old young Londoners who are making key decisions about their future careers but struggle to make links with employers. The programme aims to increase social mobility by broadening young people's understanding of the workplace and increasing confidence, resilience and knowledge.
Access' aims
• Improve employability of 16–18 year olds
• Increase social mobility
• Remove barriers to access to both higher education and employment
• Broaden young people's understanding of the workplace
• Work with schools in areas of significant deprivation or with difficulty accessing provision