Dr Belinda Nedjai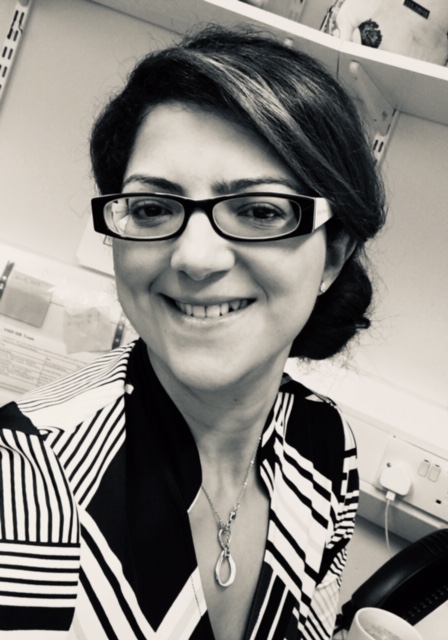 Senior Lecturer in Molecular Epidemiology and Director of the Molecular Epidemiology Laboratory
Email: b.nedjai@qmul.ac.ukTelephone: 020 7882 7893Room Number: William Harvey Heart Centre, 2nd Floor
Profile
As Senior Lecturer in Molecular Epidemiology and Director of the Molecular Epidemiology Laboratory, I lead the Molecular Epidemiology (MEL) research team. I hold a PhD in genetics and functional genomics from Queen Mary, Bart's and The London School of Medicine and a Master degree in Cellular and molecular physiopathology obtained from University Pierre et Marie Curie (Paris VI) in Paris, France. The combination of strong research background in functional genomics and inflammation with 5 years of strategy consulting as Head of genetics for GeneU a start-up company has given me unique insight into the commercial applications of next generation sequencing technologies. I conducted research for 8 years at Imperial College London as post-doctoral researcher and then research Fellow. Through the years, I developed an extensive knowledge in the functional genomics and the functional consequences of single nucleotide polymorphism (SNP) on various inflammatory disorders with strong inflammatory components. At Imperial I successfully managed to spin out a company from one of my research project: GeneU. I then spent 5 years at GeneU as head of the genetic research where I created a relationship database merging genomics data with observational data (lifestyle) and biomarkers to recommend specific ingredients to relieve inflammation in skin cancer patient and healthy participants. I patented my concept (UK patent GB20110021917). This project merged genetics and epidemiologic knowledge to bioengineering to identify biomarkers.
I joined Queen Mary University originally as a Senior Research Fellow, and took up my current post in 2020. My primary research focus is the application of novel quantitative technologies for discovery and validation of prognostic DNA methylation biomarkers. My main aim is to identify and develop cost-effective tests for the diagnosis of prostate, breast, colorectal and cervical cancer and the prediction of outcomes in cancer patients. Recent successes include improved methods to triage women infected by papillomavirus. Our classifier combining DNA methylation of HPV and human genes is a strong contender to triage women infected by carcinogenic HPV. We also developed a 6 gene methylation classifier to improve the management of men diagnosed with prostate cancer but placed on active surveillance.
Future research will include discovery of biomarkers for early detection of epithelial cancer using a Pan cancer approach. We have already identified a few methylation biomarkers able to predict cancer at early stage in several epithelial cancers. We would to improve our classifiers using our multi-omics NGS approach. Another aim would be to refine such biomarkers in various ethnics groups to increase the early detection potential.
Research
Research Interests:
My aim is to foster innovation in the field of cancer prevention. My lab has expertise in deep sequencing and high throughput techniques (WES, RNA seq, miRNA and methylome). We developed complex bioinformatics pipelines to support our activities.
I am the scientific coordinator of the Aspirin for Cancer prevention collaboration (AsCaP). My team is part of a group of scientists containing epidemiologists/trialists and basic researchers to elucidate mechanisms by which aspirin prevents cancer.
My research projects focus on two themes related to identification of biomarkers for HPV-related cancer and Aspirin effect for cancer prevention. The lab uses methods and techniques for biomarkers discovery combining methylation, SNPs, a miRNA and gene expressions markers to other risks factors to predict early onset of cancer.
Theme 1: Identification of methylation biomarkers for early detection of HPV-Related cancers
HPV infection has a critical role in common dermatologic and sexually transmitted diseases, as well as in some of the most frequent cancers worldwide. The HPV-associated disease burden is higher than that reported for any other infectious agent worldwide, with a larger burden observed in women than in men. The rapidly rising male share of the total burden underlines the prioritization of male HPV-related disease in prevention programmes, especially oropharyngeal cancer. We have developed a triage classifier (S5) for the detection of HPV-related precancer lesions (anal, cervical, oropharyngeal), based on DNA methylation of HPV16, HPV18, HPV31 and HPV33 combined with the human gene EPB41L3 (Brentnall et al., 2015). S5 classifier can predict the progression from normal to cervical cancer up to 5 years in advance. We also tested this classifier on two non-invasive cervical cancer specimens: a self-collected vaginal sample and urine. We demonstrated that S5 identify women who are CIN2+ using self-collected samples.
Cervical cancer
Oropharyngeal cancer
Anal cancer
Vaginal cancer
Theme 2: Aspirin for cancer prevention collaboration (AsCaP)
This programme was funded by CRUK catalyst award. The aim of the collaboration is:
To establish a multi-disciplinary collaboration between population researchers and basic scientists to study the role of aspirin in cancer prevention and adjuvant treatment.
To develop future leaders in population research specialised in cancer prevention using aspirin. We aim to address a gap in the requisite skill set for population research by training the next generation of molecular epidemiologists through PhD and Postdoctoral training. The project combines molecular biology and epidemiology of cancer.
My team aim is
To understand how aspirin works in preventing colorectal, oesophageal and other cancers by exploiting the best resources and methodology in molecular epidemiology and pharmacology.
To better identify sub-populations (through biomarkers) who would benefit most from aspirin prophylaxis.
To better understand who is at risk of aspirin's adverse effects and prevent them by identifying specify biomarkers or signatures allowing stratification of individuals before they take aspirin.
Publications
Most relevant recent publications:


Methylation in predicting progression of untreated high-grade cervical intraepithelial neoplasia.
Louvanto K, Aro K, Nedjai B, Bützow R, Jakobsson M, Kalliala I, Dillner J, Nieminen P, Lorincz A.
Clin Infect Dis. 2019 Jul 25. pii: ciz677. doi: 10.1093/cid/ciz677. [Epub ahead of print]
Methylation of HPV 16 and EPB41L3 in oral gargles: Associations with oropharyngeal cancer detection and tumor characteristics.
Giuliano AR, Nedjai B, Lorincz AT, Schell MJ, Rahman S, Banwait R, Boulware D, Sirak B, Martin-Gomez L, Abrahamsen M, Isaacs-Soriano KA, Wenig B, Chung CH, Caudell J.
Int J Cancer. 2019 Jul 15. doi: 10.1002/ijc.32570. [Epub ahead of print]
Human Papillomavirus Research: Where Should We Place Our Bets?
Cuschieri K, Lorincz AT, Nedjai B.
Acta Cytol. 2019;63(2):85-96. doi: 10.1159/000493800. Epub 2019 Mar 28. Review.
Molecular progression to cervical precancer, epigenetic switch or sequential model?
Nedjai B, Reuter C, Ahmad A, Banwait R, Warman R, Carton J, Boer S, Cuzick J, Lorincz AT.
Int J Cancer. 2018 Apr 21. doi: 10.1002/ijc.31549. [Epub ahead of print]