Dr Rob Waters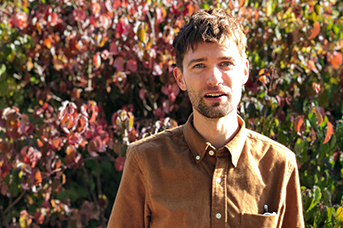 Lecturer in Modern British History
Email: r.w.waters@qmul.ac.ukTelephone: +44 (0)20 7882 8374Room Number: ArtsTwo 3.09
Profile
I studied History at undergraduate and graduate level at the University of Edinburgh, before completing a PhD in English at Queen Mary University of London. I have since taught History, English, Sociology and Liberal Studies at Queen Mary, Birkbeck, New York University, the University of Sussex, and the University of Birmingham.
I joined the School of History at Queen Mary in September 2019 as a Lecturer in Modern British History, and I will hold a Leverhulme Trust Early Career Fellowship at Queen Mary until the end of December 2019.
Research
Research Interests:
My research is concerned with how global race politics and the struggles of decolonization have shaped the modern history of Britain.

My first book, Thinking Black: Britain, 1964–1985 (University of California Press), looked at Black Power as a political and cultural force in Britain. Ideas of blackness mobilized through the rubric of a transnational Black Power were crucial in the conceptualization of what a postcolonial Britain might become, and held a significant place in the development of New Left politics in Britain. In Thinking Black, I chart black radical Britain's wide cultural-political formation, tracing it across new institutions of black civil society and connecting it to decolonization and black liberation across the Atlantic world. The book shows how, from the mid-1960s to the mid-1980s, black radicalism defined what it meant to be black and what it meant to be radical in Britain.

My current research focuses on the history of multiculturalism in London. I am interested in how, in London's transition to a mass multiculture in the second half of the twentieth century, integration was posed as a project of uplift, social reform and good citizenship, working through established institutions, practices and understandings of political and social integration developed through imperial liberalism, anti-colonial nation building, and Britain's transition to a mass democracy. I am interested also in the limited traction that this framing of integration had, and how it stood in a contested relationship with popular cosmopolitanism, anti-racist activism, and forms of racial exclusion and violence. As part of this project, I have created a digital map of black London in the late-twentieth century, charting some of the research: www.blacklondonhistories.org.uk.

I am also interested in history writing as a practice of decolonization, and in memoirs and fiction as forms of historical evidence. In both these contexts, I am interested in the intersections between literary and historical studies.
Publications
Monograph

Waters, Rob, Thinking Black: Britain, 1964-1985. Berkeley: University of California Press Berkeley Series in British Studies, 2019.

Articles and book chapters

Waters, Rob and Kennetta Hammond Perry (2019). "'Time Come'": Britain's black futures past', Historical Research (forthcoming, Oct 2019).

Waters, Rob (2018). "Integration or Black Power?" Political Quarterly, 89 (3). Special issue, Enoch Powell's 'Rivers of Blood' Speech: Fifty Years On. pp. 409–416. DOI 10.1111/1467-923x.12543.

Waters, Rob (2016). "Thinking black: Peter Fryer's Staying Power and the politics of writing black British history in the 1980s." History Workshop Journal, 82 (1). pp. 104-120. ISSN 1363-3554.

Waters, Rob (2016). "Henry Swanzy, Sartre's zombie? Black power and the transformation of the Caribbean Artists Movement." In: Craggs, Ruth and Wintle, Claire (eds) Cultures of decolonisation: transnational productions and practices, 1945-70. Studies in imperialism. Manchester University Press, Manchester, pp. 67-85. ISBN 9780719096525.

Waters, Rob (2016). "Student politics, teaching politics, black politics: an interview with Ansel Wong." Race and Class, 58 (1). pp. 17-33. ISSN 0306-3968.

Waters, Rob (2015). "Black power on the telly: America, television, and race in 1960s and 1970s Britain." Journal of British Studies, 54 (4). pp. 947-970. ISSN 0021-9371.

Waters, Rob (2013) "'Britain is no longer white': James Baldwin as a witness to postcolonial Britain." African American Review, 46 (4). pp. 715-730. ISSN 1062-4783.

Essays and reviews

Waters, Rob (2019) "Au(x) rythme(s) des marchés de Londres." In: Angéline Escafré-Dublet, Martin Evans and Stéphane Malfettes (eds) Paris-Londres, Musique Connexions. Exhibition catalogue. Palais de la Porte Dorée, 2019.

Waters, Rob (2018). "Strange familiarity." Identities, 25 (1). Special issue, Symposium: Stuart Hall's Familiar Stranger: A life between two islands. pp. 61-66. ISSN 1070-289X.

Waters, Rob (2018). "Stuart Hall on television." African and Black Diaspora, 11 (3). Special issue on Stuart Hall. pp. 315-317. DOI 10.1080/17528631.2018.1465254

Waters, Rob (2018) "Jed Fazakarley (2017) Muslim Communities in England 1962–90: Multiculturalism and Political Identity." Immigrants and Minorities (forthcoming).

Waters, Rob (2018) "Wendy Webster (2018) Mixing It: Diversity in World War Two Britain." Social History, 43 (3), pp. 420-422.

Ishmael, Hannah J. M. and Waters, Rob (2017). "Archive review: the Black Cultural Archives, Brixton." Twentieth Century British History, 28 (3), pp. 465-473. ISSN 0955-2359.

Waters, Rob (2016) "Satnam Virdee (2014) Racism, class and the racialized outsider." Contemporary British History, 30 (4). pp. 617-618. ISSN 1361-9462.

Waters, Rob (2016) "Gavin Schaffer (2014) The vision of a nation: making multiculturalism on British television, 1960-80." Journal of History and Cultures, 6. pp. 37-39. ISSN 2051-221X.

Waters, Rob (2015) "Robin D.G. Kelley and Stephen Tuck, ed. (2015) The other special relationship: race, rights and riots in Britain and the United States." Twentieth Century British History, 27 (2). pp. 323-325. ISSN 0955-2359.

Waters, Rob (2014) "Camilla Schofield (2013) Enoch Powell and the making of postcolonial Britain." Twentieth Century British History, 25 (4). pp. 663-665. ISSN 0955-2359.

Waters, Rob (2014) "Joshua Bloom and Waldo E. Martin, Jr. (2013) Black against empire: the history and politics of the Black Panther Party." Race and Class, 55 (3). pp. 98-101. ISSN 0306-3968.

Waters, Rob (2011) "Sam Selvon (1956) The lonely Londoners." Literary Encyclopedia, 4 (1). ISSN 1747-678X.