The Philip Ogden Paris Lecture - Dr Dan Lee
When: Thursday, September 29, 2022, 6:30 PM - 8:30 PM
Where: University of London Institute in Paris 9 -11 Rue de Constantine 75007 Paris France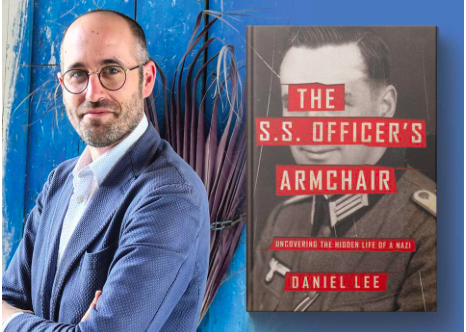 Join ULIP and Queen Mary University of London faculty for the third Philip Ogden Paris lecture by Dr Daniel Lee, a historian of the Second World War and a specialist in the history of Jews in France and North Africa during the Holocaust, and a lecturer in modern history at Queen Mary.
Drawing on his experiences writing and researching his 2020 book The S.S. Officer's Armchair, Dan will reflect on how history moves between domestic and political landscapes and across borders, as he revisits how his book developed the remarkable discovery of swastika-covered documents that had been found inside the cushion of an armchair that was being repaired by an upholsterer in Amsterdam.
What does "the ordinary" mean in relation to the scale and degree of the violence hidden within this story and what does this work tell us about the work of urban history
Dr Dan Lee's first book, Pétain's Jewish Children: French Jewish Youth and the Vichy Regime, 1940–42 (OUP, 2014) explored the coexistence between young French Jews and the Vichy regime. Currently, he is working on the history of the Jews of Tunisia during the Second World War. He is also the Principal Investigator on a British Academy GCRF Sustainable Development Programme project entitled "Traces of Jewish Memory in Contemporary Tunisia".
He has held fellowships at the European University Institute (Max Weber Fellow), Yad Vashem and the United States Holocaust Memorial Museum. Before moving to Queen Mary in September 2019 he was the Vice Chancellor's Fellow in History at the University of Sheffield.
As a 2015 BBC Radio 3 New Generation Thinker, he also often contributes to the radio.