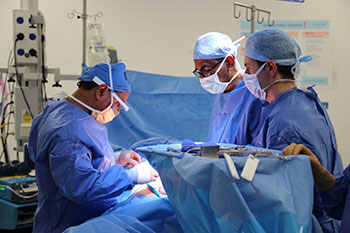 In 2008 we established the Centre for Trauma Sciences (C4TS), with Bart Charity support (£3.6 million) in 2012 to 2015, which has had major impact on the clinical management of the acute response to trauma patients.
As a world-leading Centre of excellence for translational research. Working alongside the Major Trauma Centre at the Royal London Hospital, we support the work of Barts Health NHS Trust as it delivers its care in acute medical specialties including Trauma, Intensive Care, Emergency Medicine and Perioperative Medicine.
Our trauma research themes include many aspects of the acute response to tissue injury in surgical patients, the critically ill, and victims of major trauma. We are also exploring long-term effects of acute illness including post trauma reconstruction, recovery from acute kidney injury and major surgery. Our vision is to make Barts and The London the place to train in trauma sciences and acute care.
Testing whether cryoprecipitate saves lives
£2.4m was awarded by the NIHR and Barts Charity to carry out a large multi-centre Randomised Controlled Trial to evaluate early cryoprecipitate in major traumatic haemorrhage (CRYOSTAT-2). The trial will test the effect of early cryoprecipitate (within 90 minutes of admission) compared to standard blood transfusion therapy on 1,544 severely bleeding trauma patients, at all Major Trauma Centres (MTCs) across England and selected international partners in North America and Australia.