Mr Ioannis Goutos, BSc(Hons), MBBS(Hons), FRCSEd(Plast) MSc Burn Care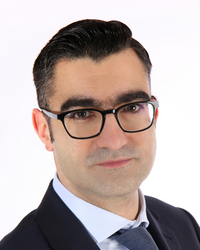 Director of Academic Plastic Surgery Programmes
Centre: Cell Biology and Cutaneous Research
Email: i.goutos@qmul.ac.ukTwitter: @@IoannisGoutos
Profile
Mr Ioannis Goutos qualified from the Royal Free & University College London medical school in 2002 with a distinction in Surgery and a 1st Class Honours BSc Degree in Molecular Medicine with Basic Medical and Clinical Sciences.
He acquired a Plastic Surgery national training number in the Oxford Deanery in 2008, having worked at a number of highly regarded plastic surgery services, including St. Andrew's Centre for Plastic Surgery and Burns, Chelmsford, where he developed a special interest in burn and scar management.
Following completion of a Masters degree in Burn Care, he was offered an honorary clinical lectureship and since June 2015, a substantive appointment as a Clinical Senior Lecturer in Plastic, Reconstructive and Aesthetic Surgery at Queen Mary University of London. His clinical consultant appointment at Barts Health NHS Trust commenced in January 2017 and involves spearheading the development of a burns service in the east London catchment area as well as managing patients referred to the well-established hypertrophic and keloid scar service. In November 2020, he was appointed as the Director of the Plastic Surgery Academic programmes at Queen Mary.
Mr Goutos has achieved numerous publications in peer-reviewed journals and regularly presents his work nationally and internationally. He is currently part of an international group called Scar Academy, which aims to transform scar management globally and member of 'Interburns', a charity focusing on improving burn care in low to middle income countries through the provision of education and training.
Teaching
Director, Aesthetic Medicine programmes, Queen Mary University of London:
MSc Aesthetic Medicine

PGDip Aesthetic Medicine

PGCert Aesthetic Medicine
Research
Research Interests:
Regenerative adjuncts in aesthetic/reconstructive practice
Pathophysiology of hypertrophic and keloid scars
Scar resurfacing
Publications
I Goutos, R Ogawa. Brachytherapy in the adjuvant management of keloid scars: literature review. Scars, Burns & Healing, Volume 3, 2017. DOI: 10.1177/ 2059513117735483
I Goutos, R Ogawa. Steroid tape: a promising adjunct to scar management. Scars, Burns & Healing, Volume 3, 2017; DOI: 10.1177/2059513117690937.
H Sadideen, I Goutos, R Kneebone. Burns education: the emerging role of simulation for training healthcare professionals. Burns. 2017 Feb;43(1):34-40. doi: 10.1016/j.burns.2016.07.012. Epub 2016 Aug 28. Review. PMID: 27576935
I Goutos. Neuropathic mechanisms in the pathophysiology of burns pruritus. Redefining directions for therapy and research. J Burn Care Res. 2013 Jan-Feb;34(1):82-93. PMID: 23135211.
I Goutos, H Sadideen, AA Pandya, SJ Ghosh. Obesity and burns. J Burn Care Res. 2012 Jul;33(4):471-82. PMID: 22274633.
For full list of publications, refer to pulists.qmul.ac.uk