Professor Chloe Orkin, MBBCH, MSc Infectious Disease LSTHM FRCP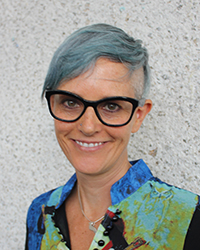 Professor of HIV Medicine
Centre: Centre for Immunobiology
Email: c.m.orkin@qmul.ac.ukTelephone: 0203 594 6772Twitter: @profchloeorkin
Profile
Professor Orkin is the Lead for HIV research at Barts Health NHS Trust and directs the SHARE Collaborative.
Following a successful 16-year clinical career at Barts Health NHS Trust, Chloe was appointed Professor of HIV Medicine at Queen Mary University of London in 2019. She leads an internationally renowned therapeutic trials unit that has made major contributions to drug development and the licensing of around 20 new therapies. Chloe is global lead author for the FLAIR study which evaluated the first-ever long-acting injectable HIV therapy and was published in the NEJM. Chloe is lead investigator for several other pivotal therapeutic trials and local principal investigator for a COVID-19 monoclonal antibody study. Her research also focuses on ways of including and engaging women, pregnant women and racially minoritised people in clinical trials. Chloe led research and blood-borne virus testing campaigns (Going Viral and Test Me East) in emergency departments which have changed practice.
As President of the Medical Women's Federation, and a visible LGBTQ+ role-model, Chloe advocates at national fora such as the Department of Health and Social Care Gender Pay-gap Implementation Panel and the General Medical Council Equality forum. As Chair of the British HIV Association (2016-19) she challenged discriminatory legislature and is considered a global medical leader for the U=U campaign.
Chloe is the Academic Lead for Equality, Diversity and Inclusion at Queen Mary's School of Medicine and Dentistry and past Athena SWAN Chair. She is committed to driving culture change and embedding citizenship.
Research
Research Interests:
Professor Orkin's research interests lie in clinical trials in the development of novel anti-retroviral therapy and novel anti-retroviral strategies; and blood-borne virus testing.
Publications