Professor Chloe Orkin, MBBCH, MSc Infectious Disease LSTHM FRCP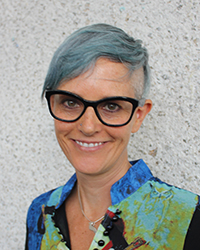 Professor of HIV Medicine
Centre: Centre for Immunobiology
Email: c.m.orkin@qmul.ac.ukTelephone: 0203 594 6772Website: https://academicmedicaleducation.com/chloe-orkin-mbchb-frcp-mdTwitter: @profchloeorkin
Profile
Professor Orkin is the Lead for HIV research at Barts Health NHS Trust and directs the SHARE Collaborative.
Following a successful 16-year clinical career at Barts Health NHS Trust, Chloe was appointed Professor of HIV Medicine at Queen Mary University of London in 2019. She leads an internationally renowned therapeutic trials unit that has made major contributions to drug development and the licensing of around 20 new therapies. Chloe is global lead author for the FLAIR study which evaluated the first-ever long-acting injectable HIV therapy and was published in the NEJM. Chloe is lead investigator for several other pivotal therapeutic trials and local principal investigator for a COVID-19 monoclonal antibody study. Her research also focuses on ways of including and engaging women, pregnant women and racially minoritised people in clinical trials. Chloe led research and blood-borne virus testing campaigns (Going Viral and Test Me East) in emergency departments which have changed practice.
As President of the Medical Women's Federation, and a visible LGBTQ+ role-model, Chloe advocates at national fora such as the Department of Health and Social Care Gender Pay-gap Implementation Panel and the General Medical Council Equality forum. As Chair of the British HIV Association (2016-19) she challenged discriminatory legislature and is considered a global medical leader for the U=U campaign.
Chloe is the Academic Lead for Equality, Diversity and Inclusion at Queen Mary's School of Medicine and Dentistry and past Athena SWAN Chair. She is committed to driving culture change and embedding citizenship.
Research
Research Interests:
Professor Orkin's research interests lie in clinical trials in the development of novel anti-retroviral therapy and novel anti-retroviral strategies; and blood-borne virus testing.
Publications
Orkin C, Arasteh K, Górgolas Hernández-Mora M, Pokrovsky V, Overton ET, Girard PM, Oka S, Walmsley S, Bettacchi C, Brinson C, Philibert P, Lombaard J, et al. Long-Acting Cabotegravir and Rilpivirine after Oral Induction for HIV-1 Infection. The New England Journal of Medicine, 2020 Mar 19;382(12):1124-1135.
Orkin C, DeJesus E, Sax PE, Arribas JR, Gupta SK, Martorell C, Stephens JL, Stellbrink HJ, Wohl D, Maggiolo F, Thompson MA, Podzamczer D, Hagins D, Flamm JA, Brinson C, Clarke A, Huang H, Acosta R, Brainard DM, Collins SE, Martin H; GS-US-380-1489; GS-US-380-1490 study investigators. Fixed-dose combination bictegravir, emtricitabine, and tenofovir alafenamide versus dolutegravir-containing regimens for initial treatment of HIV-1 infection: week 144 results from two randomised, double-blind, multicentre, phase 3, non-inferiority trials. Lancet HIV, 2020 Jun;7(6):e389-e400.
Cevik M, Haque SA, Manne-Goehler J, Kuppalli K, Sax PE, Majumder MS, Orkin C. Gender disparities in coronavirus disease 2019 clinical trial leadership. Clinical Microbiology and Infection, 2021 Jul;27(7):1007-1010.
Apea VJ, Wan YI, Dhairyawan R, Puthucheary ZA, Pearse RM, Orkin CM*, Prowle JR*. Ethnicity and outcomes in patients hospitalised with COVID-19 infection in East London: an observational cohort study. BMJ Open, 2021 Jan 17;11(1):e042140.
Orkin C, Flanagan S, Wallis E, Ireland G, Dhairyawan R, Fox J, Nandwani R, O'Connell R, Lascar M, Bulman J, Reeves I, Palfreeman A, Foster GR, Ahmad K, Anderson J, Tong CY, Lattimore S. Incorporating HIV/hepatitis B virus/hepatitis C virus combined testing into routine blood tests in nine UK Emergency Departments: the "Going Viral" campaign. HIV Medicine. 2016 Mar;17(3):222-30.