Women's History Month - alumnae philanthropists
Today's Women's History Month post shines a spotlight on two alumnae donors: Dr Beatrice Worthing (French BA, 1936; PhD, 1950) and Miss Sally Sainsbury (History BA, 1962).
Published:
Before we delve into the biographies of both, we would like to trace the origins of philanthropy back to the History of Westfield College which as an institution, would not have been possible without Ann Dudin Brown [pictured right], a wealthy heiress and philanthropist who provided financial backing and bought the campus, buildings and provided personal financial assistance for students in need.
Ann contributed £10,000 in the first instance which had the purchasing power of 1.2 million today! Ann's legacy and philanthropy has lived on through alumni donors such as Beatrice and Sally and this culture of giving still exists in present times.
Dr Beatrice Worthing (French BA, 1936; PhD, 1950)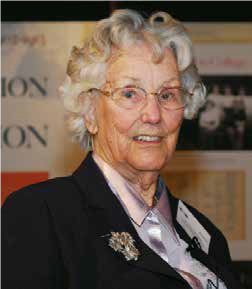 The late Dr Beatrice Worthing's study at Queen Mary College was a life-changing adventure, far removed from her upbringing in a mining village in 1920's South Wales.

Although she had a burning ambition to become a journalist, the intervention of World War II meant teaching was her first career priority. She was invited back to Queen Mary as an assistant lecturer after undertaking research into the Belgian poet Emile Verhaeren. Living in Belgium and travelling through war-torn Europe in pursuit of her material gave Beatrice the insight and determination to succeed in a long career, which included writing for Reuters and France Press, as well as publishing.
Dr Worthing was a participant in the round table event at the 'The Women at Queen Mary Exhibition' launch on 4th October 2007.
The late Dr Worthing left a generous gift in her Will to Queen Mary to support students experiencing financial hardship. Her gift has supported students from disadvantaged backgrounds and enabled them to travel abroad to broaden their university experience. She said,
Queen Mary gave me everything. I now want to give something back to help young people achieve their ambitions, as I did mine.
Miss Sally Sainsbury (History BA, 1962)
The late Miss Sally Sainsbury studied History at Queen Mary College (1959-62) and then went onto study for the Graduate Diploma in Social Administration at the London School of Economics in 1962. She became an assistant lecturer in 1969 and taught continuously until she became an Emeritus Reader in Social Administration in her retirement. As a scholar, she was a leader in the field of social policy and disability, an advisor to disabled students and a pioneer for women to have equal opportunities to study further.
Before her death in 2013, Miss Sainsbury left Queen Mary a generous gift in her Will for the financial support of students from the local area reading history. Thus far, the Sally Sainsbury Scholarship has supported 19 students, from east London, studying History at Queen Mary.
Inaya Zaman, a first-year History student [pictured right] was awarded the Sally Sainsbury Scholarship earlier this year, and said,
I want to express my thanks to the late Sally Sainsbury for the generous award. The Scholarship has significantly lessened my financial burdens. This gift is life-changing for students like me.