Student story: Meklt Abura
Meklt is a Human Geography student. She accepted a place to study at Queen Mary after successfully completing her A Levels in Geography, Economics and Maths.
Meklt Abura, Annual Fund Scholarship recipient 2018
Published: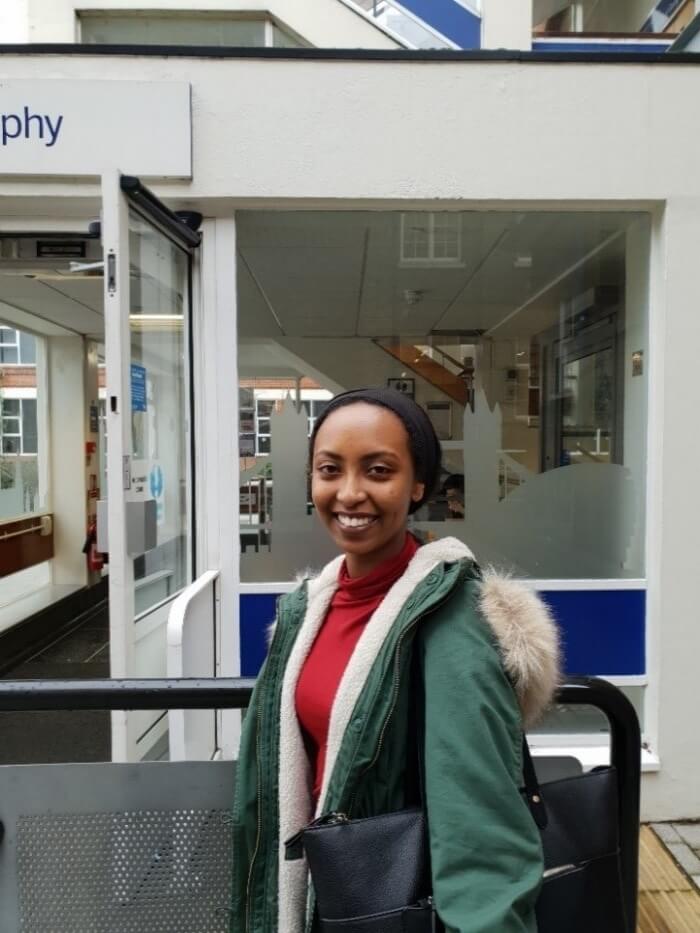 "I was brought up by my grandparents in Ethiopia. When I was 12, I moved to east London to live with my mum and my two younger siblings. At first, it was challenging to adjust to the new environment; school was particularly hard because I had to learn a completely new language! I live in a single-parent household and so my mum is the sole breadwinner for the family. Because my mum works full time, it means I have a lot of responsibilities at home looking after my sisters. Most days, I take them to and from school. This hasn't been easy on me because it means sacrificing a large chunk of study time and my social life.
"When I was in secondary school, I joined the East Side Young Leaders' Academy, which helps gifted young people from disadvantaged communities excel at school. Once I finished the programme, I was awarded a scholarship to study at a prestigious boarding school, The Royal Hospital. This opportunity meant living away from my family for two years, which was extremely tough on my mum. I was fortunate to be awarded the scholarship but I always felt that I didn't fit in with the students there. They didn't come from the same background as me and they had parents who could afford to pay their huge tuition fees, I felt the need to hide that I secured my place to study through a scholarship programme for people like me.
"I chose to study BA Geography at Queen Mary after college for a number of reasons. I'd attended a summer school at Queen Mary which included taster lectures, a campus tour and talking to current Geography students. The atmosphere on campus is very welcoming and the diversity is very refreshing to see. It's also based in east London which meant I'd be closer to home.
"As soon as I started university, the reality of how much more support I needed financially really hit me. I relied on my mum for money more than I wanted to, so I decided to get a part-time job to take the stress off her shoulders. My job didn't pay a huge amount and would only be enough to pay for my travel to university. I was really struggling managing my finances. When I found out, I'd been awarded an alumni-funded bursary I was over the moon! I called my mum right away and told her the good news. She was so happy that I now had the extra boost needed to do well in my studies. The first thing my mum told me to do was to write a thank you letter to everyone that made my bursary possible – so this is my way of saying thanks to you all at once! This bursary has enabled me to pay for my travel to and from campus, course resources and other basic necessities.
"After I complete my degree, I hope to do a Masters in Development or International Business. For now, I'm trying to make the most of my education and the opportunities available on campus, such as applying for employability schemes, voluntary programmes and joining societies!
"Thank you to all the alumni who helped fund my bursary. It has made such a big difference to my university experience. You've helped me, my studies and my future. You've given me the drive needed to do the best that I can and make the most of every opportunity that comes my way now. Thank you once again!"