Student recipient profile - Joseph Thompson
Joe is a medical student at Barts and The London. He is from Dorset and moved to London to study Medicine. Joe was awarded an Annual Fund Scholarship of Excellence supported by our alumni. Read on to find out how alumni support helped Joe.
Published:
"I always wanted to study in London and Barts and The London suited my choice. The university stood out to me because it's diverse and unique. I love that the campus is in east London- it's such an ethnically and culturally diverse area. I'm able to understand different cultures, try new things and meet new people!
"My first year at university was good but my second year was really tough for me. Amidst lockdown, I was having to study from home and complete numerous exams which became quite overwhelming. I suffered from depression and it was mentally difficult for me. Although I performed well academically, I learnt not to burn candles from both ends. Studying Medicine is not easy and students are susceptible to burning out. I'm currently doing an intercalated degree in Comparative Pathology at the Royal Veterinary School. It's a new course in our medical course and I'm enjoying the content we're learning so far.
I was really pleased to be awarded the Scholarship for Excellence. It's nice that not only was I recognised for my high academic attainment, but the award is supported by Barts and The London alumni. I feel much more connected to the university and my course knowing that doctors have invested in my future.
"Students have many expenses such as course material, rent and basic necessities that we often question what we can buy. The award has given me peace of mind and helped me immensely with my studies. I've been able to purchase a Grammarly subscription (a great referencing tool), Oxford handbook and supplement cost towards my OSCE preparation.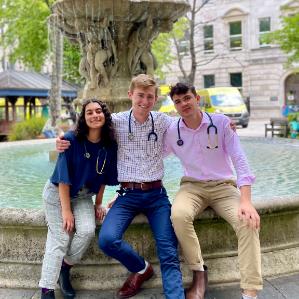 "I've realised over the last year that I enjoy the academic side of Medicine and it's what I'm good at. I want to get my foot in the door and enrol in an Academic Foundation Programme after I graduate. I remember attending a lecture from a professor who presented his breakthrough research which he used to support the cancer research programme. This has inspired me to follow in the same footsteps - I want my medical research and knowledge to be used in clinical practice and help people in the future.
"At the start of my second year at university, I was full of doubt and questioned my ability to do well. It was a difficult time for me because I became anxious and suffered from depression. This award gave me confidence and reassurance that I'm doing well academically. I can say that this scholarship was one of the highlights during a tough time in my life. Thank you to our generous alumni for your kindness!"