Scholarships for Excellence
Our alumni provided 20 Scholarships for Excellence. These were awarded to students in the School of Medicine and Dentistry for high attainment and academic merit. Gemma and Eduardo, are two recipients of this award; read on to find out how your support helped them.
Published:
"My name's Gemma and I'm from Harrogate, Yorkshire. I've always wanted to study medicine and live in London so my wish came true when I was accepted to study at Barts and The London School of Medicine and Dentistry at Queen Mary University of London. I'm also the first in my family to study medicine so it's a very big deal for them!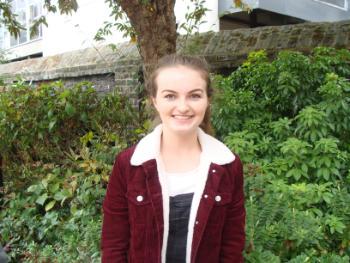 Moving to London was more than I thought it would be, I've loved living here these past two years. I really enjoy the exposure we have to the variety of clinical conditions you see at the Royal London Hospital.
I'm doing the five-year MBBS degree so the first two years or so is very lecture based, which is why I really relish my placement day. This can alternate between a GP surgery and hospital where I'm in the respiratory department. Even though it's still early days, I'm starting to consider what field I'd like to specialise in - I'm leaning towards cardiology at the moment.
I'm generally a studious person but didn't realise how well I was doing in my work until I was told I'd received a scholarship for excellence. It was such a confidence boost for me knowing my hard work was paying off. I was very excited to be noticed and started thinking about all the conferences I could attend thanks to my new reward.
I support myself on student loans and though I'm good at managing my finances, living in London, for students especially, is very expensive. It can be difficult to maintain a good work balance, especially if you're in classes five days a week and then finding time to work and study. So to have this special prize I could put towards something that would further my knowledge was a great feeling.
My five-year plan is to complete my five years here, possibly intercalate at an external university and do my foundation years in London.
I'm so thankful to the Barts and The London alumni who made this gift possible and for looking out for students of their University. I hope you realise how much you've helped me to stand out on my CV because of this prize and what it will enable me to achieve. Thank you!
Gemma White
"Hi, I'm Eduardo and I'm from Malaga, Spain. For me, studying medicine was obvious because I come from a family of doctors; both my parents are doctors and my sister is also studying medicine!
I'm in the third year of my degree, which has been an incredibly busy year with placements. This year is very different to the first two years because I'll be completing three nine-week long placements over the course of the year. I really enjoy shadowing consultants and taking patients' history and hope I will get the change to do a placement in a surgical department.
As an international student there is no additional financial support for me so when I found out I'd been awarded a scholarship for high attainment, I was absolutely thrilled. I called my parents immediately to tell them! It's been a motivating factor particularly and makes me want to work harder despite the growing pressure. I haven't decided what I want to put it towards just yet so I'm going to save it for something special.
My plan now is to decide what area I want to specialise in – general surgery may be an option for me. I'm looking forward to my next two placements in both cardiology and clinical departments.
I'd like to take this opportunity to say a really big thank you to the alumni who kindly donated to make this scholarship possible. I really didn't expect anything like this so I was very surprised and grateful for being acknowledged for my efforts. It's got me thinking about how much I'd like to help students in the future so thank you for making this difference to my university experience!"
Eduardo De Ille