Life in Halls - Margaret Devitt
As part of our ongoing 'Life in Halls' series, alumna Margaret Devitt (History BA, 1961) reflects on her time living in halls and her overall university experience from 1958-1961.
Published:
"I came up to Queen Mary College (as it was called back then) as a naive teenager from West Sussex who had probably never visited London on my own except for my interview with Professor Bindoff. I found I was in a rather mournful-looking women's hall of residence some stops out on the District Line towards Woodford. The brick building was down a long unlit drive surrounded by mature trees. The walk from the underground often in thick fog that autumn was bad enough. I went straight into a lamp post one evening! The boys' hall of residence was a few hundred yards away but some of them thought it was funny to hide in the trees and jump out to scare us. I was not so afraid of these fellow students although they were an absolute pain when they thought a panty raid was a good idea on a Sunday, when the tutor in residence was usually away…
Our rooms were minimally furnished with wartime utility furniture, but I had brought a small radio with me. Within a week of starting college, a new Pope was to be elected and there was to be a relay of the choral mass that would mark his inauguration in St. Peter's. I happened to mention that I was going back to my room to listen to it after lectures that afternoon and one of my fellow students, who it turned out had been studying to be a priest before he came to Queen Mary, said how much he'd like to hear it too. We sat nibbling doughnuts in my room while the glorious devotional music soared around us and I am pretty sure my companion was quietly saying some prayers too, when suddenly the door was thrown open and the tutor was there shouting: 'You'll have to go! You'll have to go!' Then she disappeared before we could say a thing… We didn't know whether she meant him or me, so I showed him out and went to see whether there were any letters in my box. There was a note from the tutor. No men were allowed in the hall during the daytime. Male visitors were allowed on Thursdays to Sundays for 2 hours only and had to be booked in three days in advance to get the tutor's approval. I had never had a boyfriend and felt sad she was unwilling to listen to my innocent explanation.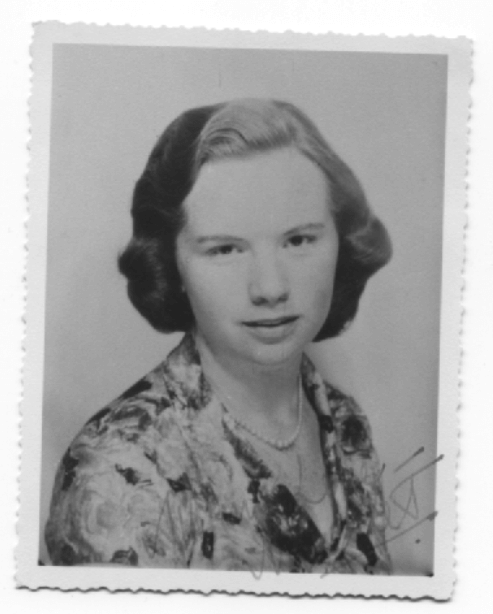 [Pictured] Margaret as a student
I started to look for alternative digs and the University Accommodation Bureau found me a super room in Kensington, which completely changed my student life. I could easily get to Senate House for the Friday lectures and to work in the library there. I quickly learnt where each fare stage on my journey to Mile End changed so that I could walk at least two of them before getting a bus so as to save 10 pence or even a shilling. At weekends I began to walk London. I had no money for public transport or expensive dance or music clubs , cinemas, etc. but with likeminded fellow students from the History Department, we explored vast areas of London on foot - the Huguenot weavers cottages, the rundown once elegant houses of Spitalfields, the Isle of Dogs, the Greenwich Observatory and on one memorable occasion we walked to Hampton Court. What it was to be young & fit!
Further reflections on university life itself are to follow…
As a working-class grammar schoolgirl, I found the combination of being away from home, being in a vast institution and an even vaster city very daunting. However, we were fortunate to have a superb group of staff in the history department. Professor Bindoff was of course widely respected as a Tudor expert and known for his Penguin book on the subject. Luckily when he interviewed me for a place he assumed I had read it (I hadn't) so asked me to talk about another work on the period... Dr. Scarisbrick was an excellent lecturer. He once told me he had been afraid of lecturing so took a teaching qualification at the Institute of Education. It paid off; he was a very caring tutor. Another very fluent lecturer and interesting man was Dr. Leslie, who we learnt had served with and come to admire the Polish troops during the recent Second World War. He amused us because he tried to include a reference to Poland, the Catholic Church (which he did not like) and the sexual peccadillos of whatever protagonist he was talking about in every lecture! Dr. Helena Chew gave me a love of Anglo-Saxon art and polity which has lasted me all my life.
The college buildings were still suffering from the post-war depression. I remember it as largely brown and dull cream with no decorations on the walls of the long corridors. The library was dark and musty. Librarians then hated dust jackets, so all books looked the same on the shelves - various shades of brown book cloth. I found it easier to work in the Senate House library which was lighter and more modern; I also discovered the restaurant in SOAS which was the best place to find very good but cheap curries...a meal very new to most of us then.
Lunch at Queen Mary College was in a vast basement but involved a very long queue, so as I got to know some of my fellow students, we set out to explore the Mile End Road for alternatives. We found a 'greasy joes' some few hundred yards away. It was so small I doubt they squeezed more than 16 or 20 into the only room. One chap stood by the dumb waiter in one corner of the room and shouted orders into the basement kitchen.... fish and chips, sausage and mash, and pie and greens were all that was ever on the menu! When plates emerged from below, they were passed overhead from table to table. If you were as hungry as we were then they were fine - and very cheap!
Living off my grant of £20 a month was difficult so I found every way I could to keep down my outgoings. I regularly rose early to walk half of the way from Kensington to the Mile End to save bus fares, but the biggest expense was keeping warm in autumn and winter. I reduced my landlady's charge for heating by spending as much time as possible in libraries, but I soon needed a quieter space in which to write essays, so I discovered some of the smaller museums and galleries in London. Few people went to these during the week as most people had 9 to 5 jobs. I discovered the lovely Wallace Collection, which was free entry for students and there I could spend 3 or 4 hours on one of their comfortable sofas, writing away undisturbed except by the occasional uniformed keeper wandering past. One day one stopped in front of me. Oh, dear was I to be thrown out? He told me to follow him, saying over his shoulder 'I thought you could do with a proper desk, m'dear.' He showed me a lovely satinwood eighteenth century desk in one corner of one of the Marie-Antoinette rooms. Whether it was one of hers and whether my essays improved I do not know, but it was a very cosy corner. I appreciated the kindness and saved lots of money on my heating bill in my digs.
Rag Week was a big event. Unlike other universities in smaller towns we couldn't dress up to wander the streets of London demanding contributions to our charity collecting boxes. Instead an agreement had grown up that we would compete with another college by holding them to ransom for a large contribution. Our 'partners' were the vets. One year they captured a particularly beautiful friend of mine. She was driven off to Southampton University where the vets had friends who cared for her very well while they were telling us she was in a coalhole and only fed every other day! They got a ransom of £500 out of us so the next year we had to get our own back but what to do? We learnt they were planning to kidnap our statue. This was (and so I learn still is!) a life-size crouching leopard on a plinth. We learnt they were planning to hire a crane on a lorry to lift it over the front railings in the middle of the night. How to thwart them? A night time watch was set up and a week later we arrived at college to learn the raid had been stopped the night before. They had arrived with their crane, swung it over the locked gates of the college and begun to lift. When the crane began to buckle, they had to give up. The rag committee had filled the hollow statue with concrete! We all agreed not to charge a ransom from them as paying for the damage to the crane would cost them a lot, but they had to send a letter confirming our victory…
The late 50s/early 60s was another world from today. We had to find our own way through all the new demands upon us. I'm sure homesickness was common especially amongst those of us who had not gone to boarding schools or national service for the boys, but we were all just grateful to have got into a university, especially those like me who were the first generation in our families to go on to higher education. I vividly remember all of the staff lurking outside the door of our final examination room. As soon as it ended Professor Bindoff threw open the door and marched us all over to the pub across the road. What a lovely note to end my reflections on!"