Expeditions Fund story: Natasha Wilding
The Annual Fund helped Natasha travel to Bangladesh during 2018 summer to carry out healthcare research and volunteer with Selfless Charity.
Natasha Wilding, Medical student
Published:
"Last year, I travelled with a group of 33 medical students, doctors and other humanitarians to Sylhet, Bangladesh. The aim of the trip was to start connections with local hospitals, to research healthcare delivery and to provide free health camps to remote rural areas.
"During our first few days, we visited many healthcare services. One of the challenges that the state-funded hospitals faces is having very little resources to work with. For example, there were 500 beds for an excess of up to 2,500 in-patients and 4,000-6,000 outpatients! Our group next visited Lions Children's Hospital (treats infectious diseases) and the Jalalabad Disability and Rehabilitation Centre (provides long-term support for a range of patients).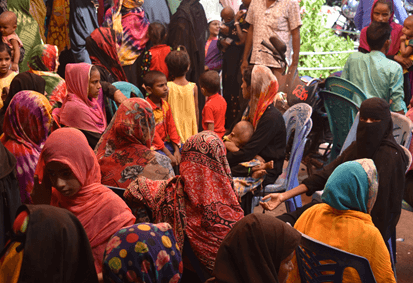 "Over the next three days, we set up health camps in rural areas and provided free healthcare to over 4,000 patients. We worked mornings and afternoons in the humid heat which was quite stressful, particularly as there was a lot of overcrowding. Patients came to us with many complaints, often desperate, as a result of extreme poverty.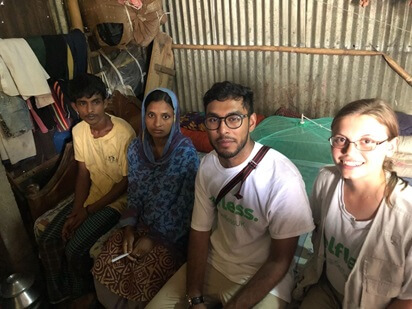 "We spent two days implementing the Baby Bundle' Intervention Scheme used to improve maternal and infant mortality among the lowest income family. In pairs, we visited mothers in their homes and asked about their current economic situation. It was extremely upsetting to meet a young mother of two children expecting her third. She was worried that she would become poor facing a high rent on no more than a mud house and unable to afford the basic check-ups for her family. Before leaving each house, we gave each mother a small Upahāra (gift), our Baby Bundle.
"Studying and attending placements in east London, where there is a large Bangladeshi community, helped me to understand the country that shaped their health and socioeconomic circumstances years later. It was a great opportunity for me; I discovered a love for chilli, the vibrancy of their dress and the practice of eating rice and curry with my hands.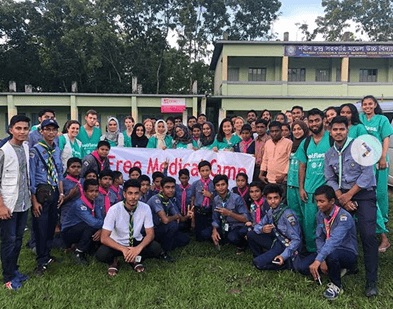 "Thanks to all the alumni who supported my trip through the Annual Fund. Without your support, I wouldn't have had the opportunity to volunteer and carry this level of research abroad. This trip has taught me that professional healthcare is beyond the reach of many people and made me appreciate pursuing such a career. With my awareness of global health inequalities, I hope to continue my involvement in student- led societies concerning these issues and hope that this forms an integral part of my career as a doctor."